Sandpoint-based Health Freedom Defense Fund and four Blaine County residents have sued the Blaine County School District Board of Trustees over its mask requirement.
The Health Freedom Defense Fund filed a complaint on Friday, Oct. 15, in U.S. District Court demanding a jury trial and seeking declaratory and injunctive relief from the Board of Trustees' mask mandate adopted before the school year. The organization was joined by four local plaintiffs: Sun Valley residents Hugh and Renata Paris Peddy and Bellevue residents Russell and Lisa Adams.
The School Board voted 4-1 on Aug. 19 to enact its mask policy, which has been in effect since classes started on Aug. 23 and will sunset at the end of the 2021-22 school year. The policy requires staff, students, parents, volunteers, vendors and outside members of the public to wear masks indoors while on school property during periods of "moderate, substantial and high" COVID-19 transmission, as defined by the CDC.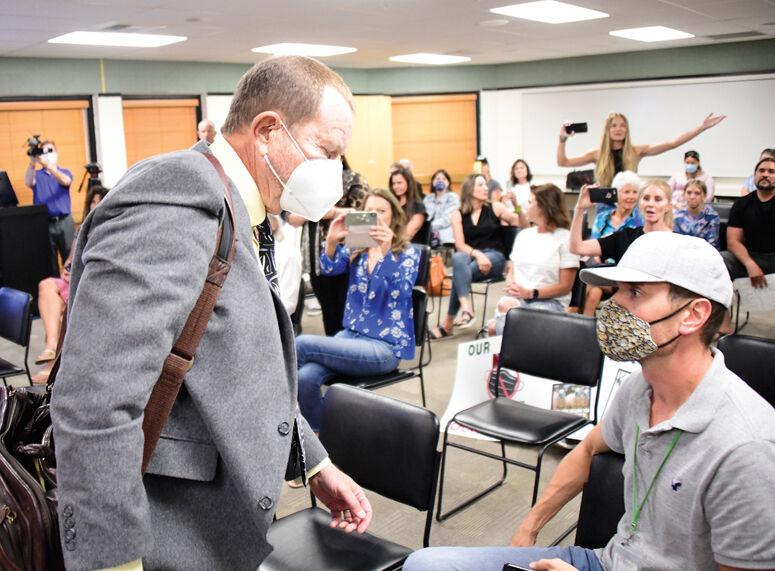 The group's Oct. 15 suit—echoing the Sept. 27 suit filed against the city of Hailey—argues that masks are ineffective, deprive users of oxygen and promote inflammation in the body, and that requiring any type of face covering is unconstitutional.
"The Mask Mandate … constitutes a grand medical experiment, and forcing every person in a public place in Blaine County School District No. 61 to wear a face covering constitutes a violation of international law, federal law, and Idaho law, all of which prohibit human experiments absent informed consent," Allen Schoff, an attorney for Health Freedom Defense Fund, wrote in the complaint.
Schoff continued that the mask mandate must be struck down because face coverings "are unapproved products that have been authorized for emergency use under an Emergency Use Authorization" from the FDA.
"The short and long-term medical impact and psychological side-effects to children and adults from being forced to consistently wear masks, especially for hours on end while at school or work, have not been studied. Indeed, the evidence is that wearing masks for extended periods of time is harmful, and that this harm is in no way counterbalanced by any benefit," Schoff stated.
He also argued that "asymptomatic spread of SARS-CoV-2 is a myth," citing a study of "a cluster of cases in southern Germany" where "careful follow-up and rigorous documentation showed that little to no transmission occurred from asymptomatic case-patients," as well as a study from China.
The School District Board of Trustees have until Nov. 8 to respond to the suit, according to court documents.