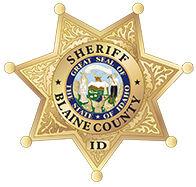 A Boise man who led police in a chase through Blaine and Lincoln Counties last summer has pled guilty to two felony charges.
Jayson Scott Mitchell, 23, entered a guilty plea on Monday to two of the three charges stemming from the incident: grand theft and eluding a police officer in a motor vehicle. The third charge—a misdemeanor count of driving without a license—was dismissed as part of the plea agreement, court records show.
Blaine County Prosecuting Attorney Matthew Fredback is recommending a sentence of five years in prison for each of the two charges, amounting to 10 years in total. But Mitchell could face up to 19 years behind bars: eluding an officer carries a maximum penalty of five years and grand theft a maximum penalty of 14 years, and a judge isn't bound by a prosecutor's recommendation.
Mitchell was arrested on May 16, 2020, after speeding on state Highway 75 through Ketchum, Hailey, Bellevue, and eventually into Lincoln County, while failing to pull over for multiple attempted traffic stops by various law enforcement agencies along the way, according to the police report.
The chase began just south of downtown Ketchum, where Mitchell was spotted driving a pickup truck 80 miles per hour through a 35 mile-per-hour zone, according to a probable cause affidavit written by the arresting officer, a sergeant with the Blaine County Sheriff's Office.
Mitchell continued to speed through Hailey and Bellevue, driving 90 miles per hour in a 25-mile-per-hour zone through Hailey and entering Bellevue at 102 miles per hour in a 35-mile-per-hour zone, according to the affidavit. The chase came to an end after police deployed spike strips on the highway in Lincoln County, deflating the truck's tires.
After running Mitchell's details and the vehicle's information through Blaine County Emergency Communications, the arresting officer found that the truck had been reported stolen out of Boise and that Mitchell did not have a valid driver's license, according to the affidavit.
Judge Ned Williamson on Monday ordered that a pre-sentencing report and mental health evaluation for Mitchell be completed before he is sentenced. A sentencing hearing has been scheduled for May 17.