The moon climbed over Bald Mountain late Tuesday night, creating a silhouette of pines. Ursa Major and nearby Ursa Minor shone through a thin film of cloud cover.
Even with the light from the moon—supplemented by a headlamp—I could barely make out the road in front of me.
Then, a snap of branches. Halfway up the hillside, a few yards to the left, a dark shadow reared up from behind a small cluster of aspens and growled.
In less than a second, the shape materialized into a 350-pound black bear, barreling straight toward me, bellowing and huffing and hissing with the vocal fortitude that I'd only ever associated with Hollywood movies.
I turned and ran for the nearest porch. Every bear-safety tip I've preached in previous articles—"stand your ground, make yourself large, don't run"—flew by the wayside. So did the bear spray I'd looped to my belt before heading out.
Between fight or flight, I picked option two.
So, I ran, back facing the bear, and she bounded after me across the road. It was only when I yelled for help—pressed against the neighbor's front door—that I heard her stop short behind me, woofing, and retreat back into the night.
There was the sound of splintering bark as she ascended the pine tree across the driveway. Then, a prolonged silence, and after another minute went by, the dull thud of a garbage can tipping over a few houses down.
The next morning, dozens of garbage cans lay toppled along Bald Mountain Road and Irene Street. Raw chicken, butter, torn-open bags of almonds and produce spilled into the road.
---
Defense of food
As it turns out, the large sow I encountered—estimated to be on the older side, around 10 years old—has been on the Idaho Department of Fish and Game's radar for more than a year. Last August, the agency reported that she had been pawing through garbage cans along Irene Street and teaching her cub to do the same. The sow, estimated by Fish and Game to weigh 400 pounds at the time, was repeatedly hazed with rubber slugs. Euthanasia was proposed.
"If garbage continues to be left out, and these bears are repeatedly rewarded with human-provided food, the department may find it necessary to euthanize both bears if they become a threat to public safety," Fish and Game stated at the time.
Most bears will change their behavior after painful stimulus, like rubber slugs, according to department spokesman Terry Thompson. But this animal—currently on her own after weaning her cub last winter—has not. She now considers Warm Springs neighborhoods her turf and residents' trash cans her property, Thompson said.
He noted that when a bear finds a steady food supply, it will often become aggressive toward anything that gets in the way of its almost singular goal of packing on the pounds for next winter.
"Bears can get very territorial once they've secured a reliable food source," he said. "It's not uncommon that they will do everything they can to protect and defend that resource."
My incident was a classic example.
"You have a bear defending its food source, and then you add in a surprise encounter that exacerbates the situation," Thompson said.
According to a study of over 675 bear attacks by Tom Smith and Stephen Herrero—published by The Wildlife Society in 2018—most incidents in which bears charged at people occurred when humans and bears "confronted each other at close range, within 10 yards or less," and in low-visibility conditions.
"The poorer the visibility, the more likely bears were to engage with people, presumably because of an inability to detect them until very close," the pair wrote.
---
Euthanasia not favored
A black bear's natural summertime diet consists almost entirely of mushrooms, berries, nuts, fruits, grasses and roots, with protein sourced from insects and deer and elk carcasses, according to Fish and Game. As opportunistic scavengers with a sense of smell measured in miles, bears will go for the biggest bang for their buck. It so happens that residential garbage cans are caloric jackpots, Thompson said.
"Why worry about foraging for insects and berries and eating enough grass when you can walk away with, say, 30,000 calories in one night, hitting 15 [garbage] cans at 2,000 calories per can?" he asked. "If you have the choice, you're going to pick the garbage cans every time."
Black bears seldom attack people and are shy by nature, Fish and Game Regional Biologist Sierra Robatcek told me. That said, human-bear conflicts are on the rise due to the severe drought affecting the West. Essentially, a shortage of water and normal food sources, like roots and berries, have caused bears to find sustenance in residential communities and grow bolder.
On April 30 this year, a 39-year-old woman was killed by a black bear near Durango, Colo. One month later, on May 30, a man in Steamboat Springs, Colo., sustained serious injuries after a bear broke into his home and attacked him.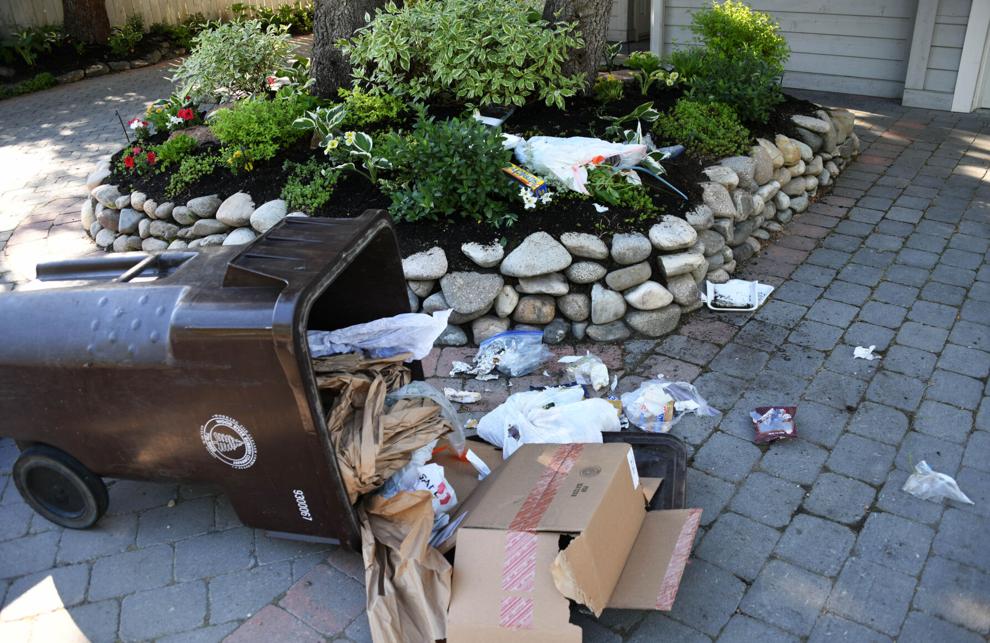 "The drought has led other prey into the Wood River Valley—deer and elk, too," Conservation Officer Cody Smith added. "Animals are congregating here, bringing predators in."
On Wednesday, conservation officers went to go door-to-door in my Warm Springs neighborhood, refreshing residents on how to live responsibly with black bears. Several homeowners told stories of their own run-ins with the sow this week. She had strolled past someone's hot tub on Monday, for example, undeterred by its occupants. In another run-in, she sat across from a resident fly fishing Warm Springs Creek in hopes of a handout. A third resident, a recent transplant, said they were unaware that Ketchum had a bear population.
"One common theme was that mostly everyone was aware of [the bear], but no one wanted to call Fish and Game because they feared [euthanasia]," Senior Conservation Officer Brandyn Hurd told me.
Euthanizing an aggressive bear is always a solemn undertaking, Cody Smith explained. Every time Fish and Game has to take that action, it's not just the bear that loses—everyone loses a bit of the wildness that Wood River Valley residents pride themselves on.
"We would absolutely love to not have to euthanize a bear. We don't want to do this," he said. "Scientific studies have shown that [relocation] does not work, though, and food-conditioned bears return in 80% of cases. If they don't, they become someone else's problem."
Under law, Fish and Game has a duty to reduce or mitigate property damage and protect public safety. Last summer, the agency euthanized a male black bear out East Fork that had destroyed several thousand dollars' worth of beehives. Unsecured trash, birdseed and other attractants had continued to lure the boar back to the neighborhood and strip away its natural fear of humans.
"Euthanasia is our officers' least favorite part of the job," Thompson said. "They take no pleasure or joy in having to euthanize any animal. It frustrates me when I hear people saying that all we do is kill everything, when we are here to care for the resource. Otherwise we wouldn't be in this line of work."
On Wednesday, officers set a barrel trap—a live culvert trap baited with donuts, syrup and vanilla extract—in Warm Springs. Once captured, the sow will be driven out of town on the back of a Fish and Game patrol car and killed.
Thompson said he hopes the bear's death will not be in vain, and that Ketchum officials can brainstorm ways to better manage residential household garbage—particularly given the uninformed Airbnb renters that frequent the area.
The reality, he said, is that "problem bears" are not a bear problem, but a human problem, and keeping bears wild requires a communitywide, "all-in-or-nobody-in" approach. He added that a newly formed group called the Wildlife Smart Community Coalition is working with Clear Creek Disposal to see if certain areas, like Warm Springs, could transition to bear-resistant garbage cans.
"But this problem could be solved very easily [without the transition] by just changing human behavior," Thompson said. "It's not rocket science."