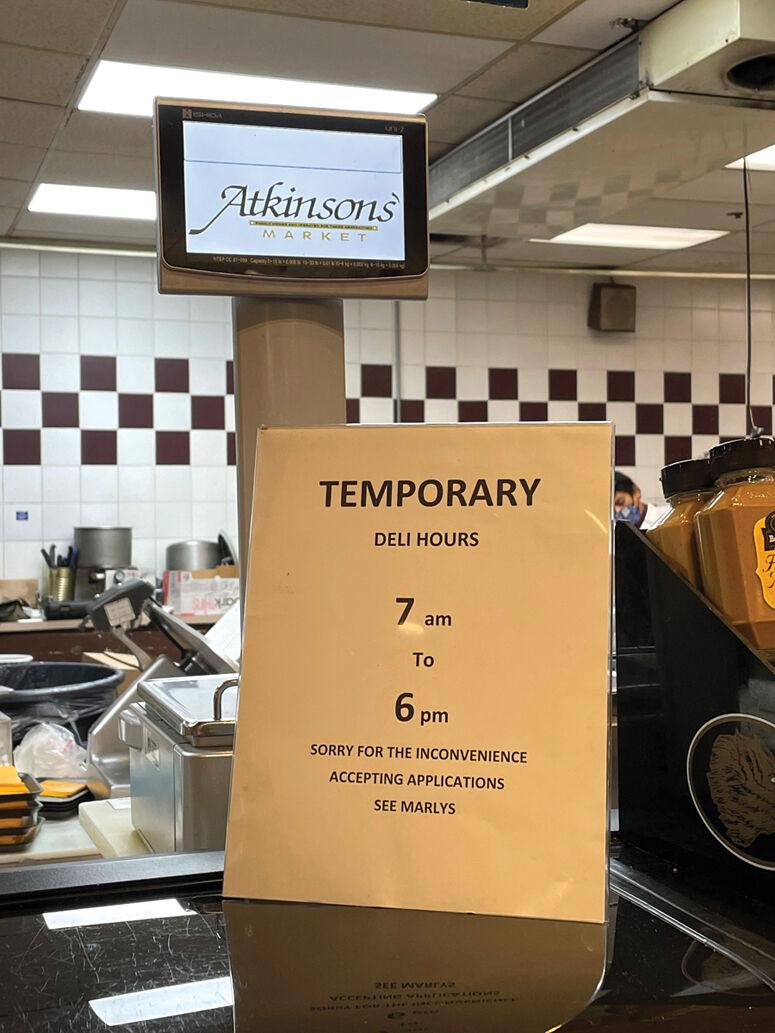 As many Wood River Valley businesses continue to operate amid a shortage of workers, a recent report on the local labor market indicates that the number of people employed in Blaine County has surpassed pre-pandemic levels—but the number of unemployed people also remains higher than before March 2020, when COVID-19 turned the economy upside-down.
The strange set of circumstances appears to be part of a dynamic affecting many parts of the nation that economists can't yet fully explain.
A report at the end of June by the nonprofit organization Sun Valley Economic Development indicates that Blaine County's total labor force—the number of employed and unemployed people—inexplicably surged at the beginning of the COVID-19 pandemic, according to data from the Idaho Department of Labor. The report—part of a series called "What's Going On With The Labor Market?"—states that the county's total labor force of 12,702 in March 2020 jumped to 14,081 by the following April, an increase of nearly 11%. The number has steadily normalized since, dropping to 13,013 in May 2021.
Of the total Blaine County workforce in May, 422 workers were unemployed, or 3.2%. The pre-pandemic number of unemployed people in the county—in March 2020—was 301, or 2.4%.
Meanwhile, the number of total employed people has increased. The March 2020 number of 12,401 employed people in Blaine County rose to 12,591 by May of this year.
"We simply have more people working than we did in early 2020," the report states.
On June 19, the state of Idaho ended extra benefits for unemployed people enacted during the pandemic. Some economists have suggested that the extra unemployment benefits provided a disincentive for people to return to the workforce.
"If this benefit was keeping workers on the sidelines, we should see them return to the workforce in the coming weeks," the report states.
The employment numbers signal an increase in jobs in Blaine County, with likely fewer workers to fill them than there were 15 months ago, said David Patrie, outreach director for Sun Valley Economic Development.
Evidence of the labor shortage can be seen across the local economy. Print advertisements for jobs tout hiring bonuses and special benefits. Signs designed to lure new employees in to fill out applications dot the Ketchum landscape. Some businesses have adopted planned closures on certain days and others have enacted reduced hours because of a shortage of employees.
While the employment numbers provide some hints at answers, the phenomenon cannot yet be fully explained, Patrie said.
"Nationwide, it's an issue that people really haven't gotten a handle on," Patrie said.
One way businesses can try to solve a shortage of workers is to attract them with higher wages, the report notes. Coupled with anecdotal evidence of higher wages being offered, Department of Labor wage data indicates that some Blaine County businesses are adopting that solution.
"Overall, Blaine County wages were up more than 10% from 2019 to 2020," the report states. "And that trend is continuing in 2021."
One company in Blaine County surveyed by Sun Valley Economic Development reported being short seven workers in late April, representing about 15% of the staff. After raising pay and adding benefits, the company reduced the number of openings to one.
Though the labor shortage is a national issue, it is affecting resort areas like the Wood River Valley more than others, the report states.
"The deficit is more acute in resort areas experiencing higher demand for services," it states.
A contributing factor, according to SVED, is a lack of affordable housing for workers.
"The impact of available housing on the labor supply is more acute in Blaine County because we have a severe housing supply deficit that has been accumulating for years," the report states.
The dearth of workforce housing not only affects workers in the community, Patrie said, but also impedes the ability of businesses to bring in qualified workers from outside of the region. Even for those with means to pay somewhat higher rents, "there's just nothing out there right now," he said.
Other factors impacting the workforce include the pandemic limiting the international migration of workers, the availability and cost of childcare, and hesitancy to return to work because of health concerns related to COVID-19, the report states.
Rising wages are good for workers, Patrie said, but business operators might have to make other adjustments if the labor force doesn't rebound further.
Scott Fortner, executive director of the Visit Sun Valley marketing organization, agreed.
"Obviously, everybody's struggling with this and getting creative," he said.
The labor shortage—as well as smoke from Western wildfires—could become an "Achilles' heel" for summer business, Fortner said, and could become a long-term concern.
The shortage is a "multi-faceted dynamic," he said, which is affecting not only the service sector but some other parts of the economy, as well.
"It seems like it's trickling through the trades, too," he said.
Fortner said he is interested in seeing what types of solutions business operators employ to address the issue, such as restaurants having customers order at a service counter instead of employing full-service wait staff.
Some businesses can try to plan for surges and lulls in customers by monitoring hotel reservations, Fortner said, which are tracked by Visit Sun Valley. Last fall, winter and into the spring, many travelers were making plans very close to their travel dates, making it difficult for businesses to know what was coming, Fortner said. Now, he said, more and more travelers are making commitments 30, 60 or 90 days ahead.
As for some businesses closing on some days because of staff shortages, it is "totally understandable," Fortner said.
Patrie said it is difficult to assess the economic impact of the labor shortage, but Sun Valley Economic Development will continue to analyze the situation and advocate for solutions.
"This is a developing phenomenon that is not unique to Sun Valley," he said.