Ski industry analysts are predicting a busy 2021-2022 ski season in Idaho and throughout the West.
Mountain destinations across eight Western states combined to record their best collective summer ever for occupancy, daily rates and revenue—and the winter season also looks very promising, according to the latest report from DestiMetrics, a Vermont-based organization that tracks lodging and business at mountain resorts.
"Comparisons to both last year at this time and two years ago at this time, before the pandemic, shows an impressive rebound—including steadily escalating daily rates," the organization stated in the report, which used data through Oct. 31.
Challenges related to adequate staffing and employee housing "are still significant," the organization reported, but the return of some international workers on U.S. visas should help mitigate the issue, and "the booking pace suggests that visitors are eager to return to a far more typical mountain vacation."
As of Oct. 31, on-the-books occupancy for the full winter season from November through April is up 75% compared to last year at this time, with gains in all six months—including triple-digit gains in February and March, DestiMetrics reported. The average room rate for the winter is up 23.5%. On-the-books occupancy is up 18.6% compared to this time in 2019, before the COVID-19 pandemic.
"Conditions driving bookings for the upcoming winter season at mountain resorts couldn't be better," said Tom Foley, senior vice president for business process and analytics for Inntopia, Destimetrics' parent company. "Vaccination rates that are ticking up, infection rates moving down, and strong financial and consumer markets—despite inflation—are driving considerable upward momentum and are contributing to extending the summer's records into next spring."
Robust bookings, extended lengths of stays, earlier lead times for bookings, and fewer cancellations are also contributing to the positive winter outlook, Foley said.
The surging stock market, falling unemployment rate and the creation of new jobs has helped mountain resorts, DestiMetrics stated. Unemployment has declined 1.2% since the beginning of the summer and nearly 4 million new jobs have been added, but staffing continues to be an issue for mountain resorts.
"Lack of employees has the potential to impact the ability of the travel industry to meet the high demand and justify the high cost of destination travel," Foley said. "That ongoing void may force changes to service levels or rates as the season progresses."
COVID-19 case numbers can also impact bookings, DestiMetrics stated, and national supply-chain problems continue to impact the economy and the service industry. However, the calendar is providing a boost for mountain resorts.
"With Christmas and New Year's both falling on Saturday this year, that really helps extend the holiday travel period and it is currently creating excellent occupancy fill-in the 10 days before the holiday," Foley said, "as well as the always popular days between Christmas and New Year's—and that is driving some pretty amazing revenue numbers for the second half of the month."
A successful winter season is never guaranteed, Foley said, but the overall outlook is very positive.
"As always, there are some issues that could shift the narrative, including the national inflation rate that reached 6.2% in October, the exodus of mountain town employees, and a long-term weather forecast for a La Niña snow pattern that isn't always beneficial for all regions," he said. "But if the pandemic continues to ease, the financial markets remain positive, and visitors can look forward to slope time with far fewer restrictions than last year, it should be an excellent year."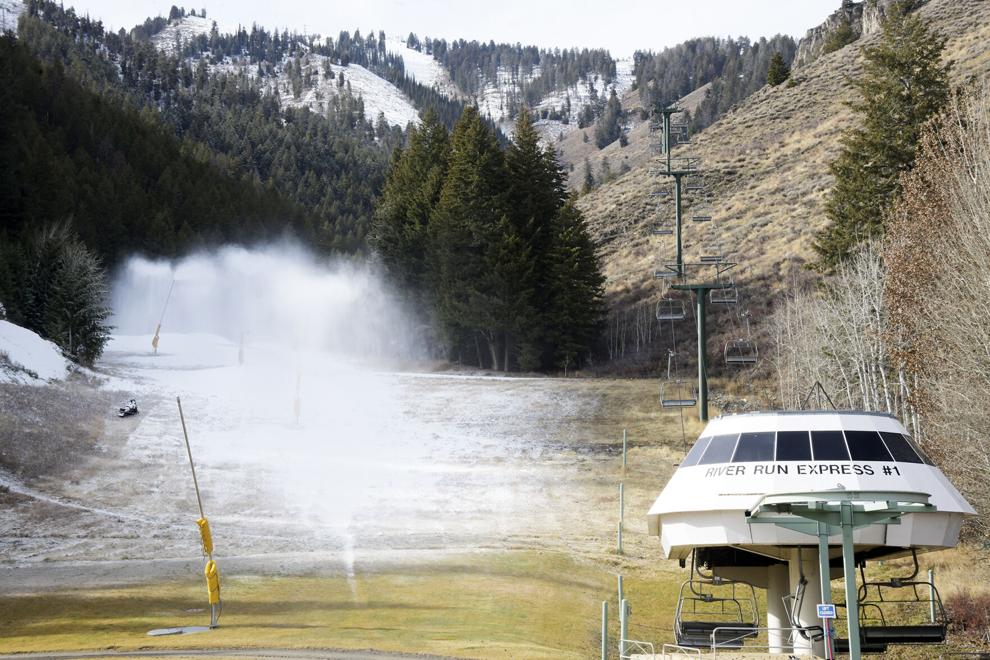 Several factors also point to a successful winter season in Idaho, the nonprofit Idaho Ski Areas Association stated in its latest report.
SKI magazine recently named Sun Valley as the top ski resort in North America for the second year in a row. Schweitzer—in northern Idaho—will open a new slopeside hotel next month. Bogus Basin, near Boise, spent more than $6 million on 52 capital projects last summer, bringing the total investments in improvements over the past five years to $30 million. And, Rotarun, just west of Hailey, has joined the Idaho Ski Areas Association.
Positive developments for Idaho ski areas range across the state, the association stated.
Grand Targhee, just across the Idaho-Wyoming border, spent $20 million on capital improvements last summer. The resort is affiliated with Idaho because the only way to access it is through Driggs, Idaho.
Rotarun—which is operated as a nonprofit organization—joined the Idaho Ski Areas Association in October as the group's 19th member. Established in 1948, Rotarun has eight named runs and a vertical drop of 441 feet served by a Doppelmayr platter surface lift. It also has a terrain park and offers night skiing and youth programs.
Soldier Mountain, near Fairfield, has benefited from several investments by new owners in the last year. The resort upgraded the snowcat for its backcountry operations and purchased a new PistenBulley groomer for the front-side slopes. In addition, staff conducted extensive brush clearing and tree trimming to expand skiable terrain.
Idaho's northernmost ski resort, Schweitzer, near Sandpoint, anticipates its new boutique, 31-room Humbird Hotel will open in mid-December. Schweitzer is also boosting uphill capacity on Stella—Idaho's only six-person chairlift—by 600 riders per hour by adding 14 new chairs to its inventory.
For the second consecutive year, SKI magazine named Sun Valley the top ski resort in North America in its annual reader survey and awards. Sun Valley ranked No. 1 in the categories of Grooming, Lifts, Service, Dining, Lodging, Family, Local Flavor and Overall Satisfaction.
Sun Valley Resort will open new terrain for glade skiing this season that has previously been inaccessible due to the number of dead and downed trees. It will also introduce a new food-service area at the River Run Lodge that will assist with guest flow.
Sun Valley is scheduled to start the winter season on Nov. 25, Thanksgiving Day.