The coronavirus pandemic has led to retail shortages in many sectors of the local economy; groceries, kitchen and art supplies, construction materials and bike parts are hard to come by. Shopping local is becoming a challenge, while even a trip to Twin Falls hasn't been successful for some.
Local art framer Jerry Hadam can't find plexiglass. Produce marketer Sherry Kraay can't find a freezer. Mary Claire Griffin has had no luck finding cabinets for her house under construction.
Lynn Flickinger can't find graham crackers, but that could be due to s'mores season and an increased demand around summer campfires for marshmallows and chocolate.
"Wouldn't it be nice if graham crackers were our biggest worry?" Flickinger said.
To explain the scarcity, local store owners point to supply chain disruptions, manufacturing shortfalls and uncertainties with regard to ordering. As their buyers hustle to keep store shelves stocked and a variety of brands available, many suspect that online retailers and large-scale box stores are scooping up the dwindling supplies of retail items.
"Certain categories are still struggling—paper, toilet paper, cleaning supplies, dish soaps," Atkinsons' Market President Chip Atkinson said. "I don't know when this will change. Manufacturers are going 100 mph and everything is being sold, and our suppliers are going nonstop 24 hours a day."
Atkinson said his wholesale buying teams have focused on locating necessities, including rice, beans and flour. He said it took a while for shoppers to understand that the COVID-19 pandemic wasn't going to end quickly.
"Everybody is at home baking now," Atkinson said. "Fortunately, we have been able to get enough flour, but if you are a King Arthur flour person for example, we might not have it. We will hopefully always have rice and beans but they might not be the brands you prefer. But we have to have something on the shelf in each category."
Atkinson said the massive shift from offices to working at home, and the dramatic drop in tourism, have left his buyers facing new alternatives.
"We now have name brands that no one has ever seen," he said. "We're getting hotel single-rolled toilet paper wraps, or other things you would ordinarily see in an office building. In cleaning supplies it's the same thing. How many more dishwashing loads are people doing at home now?"
Atkinson said manufacturers are cutting back on the diversity of products they once offered and curtailing the development of new brands. He said consumer goods giant Proctor & Gamble plans to discontinue hundreds of items, and many of them may never come back.
"Tide soap could be available, but not in all the different scents. Dawn dish soap is already hard to get. Some brands will be impacted more than others," he said.
Atkinson said he believes large buyers are getting shipped the products they request more readily than smaller local chains like Atkinsons'.
"I believe that if Walmart says they want those 40 cases of Tide they would get it quicker than smaller shops around the country. If, as we have heard, Walmart has Clorox wipes and the smaller stores don't, that says to me that they are using their buying scale to get more of the supply."
Atkinson said the risk of a meat shortage has passed ("Knock on wood.") and that summer will bring more diversity in the form of fruits and vegetables.
"Many of the growers we work with in southern Idaho, their gardens are kicking in," he said. "We should see a lot of melons and corn and tomatoes pretty quick, and also some zucchinis. But there could be some supply issues for some crops. Picking teams could be sick or vulnerable to COVID. As the apple crop comes on, if there are not enough pickers that could be a problem."
Meanwhile, Atkinson said trade tariffs are causing the cost of some international items to rise precipitously.
"Imported European olive oils are up 25 percent," he said.
Shortages have hit some parts of the sporting goods retail sector hard, too, especially with the unexpected demand for outdoor activities. Elephant's Perch buyer Jason Dykhouse said road bikes and mountain bikes, as well as replacement parts, are nearly impossible to find.
"If it's not already nailed down, it's pretty much gone," Dykhouse said. "2019 was a down year and industrial orders were already low a year ago. Now COVID happened and interrupted the supply chain in Asia where all of these bikes are made. Then you have parents with kids stuck at home. They say, 'Let's get a bike for the kids to get them out of the house,' and then, 'Oh, I need a bike too.' So all of these companies are scrambling to keep up with demand."
Dykhouse said electric bikes, or e-bikes have been available, because manufacturer's expected a surge in demand last year. Other high-end bikes have also been available.
"The difficult things to find are entry-level stuff. Getting a bike for your kid is almost impossible. I can get high-performance tires, but if they want a $24 tire for a 12-year-old, that's hard to come by. Shimano has no pedals for road or mountain bikes. They do 28 models of pedals and none of them are available," he said.
Jedd Young is a buyer for camping gear at The Elephants Perch. He's encountered a shortage of camping gear, sleeping bags and sleeping pads.
"I think any company that does business overseas has been affected and I wish I knew why," Young said. "Nobody tells us why they can't get things. When we were closed, we didn't order because we didn't know how long we would be closed and what would happen. You wouldn't want a lot of stuff just sitting around. Now, a lot of products have already been scooped up by other stores."
Vincent Carpenter is manager of Ketchum Kitchens, which has had an intermittent supply of replacement canisters for Soda Stream, a carbonated water device, for the past three months.
"We had empty canisters that we could not get back to the company during the shutdown, so there was no way to refill them," Carpenter said. "I have an order out. We think it's in between freight lines at this point. It's been a case of not knowing how much to order and not knowing when there was a breakdown in supplies."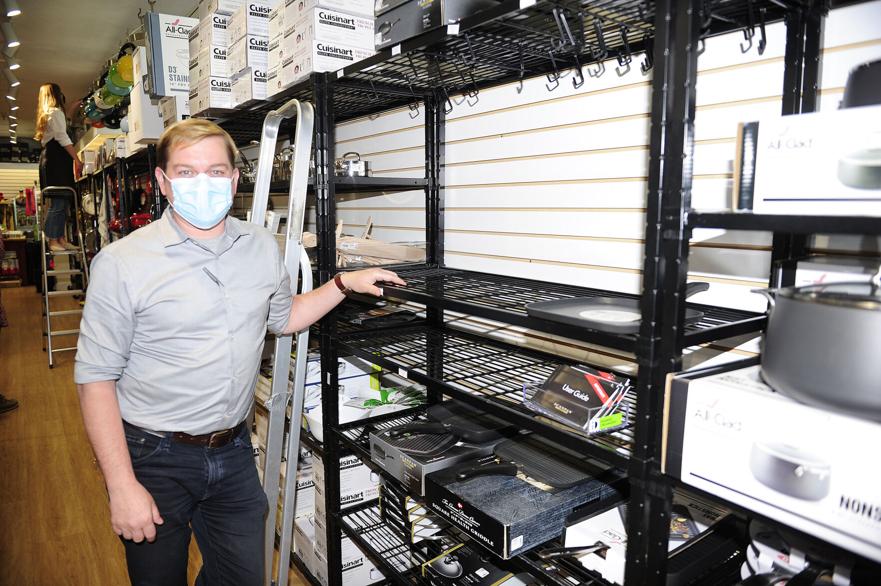 Likewise with electrical devices throughout the store, Carpenter said.
"Toaster ovens, blenders, microwaves, a lot of companies canceled orders because they didn't know what was going to happen. But other online companies saw an uptick in purchases that we couldn't see. They may have forecast trends that retailers like us couldn't see," he said.
Carpenter said that based on stories he has heard from his buying representatives, big online retailers are buying in bigger quantities.
"Amazon for instance, from what I heard, has increased its volume in buying so they have the inventory. Williams Sonoma kitchen stores also," he said.
Carpenter said planning for summer has been a challenge.
"How much picnic stuff should we order? How many people will have outside parties? Many things take two weeks to order. But when June hit, everyone was suddenly in town and they just wiped us out," he said.
With the construction industry ramping up, Idaho Lumber in Hailey has seen some changes. Owner Todd Hunter said lumber costs have risen 15 percent since April and his buyers are scrambling to keep up with consumer demand for household items.
"Our Ace Hardware warehouse in Washington has been at 50 percent capacity in staffing, so for more than two and a half months we've gotten half the inventory that we've called for," Hunter said. "Right now, they're filling items that are critical and essential this time of year and ranking them accordingly."
Hunter said fertilizer and mulch are deemed essential right now, as are paints and brushes and rollers.
"That's because so many people have turned to doing home repairs," he said. "Hand tools are easy to get, and also power tools, even though many come out of China. Some items are ranked 'A' for necessary and others are a 'C' or 'D,' like replacement parts for toilets and faucets."
Hunter, like many retailers interviewed for this story, said he's reaching outside his usual supply chain for items he can sell, most recently for the purchase of ladders. But some things that have never been a problem suddenly are.
"Random items," he said. "Like metal stock tanks [for livestock feeding and watering]. The manufacturer shut down for several months so we can't get them."