As more than 10,000 sheep in about a dozen flocks near the end of their annual foraging in the mountains around the Wood River Valley, the ranchers who own them expect to face a challenging market for the sale of their lamb and wool products.
Lava Lake Land and Livestock co-owner Brian Bean recently told the Mountain Express that his goal has been to expand his sheep herds to reach the surrounding rangeland's ecological carrying capacity, but that the plan could have to wait due to the coronavirus. Many lambs have traditionally been sold to restaurants, he said, which have been severely impacted by business shutdowns.
Bean called the current economics of range operations "alarming," with the price of lamb now at its lowest in at least 10 years.
"We're scrambling to find buyers for lambs," he said.
Industry professionals say the COVID-19 pandemic's impacts on processing plants, the Trump administration's trade war with China and work visa restrictions are all contributing to the decline.
Fifth-generation sheep rancher Corey Peavey of the Flat Top Sheep Co. near Carey said the recent bankruptcy and closure of the Mountain States Rosen sheep processing cooperative in Colorado has leveled a hard blow to his business plan and that of about 150 sheep operators. But that it's only part of the problem.
"My biggest issue right now is labor," Peavey said.
He said he had plans to rely on four Peruvian shepherds to manage 2,300 breeding ewes and 2,600 lambs this summer in and around the Wood River Valley. Those workers usually acquire three-year H-2A agricultural work visas to herd sheep, taking periodic breaks back to Peru before acquiring a new one.
"But now Peru is completely closed down and having a terrible time with COVID-19," Peavey said. "And Trump has denied visas for foreign employees to travel here for work. I had two employees that have been with me for almost 10 years. They went home for vacation last fall and could not come back in April."
Other producers in the area are equally desperate to find herders to fill the gap, according to Peavey. He said that when herders are in short supply one solution is to increase the size of each flock, which can be detrimental to the young sheep. Larger flocks must move to keep grazing sheep from violating the "eat half, leave half" rangeland grazing practice. That, in turn, creates more stress on the lambs, and keeps them from gaining weight for market. In the end, Peavey ends up losing more money on the sales than it would have cost him to hire someone to run another band, he told the Express.
"The goal is tranquility," said Peavey, who sounded anything but restful about his current situation, which is likely to include selling his lambs at a cut rate.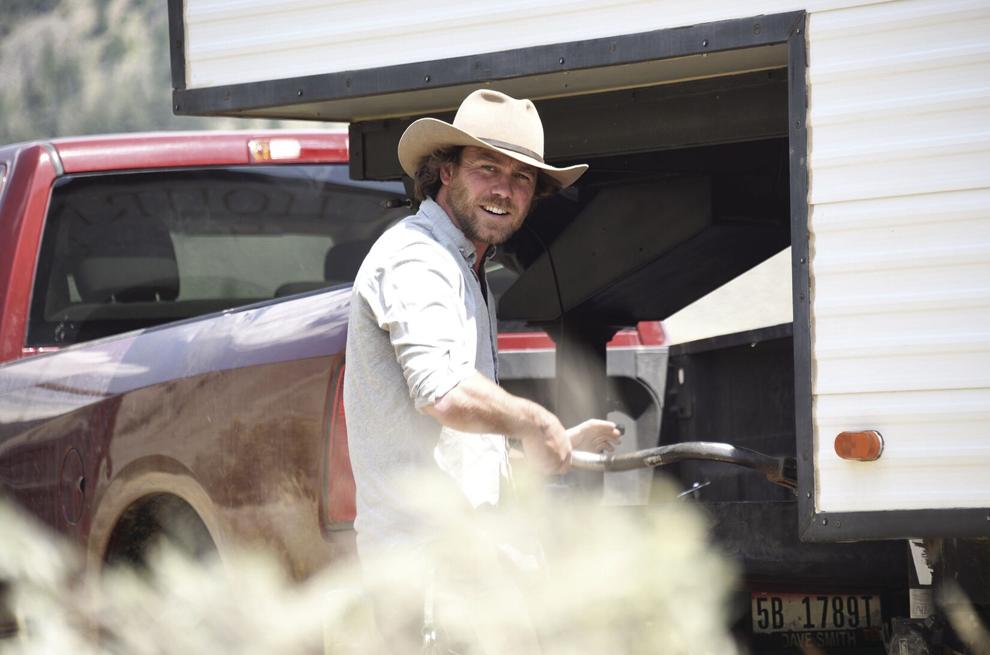 This summer, sheep ranchers paid 27 cents per sheep per month for the permitted right to graze on public lands in the Ketchum Ranger District and Sawtooth National Recreation Area. They operate under regulated grazing permits issued through the U.S. Department of Agriculture.
Forest Service Rangeland Management Specialist Renee Kehler said lambs are usually shipped throughout August (ewes do not go to packing plants), but some ranchers are taking longer than expected.
"We have seen changes in shipping dates," Kehler said. "There have been delays because some meat packing plants are closing. Sheep operators are asking for more flexibility from us. Some permittees are worried that they won't be able to ship their lambs at all and that they might even have to feed them through the rest of the summer and winter."
Kehler said government regulations allow for delays of up to two weeks beyond permitted shipping dates based on the availability of existing forage and ongoing compliance with Forest Service standards and guidelines. But Peavey said the pending scarcity of processing availability could lead to some hard choices.
"You can keep ewes another year, but lambs have to be sold, even to dog food manufacturers if we have to. By the time we do that we're losing a lot of money," he said "The price of lamb is 90 cents per pound now. We need $1.50 to make a profit."
"The sheep industry is in deep trouble," said John Noh (pronounced "nay"), board president of the Idaho Wool Growers Association. "We were already in a slowdown early this year due to the trade war with China, about 25 to 30 percent less than a year before. Since COVID hit, we're down 60 percent from a year ago, if you can even find a bid to sell."
Noh said China, the world's largest producer and consumer of lamb, usually buys about 80 percent of U.S wool on the market.
"Now China has quit buying our wool, pelts and skins," he said. "We have a hard time competing with Australia and New Zealand, where sheep are run on private land, labor costs are low and there are more processing facilities."
Idaho Wool Growers Association Executive Director Naomi Gordon said China usually buys much of the United States' wool, processes it at its woolen mills and sells it back to Western markets, including the U.S., for the manufacture of clothing.
"That's because there are few woolen mills left in the U.S.," Gordon said.
Gordon said an auction of sheep rams three weeks ago in Twin Falls, an event that indicates the current state of affairs in the industry, brought bad news.
"The average ram price was $377, compared to about $650 last year," she said. "And we had some of the best quality rams we have ever had."
Gordon has heard that other Western states are faring even worse than Idaho, with sheared wool without buyers is stacking up in warehouses.
"We have heard that the shipping port in Houston, Texas, is sitting on 25 million pounds of wool," she said.
Only small "farm-flock" sheep operations are faring well, according to Gordon, due to a "niche market" for their specialty sheep products.
Cory Peavey said customer decisions could help bring the Idaho lamb industry out of the current economic crisis.
"Sheep ranching has always been hard and it's not getting easier," he said. "It's important for a consumer who can find the choice to purchase lamb from the United States. Every local purchase is a vote for local sustainability."