"Farm to table" locavore options have become increasingly popular in recent years for food activists and others who want to know where their food comes from. Freshness and unique artisanal qualities contribute to the appeal of local produce.  
Wood River Valley bakers now have a new opportunity to follow their breads and muffins from seed to oven, with flour from Hillside Grain south of Bellevue.
 "We are growing the grain right next to the mill," said founder and miller Brett Stevenson. She was raised at Hillside Ranch in the Bellevue Triangle near the headwaters of Silver Creek.
"Terroir isn't just for wine," the company website states. "Within our grain and flour one can just about taste the clear hot summer days, cool high-elevation nights."  
The Stevensons' ranch has primarily raised barley for the beer-brewing industry. But in recent years, Stevenson has been growing test patches of heritage grains and experimenting with wheat strains on the ranch her family has owned for 45 years.
"Idaho is excellent grain-growing country," she said.
Stevenson's goal has been to mill what she described as "high extraction" wheat flour, which retains a higher amount of bran and germ than that of large commercial mills, whose flour is designed for mass production, storage and shipping.
"Most mills take these parts out to give flour a longer shelf life and make it very white," Stevenson said. "But that's where the nutritional value and flavor are. But leaving these in make the flour somewhat perishable."
Hillside Grain flour is as local as it gets, but only has a six-month shelf life. Stevenson said her customers, including Hangar Bread and Café Della in Hailey, understand the tradeoff.
"It becomes imperative that we sell fresh, unadulterated flour," she said.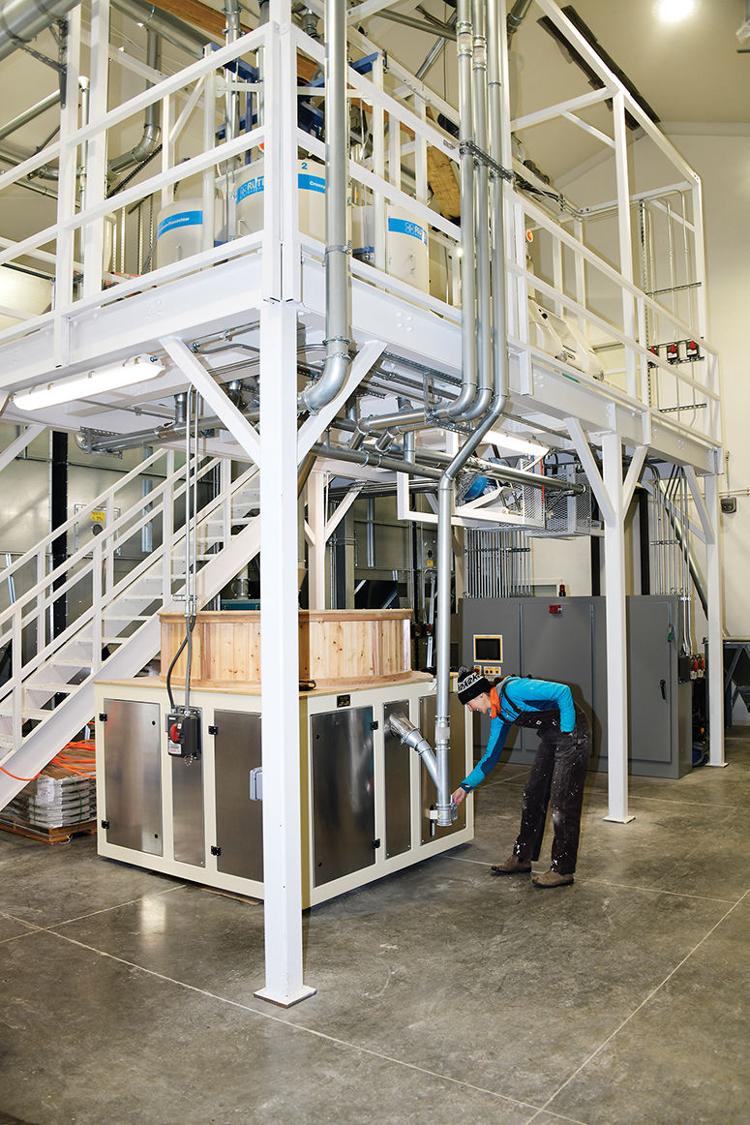 The two-part Hillside Grain milling process includes a "roller mill" that initially breaks up the hard grain casings. That's followed by milling the grain through two custom-designed 1.5-ton mill stones to turn the wheat into fine flour.
"The stone mill is what is really unique," Stevenson said. "It was made in Holland specifically for our particular climate."
Stevenson said that as far as she knows, mills like hers were until recently a thing of the past.
"I think there used to be one at the Purdy Ranch in Picabo," she said.
Hillside Grain is currently milling a soft, white wheat that is low in protein and good for cookies, shortbreads and pie crusts. The mill also produces a hard, red wheat, higher in protein and good for bread flour, pasta and pizza crusts.
"We also mill food barley, which has an immune booster," Stevenson said. "It's low in gluten content, with a delicious nutty flavor. It's tricky to mill, but one of my favorites."
Stevenson said Hillside Grain farming practices could reduce the risk of symptoms from what has come to be known generally as "gluten intolerance."
"We have been eating flour with gluten for thousands of years and suddenly we have a problem with it," Stevenson said. "Certain additives in the flour industry in America could be contributing to these problems with digestion."
Some Hillside grains are certified organic and some are not. All are free of glyphosate, a chemical weed-killer sold commercially as Roundup.
Hillside grains are also not bleached, which uses chemicals to add whiteness. Nor is bromate added, a conditioning agent used in the baking industry to make flour "more consistent and predictable," Stevenson said.
Potassium bromate is a chemical derivative that has been linked to cancer. It is used in the American baking industry, yet banned in the European Union, Canada and China.
In addition to health issues, Stevenson is also concerned about her farm's "identity preservation," which has as much to do with relationships as branding.
"Consumers have more interest in who grows food and how it's processed than ever before," she said. "We lose all of that when we sell to large companies. We want to have a closer connection to our consumers."
Since Hillside Grain started milling in September, the local flour has been sold at local stores and restaurants in the Wood River Valley, Salt Lake City and a few locations in Boise. At Hangar Bread in Hailey, the grain flour has been baked into French baguettes, cinnamon rolls, scones and a country loaf bread. Café Della sells Hillside Grain pastries and soft white bread. Pie-daho in Bellevue is rolling the flour into pie crusts.
Stevenson has taken some selling trips to the San Francisco Bay Area and Jackson, Wyo., to promote her brand.
"I recently got a call from New York," she said. "We will see how our demand grows, but we have a lot more potential. I think we're just getting warmed up."
Stevenson said she is scheduled in January to give a lecture at the Culinary Institute of America, along with Stephen Jones, a professor at Washington State University who runs a research program called The Bread Lab. The event is co-hosted by Harvard's school of public health.
"The event is about flavor," Stevenson said. "Bread, and especially flour and grain, are the next frontier."