The COVID-19 pandemic devastated the hotel businesses last spring when it virtually shut down the travel industry, and some hotels in the Wood River Valley are still struggling as they round out a lackluster holiday season.
Gabi Perez, front desk manager at Ketchum's Best Western Plus Kentwood, said the Christmas season was slower than last year's.
"You could definitely feel the difference," Perez said.
Best Western Tyrolean Lodge Assistant General Manager Brooklynne Hill agreed.
"It's definitely been rough on everyone here," she said.
Hill oversees a staff of 16 housekeepers, maintenance personnel, cooks and front desk workers who have seen their livelihoods in jeopardy for nearly a year.
The Tyrolean, near the River Run Lodge in Ketchum, was shut down for four months after COVID-19 struck in March. It reopened for five months in June and struggled until fall—a period in which short-term rentals from such sites as Airbnb and VRBO increased 10-20%.
"Our boss continued paying the staff for those four months and provided housing for free," Hill said. "But when we closed again for a month in November, he was only able to provide housing. We plan to keep on trucking and hope for the best."
Hill said five other properties owned by the same parent company in Utah, New Mexico and Mexico are in the same shape.
"All of our sister hotels are hurting," she said.
The Tyrolean's management and staff have been navigating COVID regulations from the state, city and company headquarters to keep the risk of coronavirus transmission in check. During the first weeks after reopening, this meant closing a game room and exercise facility and shutting down the hotel's breakfast buffet.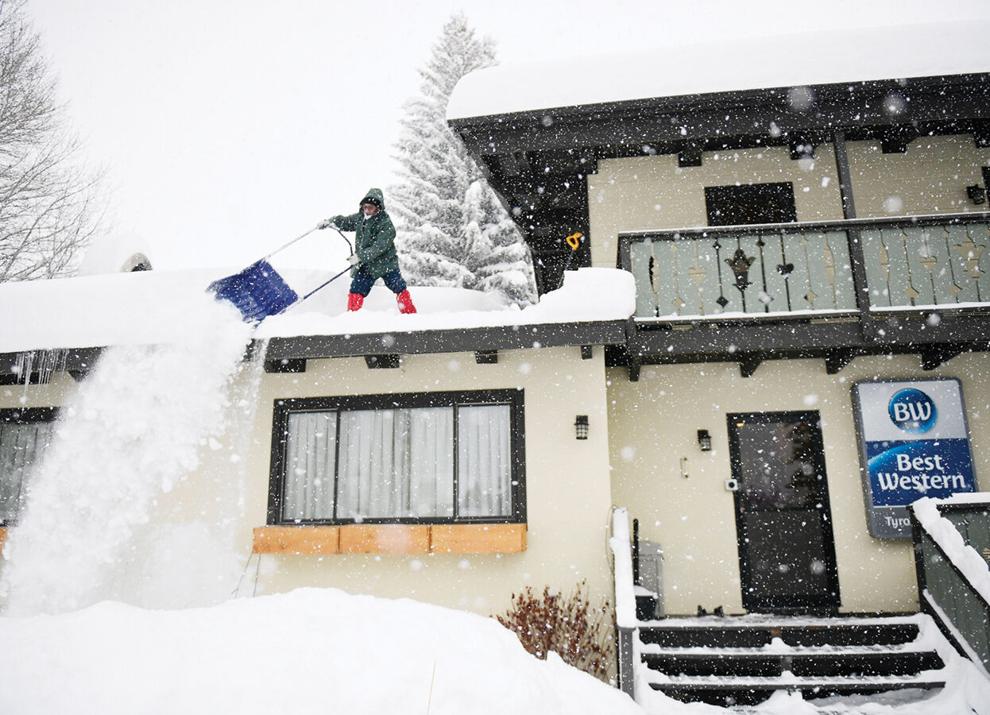 "We used to have a high-quality buffet," Hill said. "People used to come here from all over for it."
Breakfast is now a simple affair with individual plates delivered to guests. The game and exercise rooms are available by appointment. At least the travel quarantine that was in place months ago has ended, she said.
"Who would want to come to Ketchum and self-quarantine in a room for two weeks?" Hill said. The Tyrolean's 52 rooms are usually booked to 50 percent capacity during weekdays in winter, with that number rising to nearly 100 percent on weekends due to ski groups, including families and kids who travel together. That means more than 100 guests are usually checked into the hotel every weekend.
Hill said discounted room rates and an automatic 24-hour cancellation policy due to COVID concerns has not significantly increased business. Over the holiday season she saw the slow trickle of visitors since opening day on Bald Mountain increase only slightly.
"It's still pretty slow," she said in mid-January. "We went from having three or four people a night, to maybe 11 or 12. Only on New Year's Eve did we get close to 75 percent occupancy. We have a loyal clientele that does keep coming back. They have kept us going."
Hill said she has heard of other hotels in town also closing on and off, due to a lack of reservations.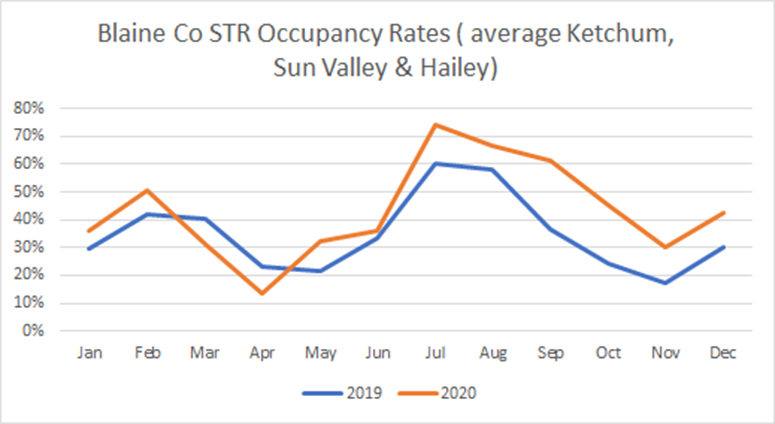 Hill thinks short-term rental options that have been proliferating in recent years are taking a bite out of the hospitality business—and, in Ketchum, the numbers seem to back her theory.
From September through November, local-option tax receipts in Ketchum from hotel-room bills were down by 10.25 percent. The receipts were down in September and October but up 65 percent in November. During the same period, receipts from short-term rentals were up nearly 50 percent, with September receipts up 82 percent in Ketchum from the previous year.
Sun Valley Economic Development Executive Director Harry Griffith said drawing direct comparisons between the hotel and short-term rental markets can be difficult, but data drawn from AirDNA, a market monitoring site, has shown a drop in the availability of whole home listings in Blaine County since the start of the pandemic.
"Units rented a year ago have not come back on the market," Griffith said.
According to the SVED analysis, there were nearly 1,200 available whole home listings in December 2019 in Ketchum, Sun Valley and Hailey. In December 2020 there were only 900 listings, along with a 10% increase in the short-term occupancy rate.
Griffith attributes the scarcity of listings in the midst of increased demand to a preference for longer stays, which takes short-term rental units off the market for an extended period of time.
"People who used to come for a few days are now staying for 30, 60 or 90 days," he said.
Short-term rentals in homes and condominiums have kitchens and other amenities of a typical household.
"Everyone knows that hotels are expensive, especially in Ketchum and Sun Valley," Hill said. "We don't have kitchenettes in our rooms so our guests have to go out to eat and that can be a problem during the pandemic in and of itself."
Not all hotels have suffered a recent decline in business.
Knob Hill Inn General Manager Ally Barnhardt said last-minute reservations brought occupancy up to 90% during the Christmas season. In addition, Barnhardt said, "our November was even better than it was in 2019."
Hill said the Tyrolean Lodge plans to persevere in the midst of changes to the hospitality business. She said she hopes the coronavirus vaccine will provide a return to normal for the Tyrolean's business by summer.
"We're hopeful," she said, "but right now it's too soon to tell."