The St. Luke's Wood River Foundation completed its annual employee giving campaign, called Stronger Together, with 82% of St. Luke's Wood River employees participating and physicians reaching a milestone with 90% contributing.
Supporter Buddy Wilton and his wife, Shay Doll, pledged a gift of $50,000 if employees and providers each reached 80% or greater participation levels.
"I am touched and inspired by the generosity of our St. Luke's employees," foundation Chief Development Officer Megan Tanous said. "They continuously step up to support initiatives to provide exceptional care to our community, as well as to lend a hand to their colleagues in a time of need."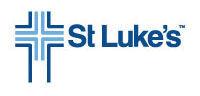 Employee donations contributed to funds that support fellow employees for emergency medical expenses, staff education, CSI Blaine County health-care scholarships and community programs such as scholarships for mammography and mental health.
The mission of the St. Luke's Wood River Foundation is to support programs that improve health and well-being in the community. For more information, go to slwrf.org, call 208-727-8447 or email wrfriends@slhs.org.