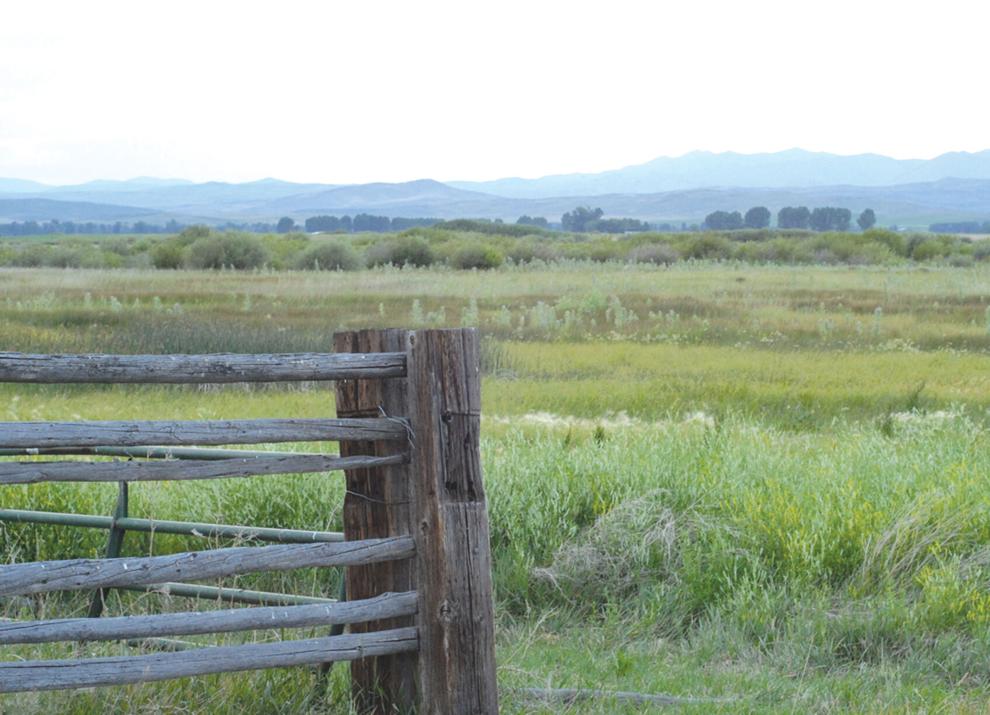 The Wood River Land Trust recently got a conservation boost through the sale and transfer of development rights (TDR) from its Church Farm property near Timmerman Junction to a property to the north closer to Bellevue.
The exchange marks the first platted and final use under Blaine County's Transfer of Development Rights Program.
The rights transfer, certified and approved by Blaine County, limits the amount of development on 40 acres of land under a conservation easement at the land trust's Church Farm property, and transfers that density to a 16-acre property belonging to Gerardo Perez Cano and Marlene Grimaldo on the corner of state Highway 75 and Derby Lane.
The first TDRs approved by Blaine County under the program were on the same property two years ago, with the purchase of one TDR to subdivide a parcel into two lots at T&T subdivision. Sixty acres are now protected from development under easement in the lower Bellevue Triangle as a result of the purchase of three TDRS on the Cano/Grimaldo property, according to a county staff report,.
"This platted approval marks the first time this program has worked on the ground," said Blaine County Land Use Planner Allison Kennedy.
Blaine County's TDR program was established 16 years ago to preserve natural resources and steer development closer to population centers. Landowners in the "sending area" in the south Bellevue Triangle can sell a development right to a property owner in the land designated in the "receiving area" closer to town. Both areas are identified on a map on the Blaine County website.
"This allows the receiving area landowner an increased number of development rights than currently zoned while preserving areas in the sending area for productive agriculture or open space," Blaine County states on its website.
"We are seeing increased interest in the purchase of TDRS as we see more growth in the valley," said Amy Trujillo, deputy director of the Land Trust. "The opportunity to direct growth toward more suitable areas is what we are excited about."
"Gerardo and Marlene are now able to subdivide their two lots into four 4-acre lots, which will allow them to build houses for their children," the Wood River Land Trust said in a statement.
The sale of those development rights has enabled the Wood River Land Trust to permanently protect its 131-acre Church Farm property, which is also enrolled in a federal Wetlands Reserve Program conservation easement.
The transaction was facilitated by realtor Anna Mathieu. Technical details were handled by Sean Flynn at Galena Engineers.
Although the sale price of the TDRs was not disclosed, Kennedy said they range in value from $25,000 to $30,000.
"It's a private sale between the buyer and the seller," Kennedy said.
Much like a mining right, a development right can be separated from the land through sale and a conservation easement, Kennedy said.
"So, it could be considered a commodity," she told the Express—it can be used within the designated receiving area, or resold on the open market.
Kennedy said when a TDR sells it triggers a conservation easement in the sending area to keep it undeveloped in perpetuity. So far, the programs have been "very successful" throughout the country to steer growth where it is more desirable while conserving lands most sensitive or desired for open space, agriculture, or wildlife habitat, she said. King County, Wash., and Lake Tahoe, Calif., have both successfully implemented TDR programs, she said.
Blaine County requires a sending-area seller to have at least 160 acres, or 80 acres if owned prior to 2006. Each TDR is based on a transferring a 20-acre parcel, which equates to one lot in the receiving area where building is limited by zoning regulations. Kennedy said open space requirements and Health District requirements would also dictate the allowable housing density in the receiving area, based on the number of TDRS purchased.
The county established another TDR on Glendale Road, but none of those rights were available for purchase, Kennedy said. Two more TDRs have also been used on Morada Farms. Blaine County P&Z just approved another project in which 13 TDRs were purchased for Lateral 75 Subdivision—a property with a man-made water ski pond on Highway 75—but this has yet to be approved by the county commissioners, Kennedy said.
"There are only two TDRS available for sale right now. Several others have been certified, but the landowners are retaining them for their own use," she said. "The main issue we are having now is that the program is taking off, but we don't have enough TDRs for the open market."
Kennedy said 25 TDRs have been certified by Blaine County and 21 have been sold to date.
In 2018, there were 1,500 potential TDRs in the designated sending area, Blaine County Land Director Tom Bergin said at the time. Kennedy said a new analysis is underway but is not likely to provide that many options for additional density near town.
"It's a very special landowner who wants to sell TDRs," Kennedy said. "Someone who wants to keep the land in agriculture or preserve it as open space or for wildlife habitat. The Nature Conservancy has sold some also. And there are some landowners who already have their home and agricultural use but want to sell the development rights to the rest."
Kennedy said the most successful TDR programs have partnered with municipalities.
"But if you're not thinking regionally and only about your city, it can be a challenge," she said. "Originally the cities of Bellevue, Hailey, Ketchum and Sun Valley were not interested in providing receiving areas, but that can be readdressed."