The first round of CARES Act stimulus funding brought a flurry of business activity to local banks as they worked to process hundreds of federally guaranteed loans for local individuals, businesses and nonprofits impacted by the COVID-19 pandemic.
It took only two weeks in early April for $349 billion in the Small Business Administration's first Paycheck Protection Program funding to run out. As of Monday, nearly 80 percent of the small businesses in the U.S. that applied for a loan were still waiting for an answer when the money ran out in mid-April, according to the Washington Post.
An additional $310 billion was added to the program this week with a slower pace of processing to allow a broader range of banks to submit loan applications.
Idaho Bankers Association President and CEO Trent Wright said that "100 percent of Idaho banks" participated during the first round of CARES Act funding, submitting 13,500 loans valued at $1.85 billion in 14 days.
"Idaho lenders covered 70 percent of the entire state's payroll during that time period," Wright said.
"It's been crazy hectic," said Washington Federal Bank Ketchum branch Manager Patty Duke on Friday. "We built the ship in the water to capacitate these loans."
Duke said Paycheck Protection Program loans of all sizes were processed at WaFed, the new name for the bank. She said that when first-round funding ran out, the bank already had many more clients in line for the next round of funding, which opened Monday.
"My first loan for was for $1,000 for a sole proprietor," Duke said. "The largest was for $198,000 to cover the cost of payroll for a restaurant for two and half months."
Jeremy Greenberg, a co-owner of Shorty's Diner in Hailey, worked with D.L. Evans Bank to procure a PPP loan that he hopes will help him "hang in there" through what he hopes will be the worst of the pandemic business shutdown. [D.L. Evans Bank advised Greenberg to not disclose the loan amount.]
Greenberg said his business has dropped by 60 to 70 percent due to the pandemic as it transitioned to take-out only. He said the federally guaranteed loan will provide enough money to cover payroll expenses for two and a half months for his staff of 15, including some bonuses for part-time employees who had other jobs that may not bounce back.
"It's a lot of money to spend, so we're trying to bump them up a bit," Greenberg said. "We will spend the entire required 75 percent of the loan on payroll."
Greenberg said he plans to reopen his Main Street business in a limited fashion on May 16, as allowed by orders from the Idaho Governor's Office.
"Our seating will be at 50 percent capacity and all of our outdoor seating will be open," Greenberg said, adding that he will submit an operations plan to the Department of Health and Welfare for review. "Eventually the plan will have to be approved for us to stay open."
Shorty's is one of 200 local businesses approved by six local banks for PPP loans during the first round of funding, according to Sun Valley Economic Development Executive Director Harry Griffith. Griffith said 60 percent of banks in Blaine County responded to his nonprofit organization's queries about the loan process.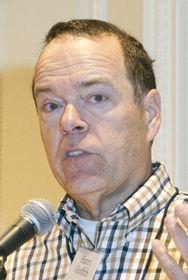 Griffith estimated that by the time the first round of funding was exhausted in mid-April, those 200 loans brought an infusion of $32 million into the local economy. He said he agreed to not disclose the amounts of loans issued by the banks he queried.
Griffith declined to say whether the non-profit Culinary Institute, for which he serves as a board member, received a PPP loan.
"We have no plans to talk about that on a public basis at this time," he said.
Spur Community Foundation Executive Director Sally Gillespie said she emailed 61 local nonprofits to determine how many had applied for PPP loans. She said she received 19 responses, representing organizations in health and social services, education, arts, and outdoor/recreation services/environment sectors. She said all respondents that were eligible applied for PPP loans.
Gillespie said four nonprofits, roughly 20 percent of her responders, had received their money by last week. As of April 21, most were still waiting for a response, she said.
Aurelie Bayer-Boloix, a commercial lending officer at Idaho First Bank in Ketchum, said the bank's team has worked "24/7" in recent weeks to submit loan applications to the SBA for approval.
"The PPP loans I have worked on have ranged from $3,000 to $600,0000, to show you that we have touched all-size businesses in the valley," Bayer said.
Ketchum Kitchens owner John Melin said he received a loan through Idaho First Bank that will allow him to continue paying his 10 employees, as well as help cover rent and utilities. His manager, Bob Beursmeyer, got an early start on the process, Melin said.
"All in all, it took us 10 days from start to finish," he said. "In the end this loan will be forgiven, so it is a direct gift from the government."
Melin plans to go from curbside pick-up only to regular walk-in store hours on Friday.
Idaho First Bank CEO Greg Lovell said Monday that he planned to work through the night processing loan applications for the second round of federal funding.
"It's not exactly normal for a CEO," Lovell said. "But we see this as an opportunity to help our clients and build relationships."
Idaho First is a relatively small bank, with assets of only $230 million. Compare that to something like Bank of America, which tops $1 trillion in assets. To Lovell, local community banks such as his are better equipped to supply loans in rural areas away from the East and West coasts.
'The smaller banks in Idaho have outproduced larger banks in getting smaller business loans," he said, "because these rural areas are where our customer base is coming from."
Many small operations were crowded out of the initial rush, though, and many businesses few would consider small got loans. Some of that money is coming back now.
The Washington Post reported Monday that more than $2 billion in loans issued during the first round have been returned, mostly from large companies. in the first round of funding has been returned. The burger chain Shake Shack—with market capitalization of $2 billion—reportedly returned a $10 million loan. The Los Angeles Lakers basketball franchise—the eighth most valuable sports team in the world at $3.7 billion, according to Forbes Magazine—opted to send back its $4.6 million loan, too, ESPN reported on Monday.
Slowdowns in the second round of CARES Act funding early this week could be an indication that small rural banks will have a better chance to get SBA loan approvals this time around, Lovell said.
"This could be good," he said, "because at least now our community banks can compete and get money for our customers."
Wright said bank loans under the second round of CARES Act funding this week are being processed by the SBA at a limited number per hour from each bank, to slow the process and make it more equitable.
"You can think of it as a marathon race," he said. "There can be a big crowd at the start, but they are more spread out later on. This slower pace does not mean less money will be dispersed or less small businesses will be helped."