According to the World Health Organization, 9 million more nurses and midwives will be needed by 2030 to meet the goal of universal health coverage. For that reason, WHO has declared 2020 the International Year of the Nurse and the Midwife. Particularly now, nurses play a vital role on the front lines and behind the scenes, directing care, supporting patients and keeping family members informed on medical procedures.
Here are three nurses serving the Blaine County community:
---
Stephanie Reichert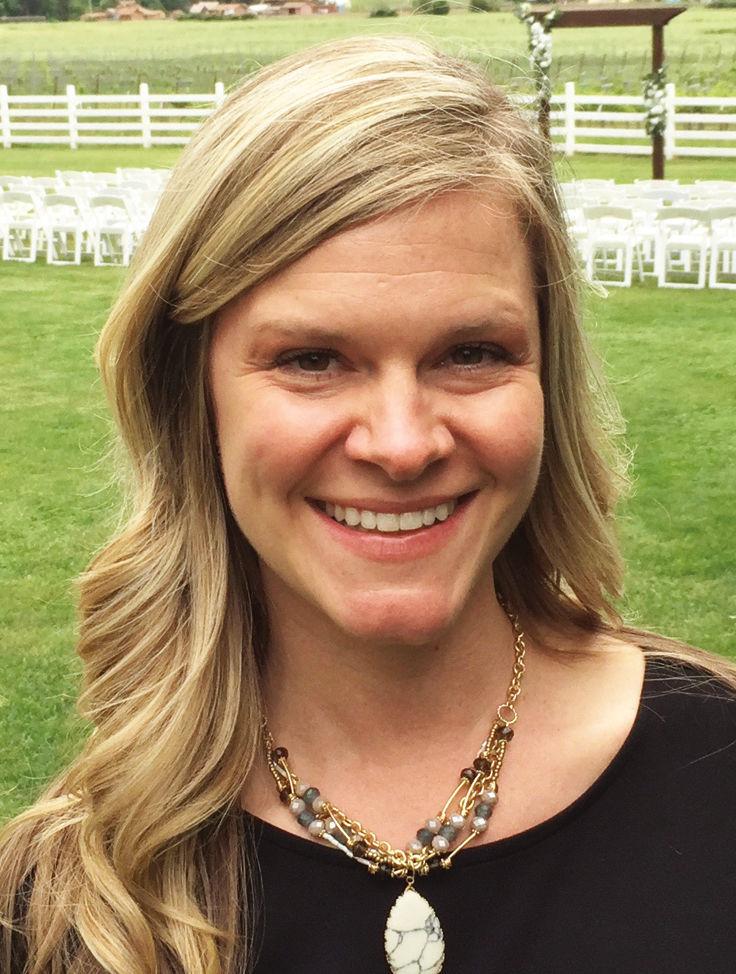 During the apex of the novel coronavirus outbreak in the Wood River Valley, Stephanie Reichert was working on St. Luke's Wood River Medical Center's incident command team, coordinating personal protective equipment, navigating daily changes to protocols and procedures, maintaining staffing where needed and working with the larger St. Luke's Health System to create new work flows to manage patient populations. But mostly, Reichert worked to make sure PPE materials were available and that everyone was using appropriate equipment for their job.
"It was almost like ad nauseam PPE," Reichert said.
Day after day, week after week, Reichert worked long hours to ensure that the most up-to-date standards were being met.
"It was hard to keep up at first," Reichert said, but by leveraging her colleagues' assets and taking only a few minutes each day to unwind and recharge during the peak of the outbreak, she dedicated early mornings, late nights and weekends to ensuring that patients and staff were being supported and given the materials they needed to do the job.
At home, Reichert was welcomed by her 4-year-old son and her husband, a deputy with the Blaine County Sheriff's Office. Because she and her husband engage with the community on a daily basis in their jobs, they chose not to isolate from each other, instead opting to strip once inside their home, shower and then take the time to reconnect.
Early on, Reichert's son learned that something called coronavirus was what was keeping him from leaving the house to play with his friends.
"Momma, coronavirus is scary," Reichert's son told her one evening.
She took the opportunity to teach proper handwashing technique and explain the importance of good personal hygiene, but even then, "I just want coronavirus to stop," her son told her.
Reichert found solace in her job, drawing new inspiration during an unprecedented time.
"I find joy when I'm able to help my nursing staff understand [the new procedures]," she said.
During normal times, Reichert's title is the director of nursing and patient care and ambulatory nursing administrator. But during the COVID-19 pandemic, that role shifted, along with everything else, to working more as a team to address changing circumstances and respond accordingly. She said the experience helped her to grow as a leader and to trust and delegate tasks to other members of her team, leveraging their assets to serve the greater goal. Her appreciation for that team extends far beyond nurses on the front lines.
"We need to do a better job—everyone—at recognizing lab technicians, environmental service teams" and everyone else working behind the scenes, Reichert said.
---
Allison Burns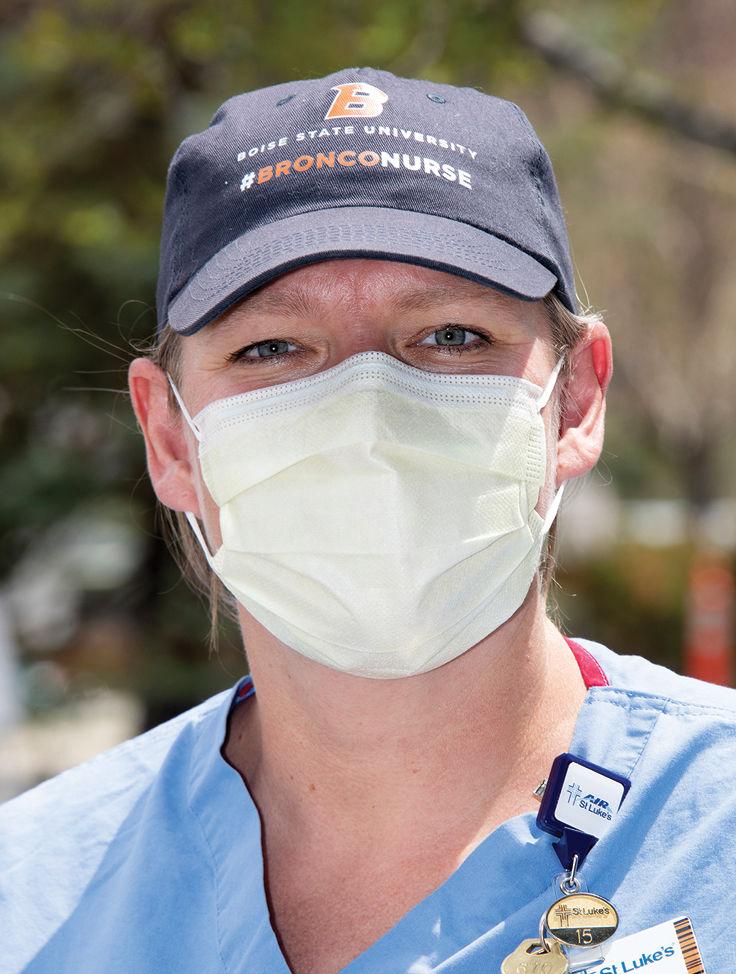 After more than 24 years as a health-care worker, first as an EMT, then as a paramedic and ultimately as a nurse, Allison Burns calls this pandemic "the challenge I signed up for."
To Burns, the job means having an opportunity for connection, both with patients, their families, the community and the team around her. Currently a nurse manager, Burns supports clinics across the health system.
"I'm there to make sure they have the best resources," she said.
Burns has worked at the drive-thru testing tent in the parking lot of St. Luke's Wood River Medical Center since March 17, when it opened. In the last two weeks, she has continued her role at the testing tent while restoring elements of her regular, pre-pandemic job.
"Change is part of nursing," Burns said, and the COVID-19 pandemic is just another curve in the road of her chosen field.
At the testing tent, Burns said, she's worked through all sorts of weather, from snow flurries on day one to bright sunny days recently. Though the time with each patient at the tent is short, Burns said she hopes to provide "calm to the scary."
Burns has worked for St. Luke's for 19 years. She was on the ground floor during the 2009 H1N1 outbreak in Idaho, working at St. Luke's intensive care unit in Boise. She says she's grateful for the variation that the job provides, and although the first month of this pandemic was hard—working long hours most of the time, seeing her family less than 24 hours in a week—the last few weeks have become easier and the support system she's put in place has worked well.
The mother of three sons, Burns said it's been difficult for the younger boys—a second-grader and a preschooler—to understand why their mom has been gone so often recently.
"It has been hard on them, for sure," Burns said, but after the first week the family created a system: FaceTime dates twice a day to check in with the family while Burns continues to manage the testing tent. Still, Burns said, she's grateful for the many opportunities this career has provided her.
And while social media and news sources around the world have called nurses and other health-care workers heroes, to Burns, this is just what she expected when she became a nurse, and she said she's working as hard as the grocery store clerks or gas station attendants.
"We're all just doing our piece," she said.
---
Angela Brady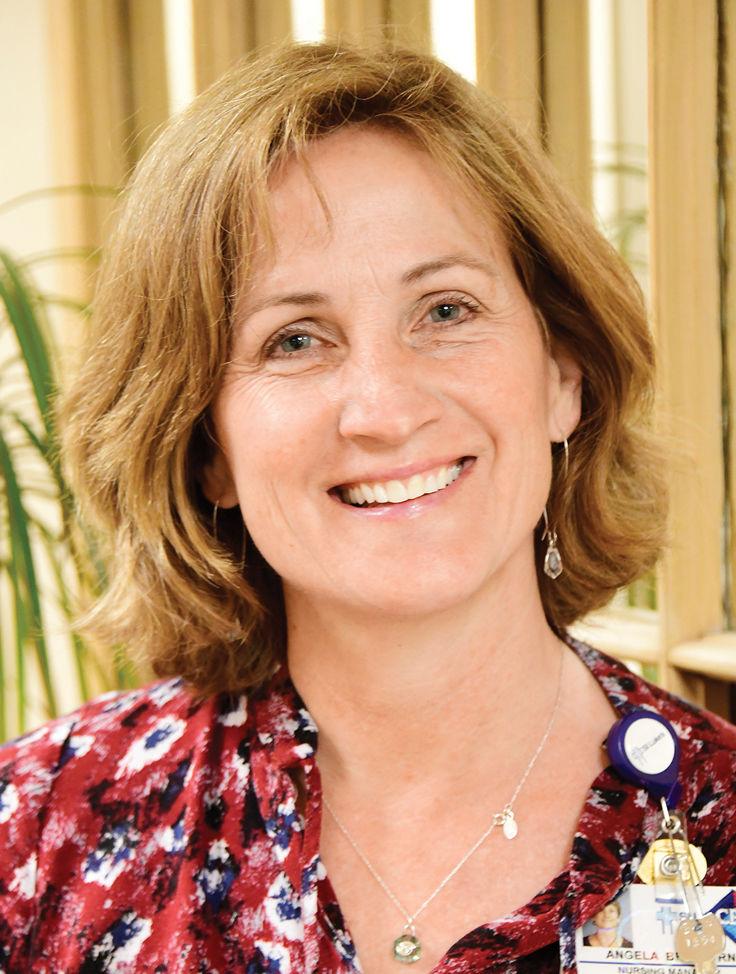 If there's one thing this pandemic has taught Angela Brady, it's that she is honored to call herself a nurse.
As the nurse manager overseeing the emergency department, the medical and surgical department and the mother/baby department at St. Luke's Wood River, Brady oversees a vast array of teams throughout the hospital, and said working with them and "watching them go to battle" has been inspirational.
"This is what I knew nurses would do," she said.
Coming from a long line of nurses, Brady continues to find resilience in the nurses she oversees, keeping them abreast of constantly changing procedures through this pandemic and ensuring that everyone is following the latest guidelines. Whatever the challenge or the day's task, her nurses have always stepped forward to do what is asked of them.
"They've just said yes," she said.
While s Brady said she hopes this experience strengthens admiration for the field of nursing, she is also worried this experience will turn some away from choosing nursing as their field of study in the future. Still, she said she's certain that for those who are right for this career path, this pandemic will not steer them away.
"There are people out there who want to serve," she said.