In recent weeks, local nonprofit organizations and the donors who fund them have been responding to the COVID-19 crisis in multiple ways. Some organizations are pushed to the limit while covering immediate frontline expenses for those in need. Others are facing uncertainties over the scheduling of summer fundraising events that usually fill their coffers and give a boost to the valley economy.
Local nonprofits are integral to Blaine County society. According to the local Spur Community Foundation, which connects donors with local organizations, these philanthropic enterprises provide about 1,300 jobs and financial support for health and human services, arts and culture, animal welfare, housing development, environmental conservation, education and sports and recreation.
The Spur Foundation aggregates information on hundreds of nonprofits, including 70 that focus resources locally. Executive Director Sally Gillespie said there has been a surge in donations lately due to the coronavirus.
"A lot of checks are being written," Gillespie said. "I am seeing people who may not be known for philanthropy asking, 'Where can I help?' But the long-term demand from the coronavirus could outlast the current exuberance. This is going to be a marathon."
In addition to improving the lives of thousands of people in multiple ways, these organizations are an economic engine. According to data gathered by the Spur Foundation, about $76 million was brought in by these 501(c)(3) nonprofits in 2018 (including money for construction), with $63 million going right back into the broader community. Gillespie said nonprofits collectively spend about $2.5 million per month on staff salaries and benefits.
Some of those groups have been pushed to the limit in recent weeks, while others have shut down buildings and sent staffs to work from home.
Gillespie said it's too soon to know if there has been a significant realignment of donor funding priorities due to the coronavirus, which has highlighted basic health and welfare concerns and impacts from lost wages across many sectors of the economy.
The Hunger Coalition put out a call for additional resources weeks ago so it could respond to a surge in demand for emergency food supplies. The response was immediate. Executive Director Jeanne Liston said the organization has received donations during the last few weeks in excess of $500,000, including a $200,000 donation from Allen and Co., the boutique investment bank that holds its annual summit in Sun Valley.
"Thanks to the press, word has gotten out about the need, and we've been inspired by a multitude of new donors that have stepped up to make a difference during this crisis," she said.
The money will help the organization "weather the storm" to come, Liston said.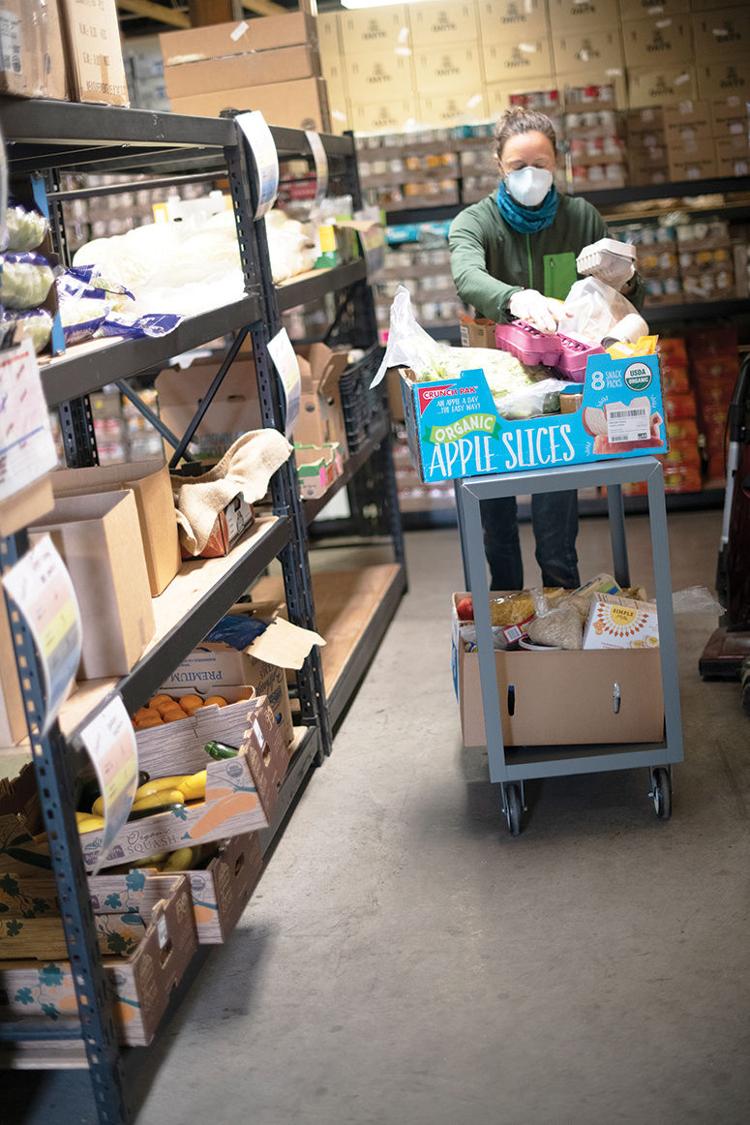 The money has come from numerous sources, according to Hunger Coalition Communications Director Kristin McMahon, including several local companies, restaurants, real estate agents, private individuals, plus a $25,000 check from Blaine County itself. Collaborations with ServePro, Costco and United Way have also helped the organization meet the needs of people out of work.
Gillespie said her foundation has been in close contact with the entire nonprofit community while trying to measure both Spur's donor response and expected assistance from the federal government. The foundation recently established a Community Response Fund that as of Monday had gathered $284,000 from 24 donors. The fund dispersed a total of $85,000 last week to the Crisis Hotline, The Advocates and the Senior Connection.
"We want to be quick, but we want to be wise," Gillespie said. "Some nonprofits may have reserves. Others may soon get Small Business Administration loans."
The federal CARES Act has promised hundreds of millions of dollars in loans for small businesses, including nonprofits. If employees are retained during a two-month crisis period, those companies will not be required to pay back the loan, essentially turning it into a grant.
"Some nonprofits have the luxury of shutting down, but even those would be worried about losing their most important assets, their employees," Gillespie said.
Mountain Humane, the Croy Canyon animal shelter, has fostered out most of its animals and cut back on shelter activities and sent some workers home. It applied for funding from the Family Medical Leave Act and the CARES Act to pay its employees, Executive Director Annie McCauley said.
"So far we've been able to keep everyone on payroll," McCauley said.
But the organization's board will meet next week to make alternate plans for its July Dog Days gala, which usually brings 250 people and provides about one third of the animal shelter's annual fundraising.
Many other nonprofits rely on summer fundraising events to provide services and cover payroll costs. Those include events hosted by Higher Ground and the YMCA as well as smaller nonprofit parties and golf tournaments. Nonprofits also rely on summer programming to fulfill their missions.
Camp Rainbow Gold's Share Your Heart Ball fundraiser was canceled, and its summer camp for kids and families impacted by cancer may be canceled also. The Sun Valley Institute's Sun Valley Forum, which was expected to bring hundreds in June, is going to an entirely digital platform. The Sun Valley Writers Conference has been canceled this summer. The Sun Valley Wellness Festival is postponed until August, in the hope of improved circumstances surrounding the coronavirus.
The Sun Valley Museum of Art's many classes, programs and concerts are in limbo, as is its signature summer Wine Auction, which can bring in more than $1 million each year to cover the organization's operating expenses. The Advocates' board will meet next week to decide whether to hold its annual Black and White Soiree.
"Anyone with a signature fundraising event during the summer may be worried," Gillespie said. "Depending on circumstances, donors may not be as generous. I could count on one hand the number of organizations that have enough buffer to withstand the financial impact of this situation and emerge on the other side with programs and people largely intact. Of course, depending on the relationships these organizations have, they might see some pleasant surprises of generosity."
Many groups are hoping for an end to isolation orders that would allow them to continue as normal, share the wealth and continue enriching the community in a myriad of ways, whether it's a golf tournament for the local chapter of the National Alliance on Mental Illness or a much larger event with the potential to transform the local economy. One such example is the Sun Valley Music Festival, which still plans to hold a Gala Concert fundraiser on Aug. 3.
Despite uncertainty surrounding the coronavirus, tickets for the Gala have gone on sale. Costing $85-$550 each, they would provide funding that helps the symphony community provide concerts for 50,000 people each summer, people who also come to wine, dine and spend money.