Military veterans gathered Monday for Veterans Day, a federal holiday that coincides with similar holidays around the world that mark the end of World War I.
Originally known as Armistice Day, the event marks the end of major hostilities at the 11th hour of the 11th day of the 11th month of 1918, when the armistice with Germany went into effect. After the urging of major U.S. veterans' organizations, Armistice Day was renamed Veterans Day in 1954.
"I joined the military for love of country, family and for love of freedom," said Sam Kory, 76, a veteran of the Vietnam War who joined about 50 other veterans at American Legion Post 115 in Ketchum for dinner and a talk by Ed Marohn, author of "Legacy of War," a novel that involves the Vietnam War.
Kory said the fundamental ethic of the military is to "strive for something larger than yourself."
"Soldiers don't make wars. Politicians do, and we may not always be in agreement as to why. On Veterans Day, we just remember one another," Kory said.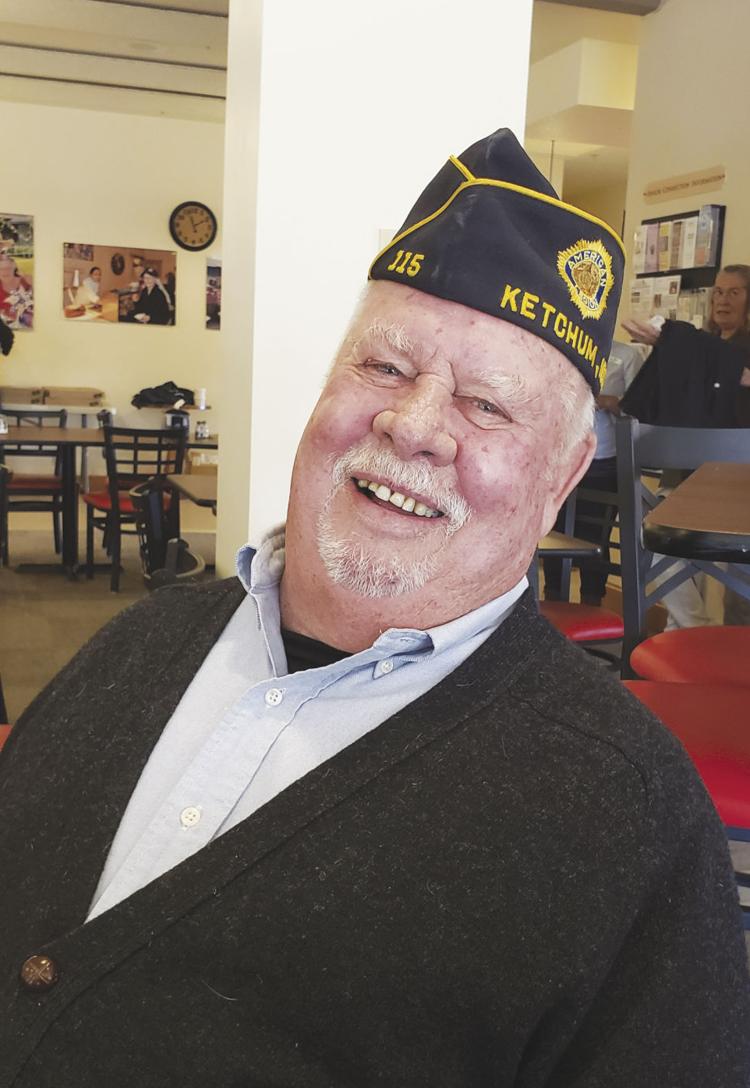 Tom Perry, 74, served on a destroyer escort vessel in the Navy, patrolling the North Atlantic for Soviet submarines. He got together with fellow veterans at the Senior Connection in Hailey for lunch on Monday.
"I was a bit of a wild child in high school, so my father joined me up in 1963," Perry said. "I came from a New England family that had ancestors who fought in the American Revolution."
During the Cold War, Russian submarines played a friendly game of cat and mouse with his ship and crew, Perry said.
"When we ping-ed them, they took evasive maneuvers. But our radio guys told us that they contacted us once to warn us that we were heading for an iceberg."
Bill Cassell, 86, was a child survivor of the Japanese attack on Pearl Harbor in 1941, and former commander of Ketchum Post 115. His father spent a career in the Navy.
Cassell joined the Army instead, attending Second Lieutenants Artillery School at Fort Sill, Okla., and then completing paratrooper school at Fort Benning, Ga. From 1956-1958, he was with the 593rd Field Artillery Battalion at Budingen, Germany.
"Budingen was a German fort that the U.S. took over after World War II," Cassell said. "I had more responsibility there overseeing 150 men than I had later serving as a university president."
Cassell said he was in an airplane crash in 1958 that ended the life of the pilot.
"I like to remember him on Veterans Day. We were a pretty tight unit," Cassell said.
Wood River Valley military veterans span many eras, from World War II to recent conflicts in the Middle East. About 200 are members of Ketchum Post 115.
The American Legion is a nonprofit organization that provides military ceremonies, including military funeral honors for members of the armed services. Ketchum's Post 115 offers the playing of taps and the folding and presentation of an American flag to surviving family members of deceased veterans. The ceremony can also include a three-shot gun salute. When fired by seven service members, it is known as a "21-gun salute," Kory said.
"When we fire the rifles, we are sending the veteran to his or her next command," Kory said.
Jeanne Koleno, 74, joined the Air Force in 1966 with two girlfriends from nursing school, arriving for duty at a 1,100-bed hospital at Lackland Air Force Base in Bexar County, Texas. "I worked in a neurology ward," Koleno said. "There were a lot of veterans coming back from Vietnam at that time."
At a military social gathering, she met and fell in love with fellow Air Force service member Rod Koleno, who unfortunately was posted far away at remote radar sites.
Despite the distance between them, they managed to meet for a whirlwind courtship that took them to Las Vegas. They soon found a priest and announced their intentions.
"We told him that we were in love and wanted to get married," Koleno said. "He asked us how long ago we had met and I told him, 'About a week.' He said it would take at least three months to get the paperwork done."
The Kolenos left military service after two years and recently celebrated their 53rd anniversary.
"We think the military is just wonderful because that's where we met each other," she said.