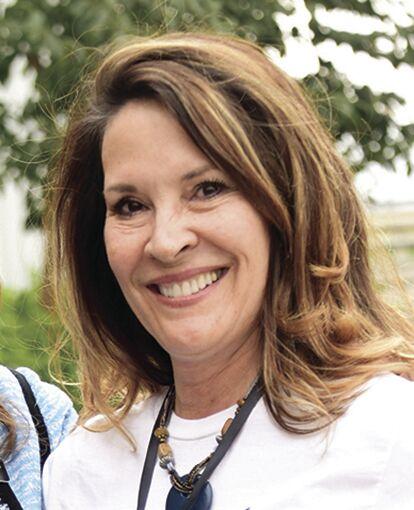 Lt. Gov. Janice McGeachin blasted the Blaine County Sheriff's Office's vulnerable population registry during a stump speech south of Bellevue on Saturday, describing the new program as a "red flag" law while attacking Sheriff Steve Harkins.
The campaign speech, delivered at a Blaine County Republican Party luncheon, followed up on an Aug. 13 letter to Harkins questioning the registry's creation, implementation, basis in law and privacy mechanisms. Her letter to Harkins, a Democrat, came after complaints from Blaine County constituents, she said.
McGeachin's criticism in person was far more pointed. The Idaho Falls Republican, who is running for governor as a right-wing alternative to current Republican Gov. Brad Little, piggybacked on local conservative concerns that the registry could be used as a so-called "red flag" law—that is, a gun control measure authorizing police or other concerned parties to petition a court for the right to confiscate firearms from someone deemed a threat to themselves or others.
"I called his office the other day, he wasn't in town. We called yesterday, and guess what—your sheriff was off duty," she said. "Think you pay enough taxes in Blaine County? Maybe you need another sheriff."
(On Monday, Harkins told the Express that he has been out of town since Thursday, Aug. 19, tending to a family medical emergency. He said he hadn't received any phone messages from McGeachin.)
Among other things, a registry questionnaire does ask if the registered person has access to weapons.
But, in a July interview, BCSO Chief Deputy Will Fruehling told the Express that the registry has no bearing on Second Amendment rights and is not an attempt to track county residents. At the time, Fruehling called the program a "service to the community," adding that the registry is designed to provide background information to first responders in case they're paged out to assist someone with special needs, like dementia, Alzheimer's Disease, mental illness, autism or another complicating condition. That information might include someone's name, a contact to call if the person is lost and helpful talking points to calm them down during a crisis or mental break, Fruehling said.
Harkins reiterated that in a response to McGeachin's letter dated Wednesday, Aug. 25.
"The Vulnerable Population Registry is not about taking away guns, infringing on Second Amendment rights, prohibiting a concealed weapons license, tracking whereabouts, or allowing anyone to falsely register someone," Harkins wrote. "The intent of this question was to only alert and protect our first responders if the person had access to weapons that could be used against a police officer, firefighter, or paramedic. There is and never has been any intent to track or remove weapons from anyone's home. If someone chooses to have weapons in their home where a vulnerable person resides, that is their right. As Sheriff, I will never regulate or interfere with a citizen's Second Amendment rights."
Blaine and Ada counties are the only two in Idaho to implement such a registry, Fruehling said.
As of Wednesday, all Blaine registrations had been made by family members, Harkins said. Conditions included autism, Down syndrome, Alzheimer's, deafness and Parkinson's disease; no one has asked to be removed from the registry, "but if that occurs, we will remove them," Harkins said.
"If we receive a registration with any doubt to its legitimacy, we simply will not enter it into our [computer-aided dispatch] system," Harkins said, adding that Fruehling approves all entries.
In her Saturday speech, McGeachin criticized a litany of what she viewed as "egregious violations of our liberties and our rights in the past year," including vaccine requirements, "indoctrination" in schools, Medicaid rules and other "corrosive and perverse" federal incursions into Idaho, according to a three-and-a-half-minute video shared with the Express. Then, she focused on Harkins.
The Blaine County Sheriff, who said he had listened to the speech, was equally pointed in his rejoinder.
"I would request that in the future before you talk about me in a campaign speech, please allow me the appropriate amount of time to respond so you are properly informed," he wrote. "I am a full-time committed sheriff to the citizens of Blaine County, and I will always work hard to serve them. I have proven myself over the past 30 years serving my community with honor and integrity. I am a sheriff, not a politician, and I would respectfully ask that you refrain from including me in your political campaign without proper knowledge and facts."
McGeachin is currently one of nine Republicans running for governor.