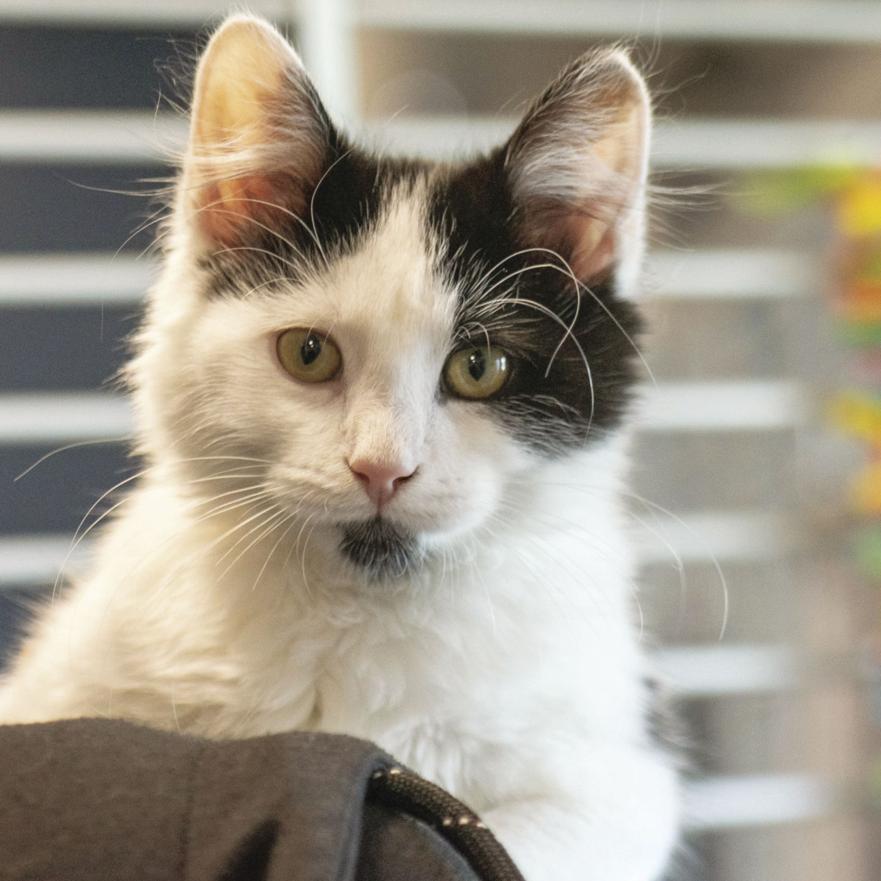 Mountain Humane animal shelter is seeing a jump in the number of inquiries and applications to adopt cats and dogs of all ages and breeds, the animal shelter said last week.
The spike is just in time for "kitten season," so called because so many new kittens are suddenly available for adoption.
"We also have a lot of puppies, and even have a waiting list," Executive Director Annie McCauley said. "A big part of this is because many families are going to be home this summer and can spend good quality time bonding with an animal."
At any given time, the "no-kill" shelter has 60-80 animals. No pets are euthanized there unless there is a serious health or behavior issue. McCauley said 30 percent of its animals are out in foster homes this week, where they are becoming habituated to human interaction.
"There is a benefit to spending time with families," she said. "We always would prefer that they spend time with people instead of in the kennels."
During the early months of the COVID-19 pandemic, most of the animals at the shelter were loaned out or "fostered" to potential owners. For two months the facility was not taking any additional pets. Now that summer is here, many of those pets have been adopted permanently by their foster parents, while new animals are being brought in for adoption. About 30 percent of the shelter's rescued pets are adopted by residents from out of state.
"Adopting an animal is much more than coming into Mountain Humane, finding a cute animal, paying an adoption fee and taking your new pet home," McCauley said. "People are welcoming an entirely new family member into their home, and we want to ensure the best match possible for a seamless fit."
The adoption process usually begins with finding a suitable-looking pet on the Mountain Humane website at MountainHumane.org or searching for a cute face on Petfinder.com or Adopt-a-Pet.com under "Hailey, Idaho," which will provide pictures and profiles of pets available at shelters around southern Idaho. On any of those three websites, a prospective adopter can click on the photo of the pet and fill out the required information. Interested adopters can also call Mountain Humane staff with the name of the pet they have in mind.
"We are all in the same business of finding homes for these animals," McCauley said. "We had two or three dogs that had hundreds of inquires in just one weekend. One photo of a sweet face can prompt a lot of interest."
But finding the right look is only a small part of the adoption process due to the range of temperaments for both pets and owners, McCauley said. The pet adoption registration process will help find suitable matches for both.
"Applications help us make sure the dog or cat you've chosen will be a good fit for your family," she said. "For example, some dogs are better if they are the only dog in the household, while others do just fine not being the sole focus of your attention. Same is true with cats. We know the animals for which we are responsible and we want to make sure adoptions are the right fit for both animals and families."
Once the completed adoption application is received, the adoption staff will reach out and arrange a "meet and greet" appointment for adopters to meet the animal or animals they've selected. Because the Mountain Humane building is closed to the public during the pandemic, all adoptions are by appointment only and all pet encounters happen outside on the shelter grounds.
"People can walk the animal on the property with a trainer or adoption staff. This allows us to give the family one-on-one attention, and this has been working wonderfully," McCauley said.
If the adoption appointment is a success and it looks like a good match for the family, the new owner will be sent off with pet food, a collar, personalized tag and pet toys.
If you need some time to prepare for the new addition, the shelter can put the animal on a 24-hour hold with a nonrefundable deposit covering the adoption fee, McCauley said. Those adopting from outside the area can place a hold on a pet for the time it takes to travel to Hailey.
Tentative owners can opt for the Mountain Humane foster-to-adopt program, which allows them to take an animal home and see if it works out.
"If you decide the animal is right for you, we can process the adoption over the phone so you don't have to bring the animal back," McCauley said.