Home prices are rising in Blaine County as the number of sales is dropping, according to recent data supplied by the Sun Valley Board of Realtors.
The number of housing unit sales in the county dropped 10 percent in 2019 compared to 2018, while sale prices per square foot increased by 6.7 percent, according the data, which was gathered from the multiple listing service and from quarterly sales reports supplied by the Board of Realtors to the county assessor's office.
The overall sales volume of residential lots, commercial lots and vacant lots dropped from $660,226,791 in 2018 to $640,747,961 in 2019, a decrease of nearly 3 percent.
But to broker Dan Gorham, who owns Windermere Sun Valley, the data on home sales in particular indicates that a shortage of housing units on the market is driving up costs.
"It's as tight as I have ever seen it in 20 years," he said. "There is a huge shortage of houses and condos for sale."
Gorham uses a formula supplied by the National Association of Realtors to measure "housing inventory." He said a six-month supply of homes for sale provides a "balanced" market between buyers and sellers. In a healthy market, in other words, it would take six months to sell all the remaining homes on the market if all new building ceased. If the inventory is expected to last more than six months, that indicates a "buyer's market," because sellers might be willing to come down in price. If the inventory is expected to last less than six months, that indicates a "seller's market," because asking prices are more likely to be met.
---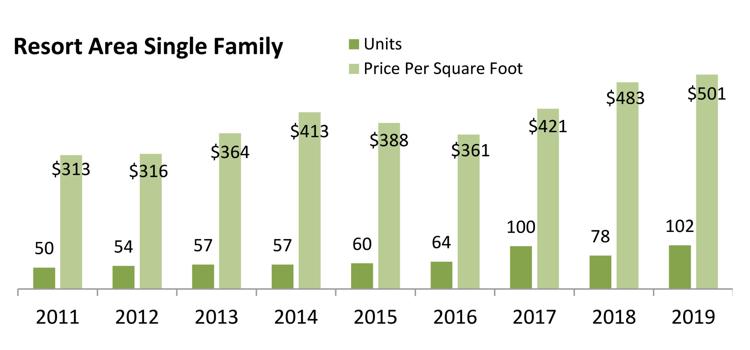 ---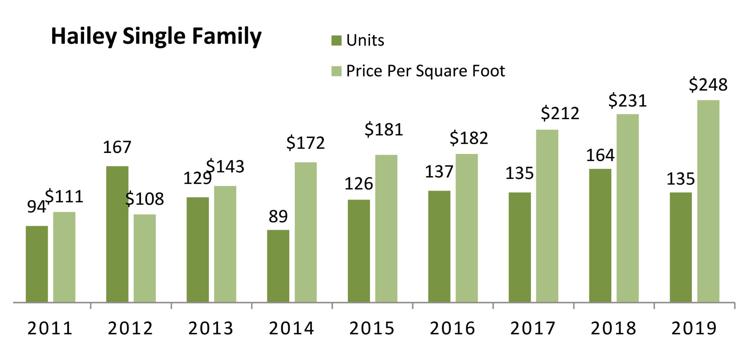 ---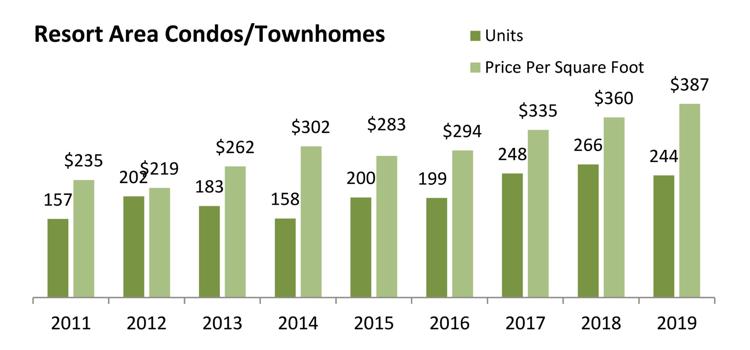 ---
Gorham estimates that current listings show a four-month supply of resort-area condominiums, a six-month supply of single-family homes countywide, and a three-month supply of single-family homes in Hailey.
The real pinch in supply is in the under $500,000 range of homes, he said.
"Right now, we have a two-month supply if we were to sell at the same rate as last year," he said.
Gorham's estimate is based on the 48 listings of homes for sale under $500,000 on Wednesday. He said that last year, 326 homes sold at under $500,000, or 27 units per month on average. In order to match
that rate of sales, 277 more units would need to be added to local listings during the rest of 2020.
"That's a lot of housing units to bring on line," he said, noting that that's not likely to start happening until spring. Historically, the biggest months for new listings are April, May and June.
Despite the overall decline in home sales last year, some areas saw sales increase and prices rise.
The data show that the number of "resort-area" single-family home sales increased from 78 in 2018 to 102 in 2019, an increase of 31 percent. That area of the market includes Warm Springs, Elkhorn and parts of Ketchum.
During the same period, the sale of resort-area condominiums and townhomes dropped from 266 in 2018 to 244 in 2019, a decrease of 8.3 percent.
Meanwhile, Hailey—often eyed for affordable homes—is feeling the crunch. The number of single-family home sales in Hailey dropped from 164 to 135, a decrease of 18 percent. Yet the cost per square foot of those homes that sold increased from $231 to $248, an increase of 7.4 percent.
The median sale price in Hailey for a single-family home in-creased from $390,000 to $436,000, an increase of 12 percent.
Gorham speculated that home prices in Hailey could be out of reach for purchase by locals, a fact that could also influence builders. He said he has noticed that most construction projects in the north valley are for large and expensive custom homes.
Construction investments at the high end of the market appear to be wise; the median sales price in Ketchum for a single-family home rose from $1.2 million to $1.5 million. Sun Valley saw average sales prices rise from $1.85 million to $2.4 million. Sales in those two areas increased by 63 percent and 21 percent, respectively.
The comparatively sluggish housing market in Hailey could be due to low wages, Gorham said.
"People can only get loans based on their income, and it's risky for builders because there are not that many people in the workforce that can afford a $500,000 home," he said. "If a lender expects the standard 20 percent down, that means $100,000."
For a silver lining, homebuyers can always look farther south. The "south Blaine County" category of home sales in the data showed a 2019 median sales price of $255,000, an increase of 18 percent over $216,420 in 2018.