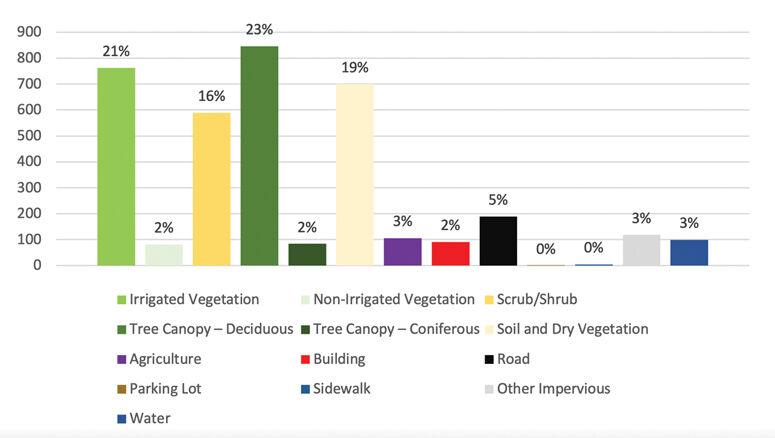 On most days, the Wood River Valley's mixed temperate forests of Douglas fir, Ponderosa pine and aspen offer countless benefits to residents and visitors: clean air, clear water, wildlife sightings and unlimited recreational opportunities.
But in Blaine County—a major economic driver of central Idaho, with a GDP topping $2 billion—those benefits can stop abruptly with the onset of wildfire or heavy smoke.
That's according to Sun Valley Economic Development Director Harry Griffith, who along with Boise-based forest health consultant Lance Davisson of The Keystone Concept presented a webinar for the U.S. Forest Service last week before an audience of about 200.
Griffith said the West's escalating fire danger, warming climate and increasingly smoke-shrouded vistas could spell trouble for Blaine County.
"One of the critical things to figure out is the economic risk here," he said. "There's nothing like understanding dollars-and-cents losses that gets people's attention.
"As a heavily tourism-correlated [county], we are already seeing an economic impact from smoke—that when wildfire smoke from Oregon, Washington and California comes in, there is a decline in visitor counts. We've had people canceling trips, deciding to spend less time here, which has had a knock-on effect throughout the whole of our economy."
Titled "Working Across Boundaries to Address Forest Health," last Wednesday's discussion centered around a successful partnership between SVED, Davisson's firm, the National Forest Foundation, the cities of Ketchum and Sun Valley and about 20 local nonprofits—namely the 5B Restoration Coalition—to reduce the threat of extreme wildfire impacts and natural disasters in the valley.
That partnership is officially called the "Wood River Valley Collaborative Forest Enhancement Project." It got a major boost last year with a $240,000 grant from the U.S. Forest Service's competitive Landscape Scale Restoration Program, which directs funds every year to projects on non-federal lands geared toward mitigating wildfire and natural disaster risk.
Griffith used the example of the Beaver Creek Fire in August 2013 to illustrate how environmental disasters impact Blaine County's economy. Suppression costs for the three-week fire, which burned through 112,000 acres, totaled $21.5 million, he said, while losses in third-quarter sales driven by decreased visitor counts totaled roughly $20 million in Ketchum compared to the same time in 2012.
"The bulk of the economic damage was really to Ketchum's economy," he said, adding that visitor room nights in August 2013 were down to about 26,000, compared to the more typical 30,000. "And it's not just sales losses. When you get into the winter or rainy season, post-fire damage leaves mudslides, hillsides denuded with sage and grasses burned off."
Griffith said the Beaver Creek Fire served as a major impetus for getting the community involved with not only rectifying wildfire damage, but also building resilience against future wildfires.
The Wood River Valley Collaborative Forest Enhancement Project hopes to address those goals, he said. To date, its main project is a recently completed, valley-wide tree canopy analysis by The Keystone Concept, which is now being distributed to cities.
The detailed GIS mapping study breaks down the type of land cover in Ketchum, Sun Valley, Hailey, Bellevue and areas in Blaine County, including the East Fork, Gimlet, Aspen Lakes and Indian Creek neighborhoods, identifying ideal tree-planting—and tree-removal—areas.
Among the 13 land-cover classes are coniferous and deciduous tree canopies, irrigated vegetation, non-irrigated vegetation, scrub grass, buildings, roads, sidewalks and water bodies.
Davisson's study found that the unincorporated Blaine County neighborhoods led valley in tree canopy coverage, at around 25%. Ketchum followed at 24%; then Bellevue, 16%; then Hailey, 13%; and, finally, Sun Valley, 12%. Most acres across the county could be classified as scrub grass, followed by irrigated vegetation, deciduous tree canopy and soil and dry vegetation.
Davisson said Sun Valley's low tree canopy percentage could partly be attributed to Dollar Mountain, which occupies a large chunk of land inside the city limits. Overall, he recommended that about 5,000 trees be planted across the valley to improve ecosystem health, primarily near transportation corridors that generate heat and carbon emissions.
Of course, he said, the "right trees need to be in the right places for the right reasons."
"A lot of people think more trees are better," Davisson said. "Well, in Sun Valley, you actually have overplanting in some areas—too many trees on high-value properties, trees impacting water use, trees blocking Baldy, and plantings along roads which cause ice buildup."
As a former firefighter, Davisson said he felt strongly that more homeowners in Blaine County need to be educated on building "protective buffers" around their homes and removing trees where necessary. One example he gave was a valley-wide overplanting of aspens—which require high moisture—around homes in dryer, lower-elevation areas.
"We need more hazardous fuel treatments in the urban interface," he said. "There's a big job ahead of us."
Davisson's main hope was that the GIS study, found at bit.ly/3ggUR4F, will help guide public policy around which types of trees are allowed or disallowed at the city or county level. Hailey is the only community with a tree committee that educates community members about drought-tolerant plants, he said.
"We hope to work with the [Tree Committee]," he said, "look at their current recommended tree list and come up with a more regional resource."