Summer is in full swing and that means local and regional farmers and ranchers will take weekly trips to the Wood River Valley to sell and distribute their produce at the 20th annual Wood River Farmers Markets.
Due to new safety protocols related to the COVID-19 pandemic, a new online or­­de­ring option for the Wood River Farmers Markets will go live on Friday, June 5. The first market of the year will take place at the lower River Run parking lot in Ketchum on Tuesday, June 9, from 2-6 p.m.
Due to safety concerns and social distancing precautions, the markets will have limited space for walk-in customers. Ketchum customers will have the option to instead pre-order from Friday at 8 a.m. until Sunday at noon, pay online, then pick up at the River Run market location Tuesday at a designated time.
The first two hours of the Ketchum market, from 2-4 p.m., will be for online order pick-ups at designated times only. The market will then open up to walk-in customers from 4-6 p.m.
Wood River Farmers Market board President Katie Zubia helps manage the 4,000-acre Wood River Ranch south of Bellevue for the Lee Family of Seattle. She is also a market vendor, selling grass-fed beef from the ranch and cupcakes.
"This year has been more than we expected to deal with," Zubia said. "We've talked about going to online ordering for a few years because it's hard for people who work each day to get to the farmers markets between 2 and 6 p.m. Now that the virus happened, we said let's just go for it. I think it's going to pay off for us."
Wood River Farmers Market Manager Sheila Plowman said the online ordering platform could allow the markets to eventually sell during times when the live markets are not in operation.
Zubia said the initial online platform expense of $500 was paid for by an anonymous donor through the Local Food Alliance, founded in 2013 by Stacy Whitman and Ali Long, and will be supported through the summer with an additional $2,500 donation from Valley Apothecary in Ketchum.
The Local Food Alliance is now a $120,000 program of the nonprofit Sun Valley Institute, Whitman said.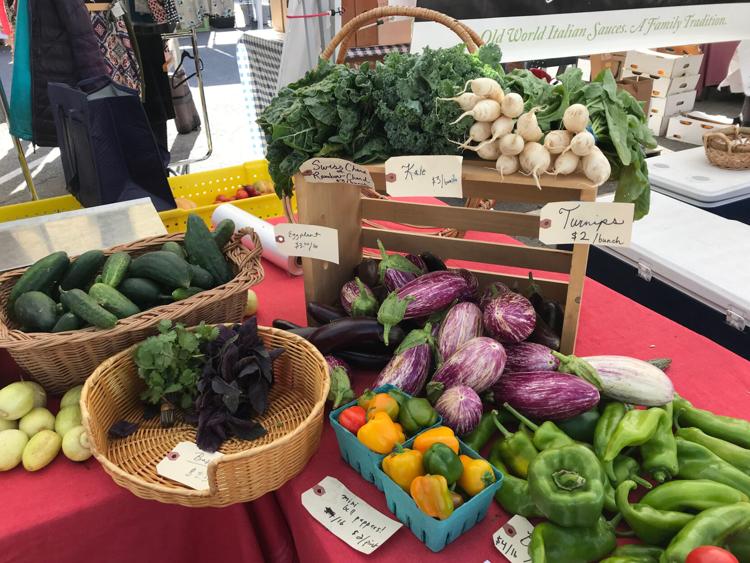 "Local food is having a moment right now," she said. "Long supply chains are vulnerable because there are more actors involved along the way."
Nathan Jones, a Wood River Farmers Market board member who has been selling produce in Ketchum and Hailey for 20 years from his 700-acre King's Crown Organic farm near Glenn's Ferry, said the COVID-19 pandemic has closed down much of the commercial food industry, hitting large-scale Idaho producers of potatoes and onion especially hard.
Jones dedicates about four acres of his property to growing produce to be sold at farmers markets. He will bring sweet corn, melons, tomatoes, eggplant and other offerings to the valley.
"Most of the sellers at farmers markets have smaller acreage and therefore rely on farmers market customers even more," he said. "We enjoy everyone we sell to and have developed personal relationships with many of the people up there in the Wood River Valley."
Jones also sells organic beef, a product that he said has also been impacted by the coronavirus.
"Right now, the beef and red meat industry is up in the air," he said.
The Local Food Alliance produced "Locally Grown," a guide to local growers and businesses dedicated to a local food economy. The guide, which cost $18,000 to produce with the help of high school students, lists 33 growers, including a few who provide community-supported agriculture options.
Zubia said community-supported farmers typically get paid by customers before the growing season for a share of weekly produce through the summer. They plant based on customer demand. Zubia said those growers' produce can be picked up at farmers markets in Hailey and Ketchum, with a fee charged to the farmers. The growers include Itty Bitty Farms of Carey, Squash Blossom and Lookout Farms.
Zubia said the farmers markets, which run through September, are funded by vendors fees and a 6 percent share of sales.
"We are encouraging customers to wear masks and to follow the rules around the market. We are lucky to be outside and will be trying to protect everyone, but it will be no different than shopping anywhere else," she said.
Zubia said 35 market vendors have signed up so far, and others have decided to take a break this summer due to personal health concerns related to the coronavirus.
The Ketchum farmers markets will be held in the lower River Run parking lot at the base of Bald Mountain on Tuesdays from June 9 through Sept. 29. The Hailey farmers market, originally scheduled to begin on Thursday, June 11, will open later in the season, so market vendors and staff have time to adjust to the changes before adding a second location.
Nathan Jones said the new safety protocols might take some time to get used to, but he feels certain it will work out.
"The new format could be a challenge, but we are up to it," he said.