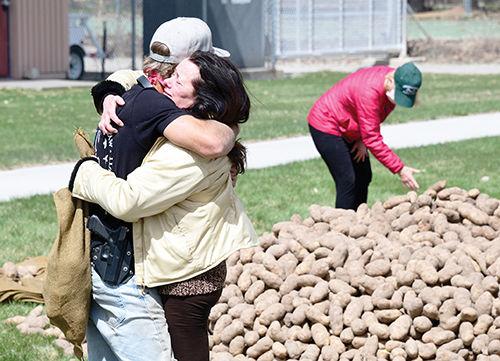 An effort to salvage 75 tons of potatoes from Silver Creek Seed Farm in Picabo culminated in two large potato pickup sites in Ketchum and Hailey over the weekend—and the national spotlight focusing on a pair of local farmers.
Bellevue residents and farm owners Mark and Jill Johnson said they decided to pay it forward after the potato market tanked during the COVID-19 outbreak.
"We are blessed to be farmers and we love what we do," Mark Johnson said. "Sometimes markets change for the worse. We just have to deal with that the best we can and hope for a better year next year."
As word of the farm's potato donation spread on social media, he said, people came from "multiple states" in the West to collect the spuds.
On Friday, valley resident Molly Page—who runs a Blaine County COVID-19 support group on Facebook—saw an opportunity to feed families in need.
"I was heartbroken to see a family farmer having to just dump their crop and their livelihood," Page said. "It's a big loss for them. I thought, how can we turn that into something good for the community?"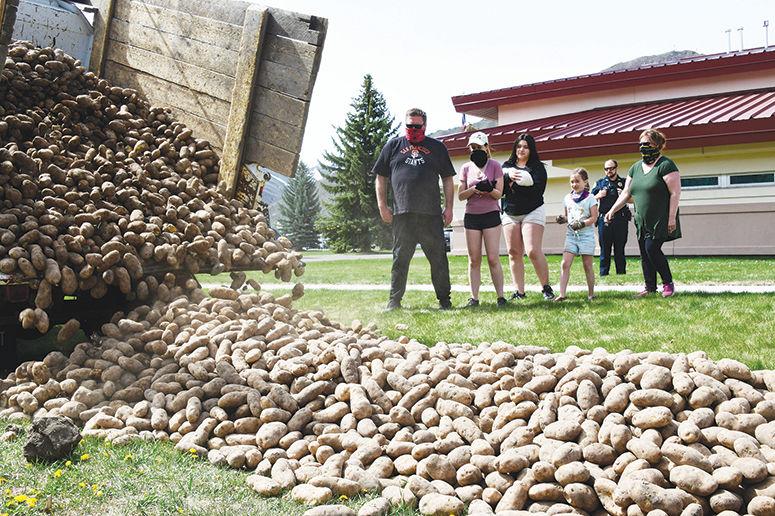 A photo of the potato pile posted to Twitter by Page on April 22 had earned nearly 43,000 likes and 16,000 retweets as of Tuesday morning, with users from all around the country and world responding to the tweet.
"It just shows the fragility in the food system, particularly with small farmers," Page said. "If something breaks down, they don't have a safety net to catch them."
Hailey City Council President Kaz Thea said Page called her on Friday to see if she could set up a potato rescue site in Hailey on Saturday.
"I immediately called [City Administrator] Heather Dawson to ask," Thea said. "She suggested the Hailey Police Station on the lawn facing Fourth Street. So, I called the police chief, Steve England, to see if he would be OK with that. He said 'absolutely.'"
With the help of volunteers, Page loaded up an SUV, dump truck and pickup truck full of the Johnsons' potatoes and delivered them at two locations: the Hailey Police Department and Ketchum's Atkinson Park. Within 48 hours, Thea said, the potatoes in Hailey were "basically gone." Page's before-and-after photos even made it to "The Rachel Maddow Show" on Monday.
"Molly was instrumental in making this happen, but it does take a village," Thea said.
Johnson said he hopes the demand for potatoes will surge once restaurants reopen.
"We are hopeful the virus situation will pass, and people will start eating lots of french fries again," he said.
Gretel Kauffman contributed to this story.