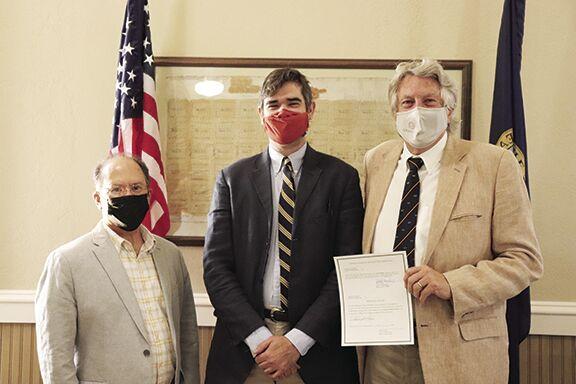 Blaine County has a new clerk and recorder, after Stephen McDougall Graham was sworn into office Wednesday before the County Commission.
Graham has replaced JoLynn Drage, who retired Wednesday after serving in the elected position for nearly 15 years.
The commissioners selected Graham to serve the remainder of Drage's term, which runs until early January 2023. In 2018, Drage was elected as a Democrat to serve a four-year term starting in January 2019. The position will be up for election again in November 2022.
Graham has a master's degree in public policy, a background in finance, and extensive experience working with nonprofit organizations, the county reported. He most recently worked as the grants and procurement specialist for Blaine County.
Graham was one of three candidates nominated by the Blaine County Democratic Party Central Committee to interview with the county commissioners. Pursuant to Idaho law governing county-level partisan elected offices, the county-level political party of an official leaving their post mid-term has the privilege of nominating candidates to fill the vacancy. The committee conveyed its three nominees to the Blaine County Commission on Aug. 5.
The position of clerk, recorder and auditor carries many roles. The primary titles associated with the job are clerk of the district court, auditor, recorder, clerk of the Board of County Commissioners, and chief elections officer of the county. The duties that come with those titles include but are not excluded to: conducting and overseeing elections; recording and managing official documents; managing the county's payroll and budget; issuing liquor licenses and marriage licenses; taking in money for the county, except property taxes; and overseeing indigent services for people struggling to pay medical and some non-medical expenses.
Drage, a Carey resident, announced her retirement earlier this year. She worked for the county for 24 years.
"I thought I had one more term in me," she said in July, "but it's just time for me to move on."