The first stage of Gov. Brad Little's plan to reopen Idaho began Friday, allowing churches, daycares, and youth camps to open their doors to the public for the first time since March.
With new social-distancing guidelines and other safety protocols in place, business owners and public officials across the Wood River Valley are adjusting and adapting to a new environment. Around the county, across city and industry, one theme shines through: Work may be resuming, it's not quite business as usual.
Opening up
Wood River Tot Spot, a daycare based in Bellevue, was among the businesses that reopened this week after nearly two months closed.
"It was long and it was difficult," owner Kayla Livingston said of the hiatus. "We're starting back super slow."
Not all daycares closed under Idaho's statewide self-isolation order, which was issued March 25. Childcare for essential workers was allowed under the order, as it was deemed an essential business. But Livingston made the decision to close the Tot Spot on March 16, after the first case of COVID-19 was confirmed in Blaine County and around the same time that public and private K-12 schools in the county closed their doors to students.
Of the roughly 20 kids that Wood River Tot Spot cared for each day before the pandemic, just two would have needed childcare while the self-isolation order was in place, Livingston said. And for Livingston, who employs four people at the daycare, retaining employees during the pandemic was a challenge.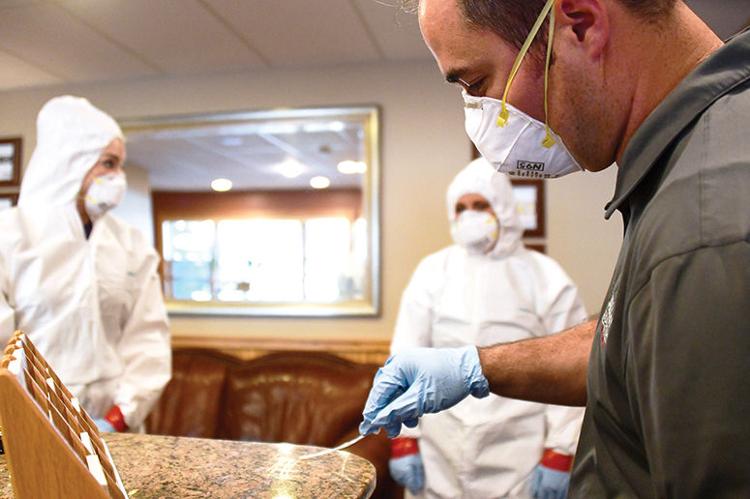 On Monday, Wood River Tot Spot reopened its doors with an all-new staff and roughly a quarter as many kids as usual. Livingston anticipates "lots of new training" for her newly-hired employees in the coming weeks—but with new statewide safety guidelines issued for childcare businesses, the reopening process could mean a learning curve for both inexperienced and experienced childcare workers alike.
"It's all going to be kind of new to all of us," Livingston said.
The governor's plan to reopen businesses includes a list of safety protocol for child care centers, though the guidelines are recommendations, not requirements. They include screening children and staff for COVID-19 symptoms, urging children to wash their hands frequently throughout the day, providing staff with masks or face coverings, keeping the children of health-care workers and other "critical infrastructure workers" separate from other children, staggering arrival and drop-off times, and walking children to their parents' car when they leave.
"While physical distancing among young children and staff who care for them is challenging, there are some actions that can limit the number of contacts between children and staff," the Idaho Rebounds website says.
Irma Gomez works at Growing Garden Daycare Center in Bellevue, which also opened Monday.
"We are getting back to normal, but still on the slow side," Gomez said. "It's hard. We have to wipe everything down and make sure they don't put anything in their mouths."
Growing Garden is only taking toddlers, ages 1-3. The children must be separated as much as possible. For instance, one toddler will read a book while another one plays with blocks. "We go outside," she said. "But they each have their own little space. One can go on the slide, while another plays in the toy car."
Businesses continue to adapt
For daycares that stayed open throughout the self-isolation order, such as Katy's Kids Daycare in Hailey, the COVID-19 pandemic has similarly been a time of adjustment and change.
When the state order was first put in place, the daycare saw a sharp drop in business, owner Katy Nottingham said—down to just one family. A number of clients have begun to return in recent weeks, including the children of a health care worker and a handful of kids whose parents work in construction or landscaping.
For Nottingham, who runs her business alone out of her home, the pandemic and subsequent drop-off in business have been "scary," she said.
"Everybody's just trying to figure out what the new normal is," Nottingham said.
While some businesses open their doors this week or prepare to do so in the coming weeks, others that opened prior to May 1 are getting back into the swing of things. Pedro Torres is the owner of Sun Valley Landscaping in Bellevue. Since April 20, when landscapers could resume work, he's been making up for lost time on spring cleanups at about 50 clients throughout the valley.
"We are catching up on everything that should have happened a month ago," Torres said.
Working under new safety protocols has been a "little tough," Torres said, because his employees are having to remind one another to keep a safe distance and carry hand cleaners.
"People are adjusting," he said. "They are making their own face masks. Everyone knows that the longer we stay away from other people the better it will be."
Torres said carpooling is no longer possible with the mandated social distancing requirements.
"I am glad that gas is cheap enough that we can afford to take different trucks," Torres said.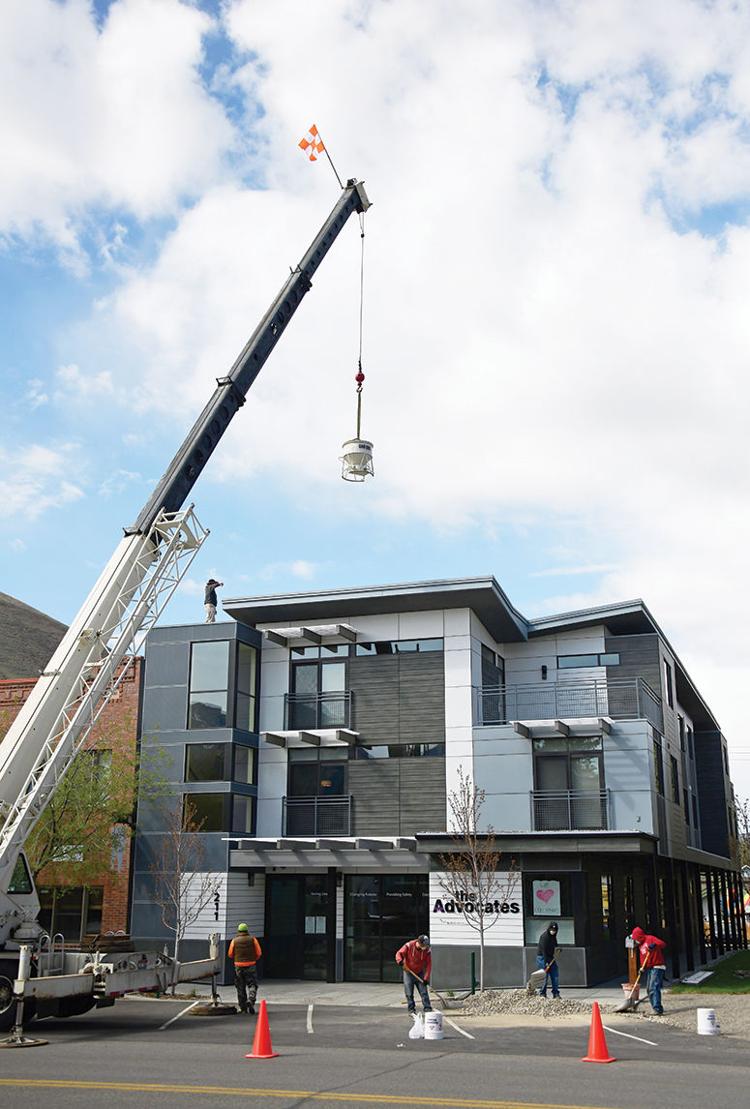 Cities and county consider next steps
As business owners consider their next steps, so too are county and city officials in the Wood River Valley.
Blaine County commissioners decided Tuesday to keep two county buildings—the Old Blaine County Courthouse and the Blaine County Annex building—closed to the public until May 18. Regular business hours will resume when those buildings open on the 18th, but some county departments may offer services by appointment only or make other adjustments to their normal operations.
On Monday, Ketchum extended its emergency public health order to align with Little's timetable.
Meanwhile, the Hailey City Council solidified the first stage of the city's COVID-19 recovery plan during a special council meeting Monday, using Idaho's Stay Healthy Order as a foundation. Effective May 5 through May 15, the first stage loosens some restrictions from last month's isolation order while emphasizing personal responsibility.
Under the guidelines, all of Hailey's indoor city facilities remain closed to the public. Play equipment, pavilions and picnic tables, however, can be used by single households or day-care supervisors, and tennis courts are now open for singles and doubles matches only. Likewise, basketball courts are limited to four people at one time and playing fields are open for active sports, provided that residents use adequate social distancing. Public restrooms will remain closed to encourage short-term park use, the council decided after a lengthy debate on Monday.
"[Restrooms] are probably one of the worst places to go in terms of COVID spread, so I'd hold off on that," Councilman Juan Martinez said prior to the decision.
Soccer coach Larry Schwartz said his teams could operate on the field without restrooms but would need to be aware of the change. "We'd need to prepare for that, to avoid any surprises," he said.
Organizers also need to prepare an operational plan identifying how team members will stay apart from one another, City Administrator Heather Dawson said. But that plan needs to go to parents, not the city, Community Development Director Lisa Horowitz told the Express.
A summer in flux
Events, though, are another question—which leaves marketers, organizers and those dependent on the tourist economy in a tough spot.
Visit Sun Valley, the marketing arm of Ketchum and Sun Valley, has put out its own three-phased structure for local recovery. That plan centers around communication, shifting promotional advertising to highlight resiliency in the community and encouraging visitors to begin dreaming of a future visit. Visit Sun Valley is also offering business opening strategies depending on the two timelines—when the community will be ready to welcome visitors and when visitors will feel safe traveling here.
The first, according to Little's plan, could be as soon as mid-June; the second is a major unknown.
On Monday, the Hailey council debated the future of Hailey's signature summer functions, including the Antique Market, Wood River Land Trust River Fest, Independence Day parade and fireworks, Sawtooth Rangers Days of the Old West Rodeo and Summer's End festival.
Sawtooth Rangers treasurer Julie Flolo said the organization was still split on whether the rodeo—held since 1947—will go on.
"If we do have it, we will likely lose money," she said.
City Councilman Sam Linnet said he didn't feel comfortable with the River Fest and rodeo events being held, but a Fourth of July parade and fireworks could be feasible with strict social distancing measures. Council President Kaz Thea believed that only fireworks would be reasonable.
"As sad as it sounds," she said, "holding the other events will not help us crush the [COVID-19] curve."