This story was updated at 5:15 p.m. Monday, April 8.
Two houses were heavily damaged by an avalanche this afternoon that slid down a hillside of burned trees and onto the Lower Board Ranch, west of Ketchum.
Responders were dispatched at about 2 p.m. to the area of Whipsaw Lane and Cross Cut Lane, on the south side of the residential area accessed by Warm Springs Road.
Large amounts of snow laden with downed trees ended up on the residential properties. It was reported from the scene by first-responders that there were no injuries.
Ketchum Interim Fire Chief Tom Bowman said responders made contact with a caretaker from one of the homes, who said the owners were not there. Neighbors said the other home had not been occupied for months, so Bowman said the responders made the decision not to risk the danger of attempting to enter either structure.
He said a leaking propane tank posed the greatest hazard, but responders were able to access the tank and turn it off.
Neighbor Pam Franco said she was standing in her front yard with her husband, Ray, when they heard loud cracking, crashing noises on the hillside to the south.
She said they got in their car and drove down closer to the avalanche site, where they witnessed the slide come down over a period of three to four minutes.
She said she has lived in the area since 1977 and has never seen an avalanche take out homes before.
Franco said the combination of large winter snowpack, warm weather and rainfall has made conditions ripe for avalanches in Board Ranch. She said several have come down farther west along Warm Springs Road, although they have not hit her neighbors' homes.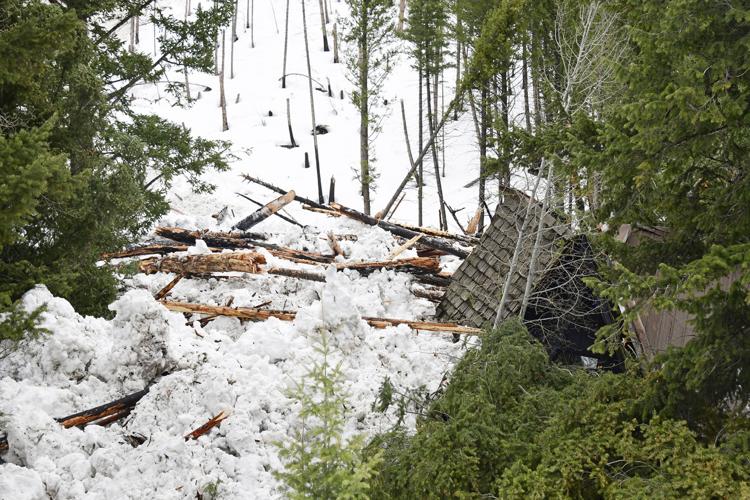 "We heard this huge crashing, cracking noise," Franco said. "This is a perfect storm between warming and the rain. I'm just shocked from living here for so long and never seeing it take out a house. It's the raw power of nature. It's shocking."
The Sawtooth Avalanche Center rated the danger for avalanches in the Warm Springs area west of Ketchum as "considerable" on Monday, which was the third-highest danger rating on its 1-5 scale. It said those conditions were likely to increase throughout Monday due to warmer weather and significant rainfall in the forecast.
The center posted two photos of an avalanche that came down in Warm Springs on Friday afternoon and evening. One photo depicted a wet slab avalanche that came down on a northwest-facing slope within the drainage, which wiped out several burned trees and left a 15-foot debris pile in its wake.
"Warm temperatures and rainfall will make both wet slabs and wet loose avalanches likely at middle and lower elevations," the center reported on its website Monday morning. "The size and likelihood of avalanches will increase throughout the day and overnight. Yesterday, the rain line rose to above 8,000-feet (elevation). The rain line will continue to climb today; some locations may see rain to 9,000-feet (elevation)."
The center reported that the avalanches in Warm Springs on Friday, as well as others in Baker Creek and in the Big Wood River drainage, are indicators of wet snowpack.
"In lower and middle elevation terrain, the rain is falling on an already saturated and unconsolidated snowpack that hasn't had a solid refreeze for many days," the center's website reported. "Wet slab avalanches … occur when weak layers in the snowpack are affected by liquid water. As the rain works its way down to these layers today this sort of slide will become increasingly likely. Wet slabs are destructive and unpredictable; it's nearly impossible to estimate how much rain it will take to reactivate the weak layers in the snowpack."
Resident Wade Schilling said he has lived in the area for the last 25 years, and noted that other avalanches have come down in the area this winter but have only broken glass as they bumped up against homes.
He said temperatures exceeded 50 degrees Fahrenheit on Monday, which was the warmest it's been in months.
"This is way-above-normal snowpack," Schilling said. "This is the warmest day since last November. There were a few other avalanches that just broke some glass. That structure there is just gone."