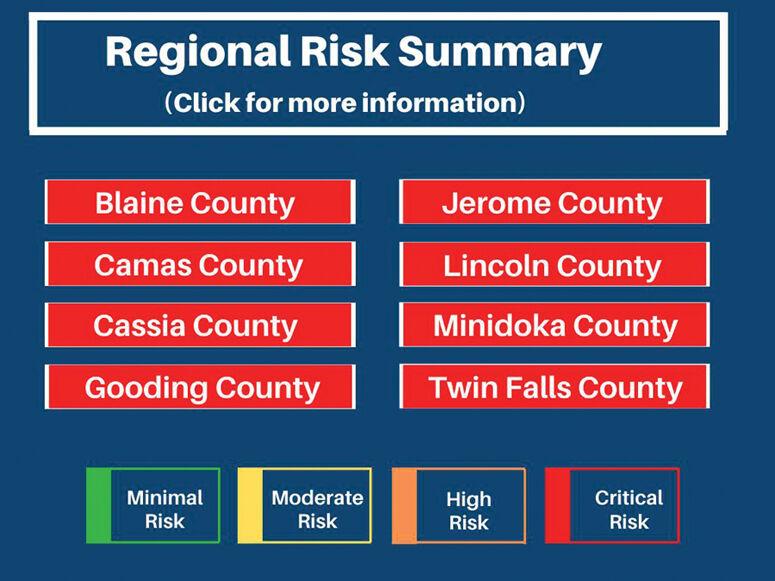 Three more people have died in Blaine County from complications of COVID-19, the South Central Public Health District reported late last week.
The first death was of a man in his 50s who had underlying health conditions and had been hospitalized, the Health District reported last Wednesday, Oct. 20. He was deemed fully vaccinated against COVID-19 in February, the district stated.
The death was the 24th fatality linked to COVID-19 in Blaine County.
On Thursday, the Health District reported that an unvaccinated woman in her 60s had died of COVID-19. She had underlying health conditions, was hospitalized and was not affiliated with a long-term care facility, the district reported. In addition, an unvaccinated woman in her 80s with underlying health conditions died of COVID-19, the district reported. She had not been hospitalized and was not living in a care facility.
There have now been 26 COVID-related deaths in Blaine County.
By Monday, 3,002 cases of COVID-19 had been recorded in Blaine County, the Idaho Department of Health and Welfare reported.
The county's daily seven-day moving average of new cases per hypothetical 100,000 residents was 23.6 on Monday, down significantly since last week but still elevated compared to the late spring and summer, Health and Welfare data shows. This year, it peaked at 81.9 in January. It dropped to zero in early June.
On Monday, the Health District was monitoring 169 confirmed and 23 probable COVID-19 cases in Blaine County.
The Health District rated Blaine County's risk level for COVID-19 as "critical" on Thursday, when it updated its bi-weekly risk assessments for the eight counties it serves. The "critical" rating is the highest of the four risk levels used by the district.
The seven other counties in the district—including neighboring Camas and Lincoln counties—were also rated in the "critical" category.
Statewide, the seven-day average of new daily cases per 100,000 residents is trending downward. It was 45.8 on Monday, after reaching a high for the recent surge of 83.3 in mid-September.
The state recorded 1,090 new COVID-19 cases in Idaho on Monday, bringing the total during the pandemic to 286,335. The state has recorded 3,428 deaths attributed to COVID-19.
Idaho health-care facilities are still operating under crisis standards of care because of high numbers of patients, meaning that care can be delayed or can be substandard because of limited capacity and resources.
Nationally, COVID-19 cases are also trending downward. On Sunday, the federal Centers for Disease Control and Prevention recorded 19,200 new cases, with the seven-day moving average of new cases at approximately 60,000. The CDC recorded approximately 75,000 new cases last Friday. During the surge that started in the summer, the number peaked at approximately 190,000 in late August, CDC data shows. The number of new daily cases had dropped below 15,000 in late June.