More than a thousand protesters throughout the valley took to main streets on Tuesday evening, dropping to a knee in solidarity with George Floyd, a black man killed while in custody of Minneapolis police last week, and against the American racism that led to his death.
Some 700 or 800 people lined Main Street in Hailey, our Tony Evans reports, including Hailey City Councilman Juan Martinez, who led a group of young protesters into the middle of the street when the time came to take an eight minute, 46 second knee--a nod to the amount of time Officer Derek Chauvin, a white policeman, kneeled on Floyd's neck. A tense few moments followed, as police weighed their response, Evans said.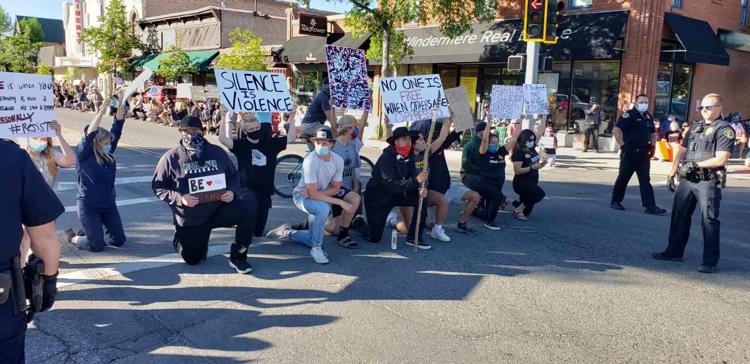 Then, Hailey Police Chief Steve England broke in. 
"I'm going to take a knee for one minute, for George Floyd and all other the other socially oppressed people in the world," England said, and went to the ground. His officers followed suit, static at the intersection of Main Street and Bullion, as a huge applause rose around them
Afterward, a march continued northward.
The scene was similar in Ketchum, where Gretel Kauffman was on the scene. She reports similar numbers to Hailey, too. There, demonstrators knelt in the street for nearly ten minutes--stopping traffic and settling a hush over the town. Once risen, the crowd headed up Sun Valley Road towards the resort, Kauffman said.
Protestors planned to line the main streets of Hailey, Ketchum and Bellevue on Tuesday evening. Organized by The Alliance of Idaho, the demonstration was intended to campaign "against systemic racism in solidarity with protests happening around the country," according to Alliance co-founder Sarah Sentilles.