A Bellevue police officer who gained national attention—and millions of views—for a controversial TikTok video will remain employed with the local Marshal's Office while the matter is handled internally, Bellevue Mayor Ned Burns confirmed Tuesday.
Meanwhile, in another video posted to TikTok late Tuesday morning, Deputy Marshal Nate Silvester said he does not plan to apologize for the April 24 video mocking basketball star LeBron James.
"I've been asked a few different times whether or not I regret posting the LeBron TikTok and if I think I should apologize," Silvester said in the video. "My answer? Unequivocally, hell no."
A GoFundMe page for Silvester had raised nearly half a million dollars as of Tuesday afternoon. In the page's description, creator Gannon Ward wrote that Silvester had been suspended without pay. As of Tuesday afternoon, the Bellevue Marshal's Office had not returned a request by the Idaho Mountain Express asking for confirmation that Silvester was suspended and for additional information regarding the office's social media policies.
In a separate TikTik video posted last Friday, Silvester said he would use at least some portion of the funds raised through the GoFundMe campaign to create a new nonprofit advocacy organization in support of police officers nationally.
Meanwhile, an online petition calling on GoFundMe to defund Ward's campaign had received more than 2,780 signatures as of Tuesday afternoon.
A formal complaint against Silvester was made to the city of Bellevue on April 26, Burns told the Mountain Express last week, though he did not elaborate on the nature of the complaint. The Marshal's Office's only public comment on the matter came in a Facebook post last week, in which the office acknowledged the "extreme controversy" surrounding the video.
"The statements made do NOT represent the Bellevue Marshal's Office," the April 27 post stated. "The Bellevue Marshal's Office always demands that our Deputies engage with our citizens in a friendly and professional manner. This is NOT how we expect our Deputies to act on duty or use city time."
The April 24 video, which by Tuesday afternoon had received more than 5.5 million views, appears to be a response to a tweet by James that same week criticizing the fatal police shooting of 16-year-old Ma'Khia Bryant in Columbus, Ohio. Following the death of the teenager, James posted an image of the police officer who is alleged to have shot and killed Bryant on Twitter, with a caption that read "YOU'RE NEXT #ACCOUNTABILITY."
In his viral TikTok video, Silvester pretends to call James for advice while a fictional attempted stabbing takes place outside his car window. The video opens with Silvester reporting a disturbance to dispatch, wearing his uniform, and asking the dispatcher to "have LeBron call my cell phone right away."
"Excuse me sir, can you put the knife down please?" Silvester calls out the window to the fictional attempted stabber. "Sir, no, don't stab him, stop stabbing him."
Silvester then pretends to answer a call from James, holding his cell phone up to his ear.
"Lebron? It's me again," Silvester says. "Listen, I'm out here at a disturbance call, and there's a guy trying to stab another guy with a knife. What do you think I should do?"
Silvester pauses while pretending to listen to James talk, then says, "Well, why does that matter?" Another pause. "OK, well, they're both black. One guy's trying to stab another guy with a knife. Deadly force is completely justified."
After another pause, Silvester says: "Uh-huh. I see. So you don't care if a black person kills another black person, but you do care if a white cop kills a black person even if he's doing it to save the life of another black person? I mean, it doesn't make a whole lot of sense. But then again you are really good at basketball, so I guess I'll take your word for it."
---
Bellevue Mayor: Reactions to viral video 'split'
In the weeks since the video was posted, Burns told the Idaho Mountain Express on Tuesday, he has seen a "split" response to the video within the Bellevue community.
"This particular issue is evidence of the vibe in our country right now," he said.
Silvester has posted videos regularly on TikTok in recent months; he had roughly 331,500 followers as of Tuesday, up from 192,000 a week prior. Of the dozens of videos posted by his account, a number revolve around his work as a law enforcement officer and show him filming in his patrol vehicle while in uniform—something Burns says goes against city policy.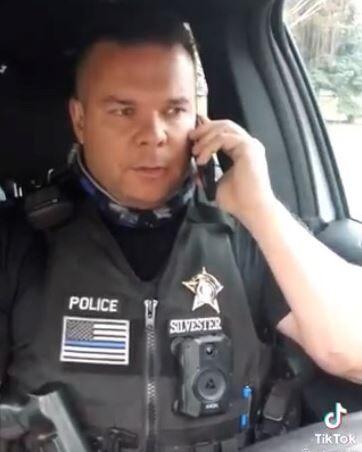 In October, the City Council subscribed to the Idaho Policing Policy, a binding document created by the Law Enforcement Police Center in Boise. In it, a law enforcement code of ethics states, "I will keep my private life unsullied as an example to all and will behave in a manner that does not bring discredit to me or to my agency." The document also outlines the city's policy on social media use while on the clock, something Burns said is not allowed.
"[Silvester's action] does not comport well with city standards, particularly when he's on city time," Burns told the Mountain Express on Tuesday. Though he appeared in uniform, the Marshal's Office has not publicly confirmed whether Silvester was on the clock when he made the viral video.
The matter is being handled internally by Silvester's direct supervisor, Marshal Mynde Heil, Burns said. The mayor declined to comment on what if any of repercussions Silvester might face, but confirmed he will remain a deputy marshal.
"I think he's going to need to do some work to regain the confidence of some members of the community," Burns said.
"We need to understand and validate those feelings," Burns continued, referring to community members who may disagree with the decision to keep Silvester on the force. "I hope he'll be able to regain that trust."