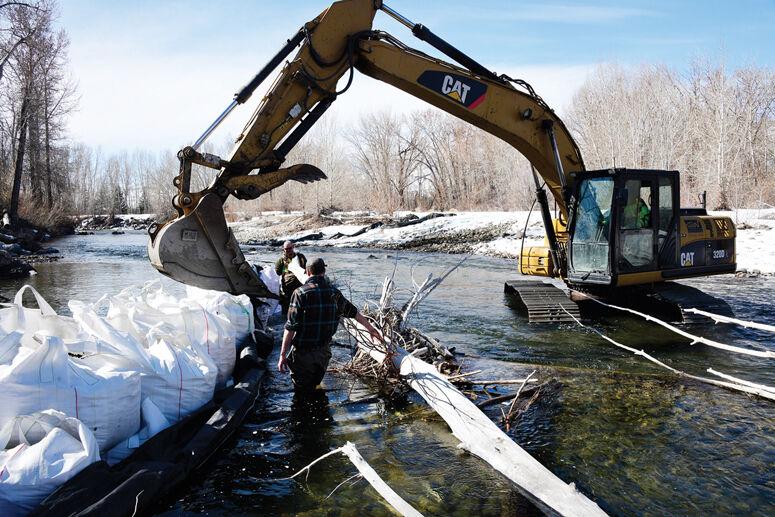 The Idaho Water Resource Board last Tuesday approved 10 flood-management grants totaling nearly $1 million—including $111,500 directed toward the restoration of a mile-long stretch of the Big Wood River in Bellevue.
The Bellevue Side Channel Enhancement Project aims to cut flooding risks to Bellevue residents near Howard Preserve by reconnecting multiple side channels and floodplain habitat and stabilizing the bank with large woody debris structures.
The restoration project, developed by Biota Research and Consulting in 2019, will "reduce impacts on loss of property and reduce the need for reclamation work for private landowners" and protect the "critical irrigation infrastructure of the Diversion 45 canal." Its cost is currently estimated at $284,000. The project area runs from Broadford Road to just below the Riverside Estates neighborhood, covering about 2,600 feet of the Big Wood, according to Wood River Land Trust River Restoration Specialist Ryan Santo.
The project is set to begin at the end of 2021 or in early 2022. A further $300,000 restoration effort by the Land Trust would modify the aging District 45 head dam to allow fish and sediment to pass through at all levels of river flow. If additional funding is secured, the dam project could kick off by fall 2022, Santo said.
---
State funds cloud-seeding program
Also on Tuesday, the Idaho Water Resource Board voted unanimously to adopt a list of 20 major water projects needed statewide to improve water supply, about $843 million altogether. The list of projects includes an $8 million pilot cloud-seeding program in central and southeastern Idaho that would begin seeding operations in the Big Lost, Bear River and Upper Snake River Basins.
Cloud seeding involves the use of aircraft or high-elevation generators to "seed" clouds with silver iodide, helping to create extra precipitation. The compound is typically injected over a propane flame, causing it to disperse into the clouds; once introduced into the atmosphere, silver iodide particles generate more ice crystals that fall to the ground as snowflakes.
Funds available for the seeding project would be contingent on federal funds "or other funding sources," board members said.