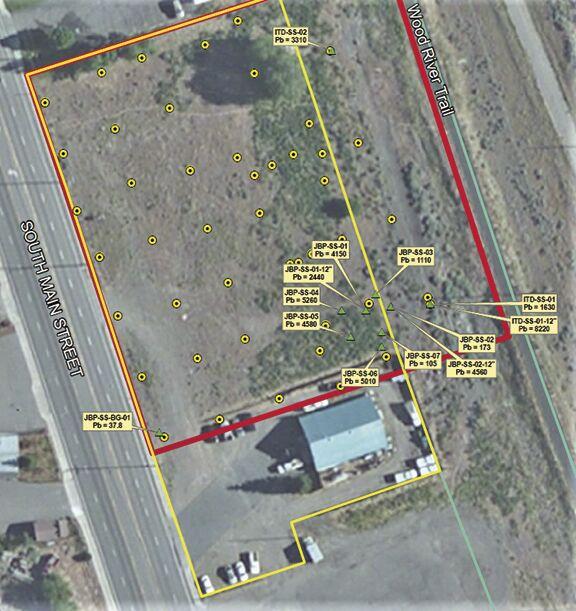 A vacant commercial lot along Bellevue's Main Street is set to undergo extensive remediation work to treat soil contaminated by mining activity over a century ago.
The 1.5-acre property known as JET Business Park sits in Bellevue's light industrial district next to a Phillips 66 gas station, just west of what was the Union Pacific Railroad line. Its soil contains unacceptably high levels of arsenic, lead and antimony, two environmental consulting firms and the Idaho Department of Environmental Quality found in investigations between 2018 and 2020.
Silver, lead and gold ore from nearby mines was "reportedly loaded onto rail cars at this location for many years," causing the contamination, a third environmental consulting firm, Douglass, Inc., reported this year.
In January, the state Department of Environmental Quality named the Bellevue lot one of Idaho's ten active Voluntary Cleanup Program Sites. The state remediation program aims "to revitalize properties with hazardous substance or petroleum contamination" and offers landowners assistance with cleanup costs.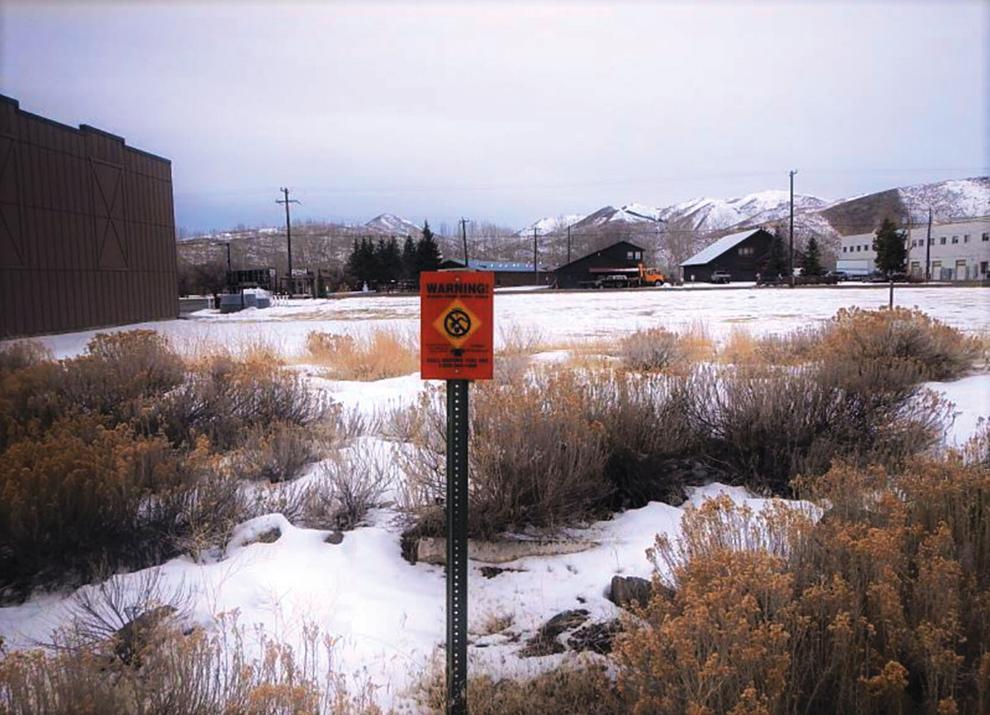 Missoula, Mont.-based Douglass, Inc., submitted a cleanup plan for the site to the DEQ last month. The plan was required under a remediation agreement executed in May between the owners of JET Business Park, trustees Edgar and Elaine Redman, and the DEQ.
Upcoming remediation work would involve excavating about 200 cubic yards of contaminated soil, stockpiling it and removing heavy metals using phosphoric acid poured from 55-gallon drums, the cleanup plan states. The treated soil would then be tested and, if accepted, disposed of as non-hazardous waste at Milner Butte Landfill in Burley.
"JET proposes to remove the contaminated soil area until field readings and laboratory confirmation sampling demonstrate that residual site soil are below the remediation standards," the plan states.
Without remediation work, commercial and construction workers on site could face "potential exposure" to heavy metals from "ingestion and dermal contact" with the soil, the plan says. There is no evidence that the metals have leached into the groundwater, it states.
In early 2018, Hailey-based environmental consulting service ACS first discovered the "potential existence of heavy metals" on the property. A subsequent site assessment by the DEQ in 2019 indicated that lead concentration in soils "exceeded acceptable limits and required disposal as a hazardous waste."
From 2019 to 2020, Boise-based firm Alta Science & Engineering conducted further site investigation, taking soil samples from several 6-inch-to-2.5-foot-deep pits. Lab and X-ray analysis of the soil samples found upper-limit concentrations of arsenic, lead and antimony over 10 times the limits set forth by the U.S. Environmental Protection Agency.
The EPA's maximum "safe" soil concentrations on commercial and residential property go up to 0.68 mg/kg for arsenic, 400 mg/kg for lead and 31 mg/kg for antimony. (The baseline concentrations of arsenic and lead in Blaine County soils are already elevated, according to the U.S. Geological Survey, at 25 mg/kg for arsenic and 125 mg/kg for lead.)
Alta's samples from JET Business Park, however, revealed soil concentrations of 706 mg/kg for arsenic, 5,260 mg/kg for lead and 318 mg/kg for antimony. The heavy metals were most abundant on the southeast corner of the lot, where a freight loading ramp had been stationed.
Antimony, arsenic and lead exposure can pose several health risks, according to the U.S. Centers for Disease Control and Prevention. Long-term arsenic exposure is associated with several types of cancer; lead exposure has been linked to damage to the brain and nervous system; and antimony exposure can cause lung, heart and stomach issues.
Alta previously recommended transporting the contaminated soil to a hazardous waste disposal site in Grand View, Idaho, but that option would cost the lot owners $225,000—nearly the price of the property, according to county records. Treating the soil with phosphoric acid and transporting it to Milner-Butte would cost between $100,000 to $150,000, Alta said.