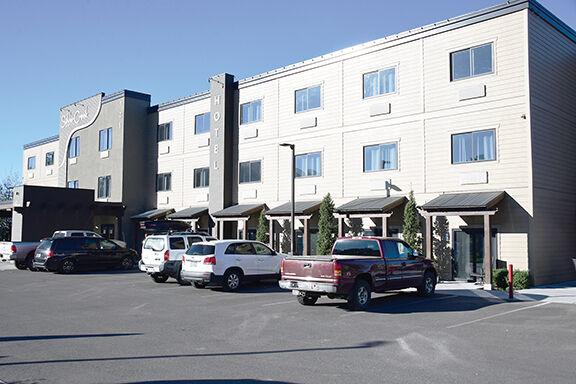 With an eye towards attracting bigger housing projects, the Bellevue Planning and Zoning Commission voted Monday to increase allowed building sizes from 28,000 to 36,000 square feet and to streamline the approval process.
The changes to the city's building code, which would have to be approved by the City Council, would be applied to the General Residential, Business and the Light Industrial/Mixed Business zones.
A last-minute change Monday included a 10-foot setback requirement and a clause stating that only apartments, churches and schools of this size be allowed in the General Residential Zone. The move was made to prohibit the unlikely construction of a home the size of a hotel in a residential neighborhood.
"My intention all along has been for this to be used for multifamily [apartment building] uses," Community Development Director Diane Shay said during the meeting.
No public comments were submitted at the public hearing.
The P&Z also voted to delete in its entirety Chapter 16, which requires "Large-Scale Development" conditional-use permits, and includes a long list of criteria for consideration. Those considerations would now be handled in the subsequent design review process.
The city currently allows a maximum building footprint of 28,000 square feet, but only for a building project that first acquires a conditional-use permit though the large-scale development (LSD) process.
Shay informed the commission earlier this month that the 28,000-square-foot limitation was designed to regulate the development of big box stores.
"The process to acquire an LSD is extremely cumbersome and has caused several developers to look elsewhere for their large projects," states a memo from the Community Development Department.
Shay said that if the city annexes new land, a new zone would likely be created to accommodate apartment developments, with its own bulk requirements.
The P&Z recently approved sweeping changes to city code that would allow for an unlimited number of housing units per acre in a new Business Core Residential Overlay District, with units as small as 350 square feet. The proposed overlay district would allow for building height up to 45 feet and extend along Main Street between Cedar and Chestnut streets—the entire length of Bellevue's original townsite.
The city has not indicated if there are any ways to restrict new apartment housing units for long-term rental rather than being used for short-term AirBnB-style rentals. Shay said she doesn't think so and City Attorney Rick Allington could not be reached for comment by press time Tuesday.