Though interested parties are progressing on a slate of smaller-scale projects on the Big Wood River, significant work—and investment—remains to restore flows and rehabilitate habitat in a mile-long reach that runs through Bellevue, Wood River Land Trust River Restoration Specialist Ryan Santo told the the Bellevue City Council on Monday.
The project engaged multiple stakeholders in 2019 to find solutions for flood mitigation, enhance fish and wildlife habitat, and improve natural floodplain processes. The restoration project area runs from Broadford Road down to just below the Riverside Estates neighborhood.
Stakeholders include the Wood River Land Trust, Trout Unlimited, Flood Control District No.9, the city of Bellevue, riverside homeowners, District 45 Canal representatives and the Friends of the Howard Preserve.
Santo said stakeholders have been working together to implement design components of the mile-long conceptual design. "In other words, working in subgroups to complete sub projects," he said in an interview.
A preliminary estimate of the project was around $850,000, Santo said.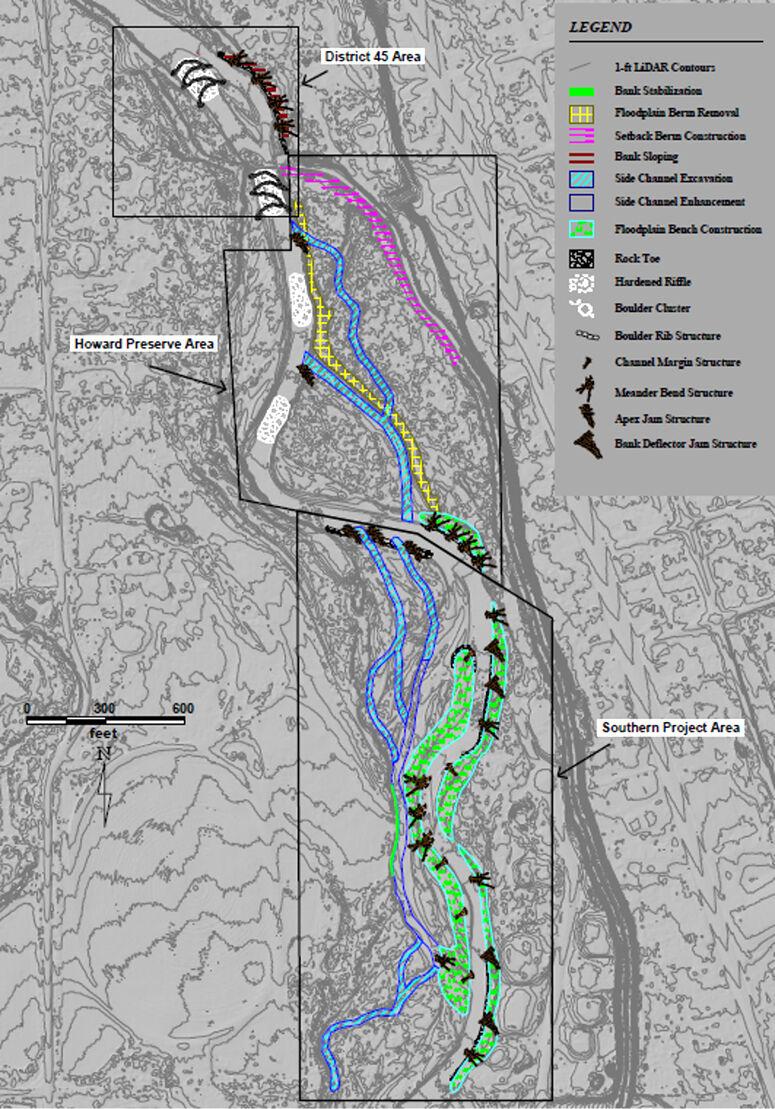 Progress so far includes a District 45 canal bank enhancement project to reduce erosion and enhance riparian habitat, completed in February 2020 at a cost of about $100,000.
In March, the Lower Howard Preserve Restoration Project section was completed, reconnecting a 700-foot side channel with enhancements to several acres of floodplain habitat by removing artificial fill and levee material. Instream structures of a large woody debris structure and boulder cluster formations were built to enhance fish habitat and provide "grade control" which reduces river velocities and erosion. The cost was about $120,000.
A planned Bellevue side channel enhancement project would reconnect and enhance several side channels and floodplain habitat just below the Howard Preserve. Santo described it as "a large project enhancing about 2,600 feet of the Big Wood River." This project will include building large woody "debris jams" to enhance fish habitat and reduce erosion.
Santo has secured match funding to apply for an Idaho Water Resource Board Flood Management grant, he said. He expects to find out if the grant will be awarded at the end of July and then hopefully implement the project by the end of 2021 or early 2022, at a cost of about $270,000.
A final project would involve the District 45 Canal head dam modification, which would "notch" the decades old structure to allow sediment to move through and also allow for fish passage at all levels of river flow.
Final design is completed with partial funding secured, Santo said. The project cost is around $300,000, and Santo is looking to get started by fall 2022.