A number of people virtually attended a Bellevue City Council meeting on Monday to express their views for and against keeping Deputy Marshal Nate Silvester, who found fame through a viral TikTok video late last month, on duty at the Bellevue Marshal's Office.
The comments were made during an open session for public remarks that takes place at the beginning of every City Council meeting.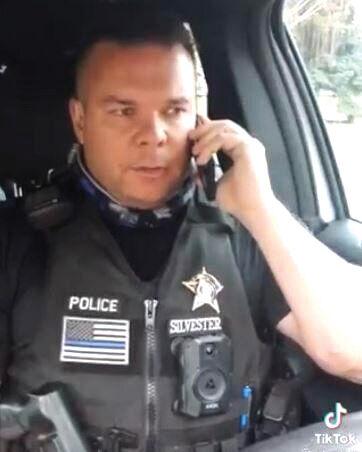 Over the past two weeks, Silvester has gained national attention—as well as more than $500,000 in a GoFundMe campaign and an apparent book deal—following a controversial TikTok video that satirizes basketball star LeBron James during a fictional crime scene.
The video, which by Tuesday had been viewed 5.8 million times in the app, mocks James over a now-deleted tweet he posted criticizing the fatal police shooting of black 16-year-old Ma'Khia Bryant in Columbus, Ohio, by a white cop. James apparently assumed that the shooting was racially motivated, though body camera footage released afterward shows that Bryant appeared to lunge at another young woman with a knife before she was shot by Officer Nicholas Reardon on April 20.
In Silvester's video, the deputy marshal pretends to call James for advice while a fictional attempted stabbing takes place outside his car window. The video opens with Silvester reporting a disturbance to dispatch, while wearing his uniform, and asking the dispatcher to "have LeBron call my cell phone right away."
"Excuse me sir, can you put the knife down please?" Silvester calls out the window to the fictional attempted stabber. "Sir, no, don't stab him, stop stabbing him."
Silvester then pretends to answer a call from James, holding his cell phone up to his ear.
"Lebron? It's me again," Silvester says. "Listen, I'm out here at a disturbance call, and there's a guy trying to stab another guy with a knife. What do you think I should do?"
Silvester pauses while pretending to listen to James talk, then says: "Well, why does that matter?" Another pause. "Okay, well, they're both black. One guy's trying to stab another guy with a knife. Deadly force is completely justified."
After another pause, Silvester says: "Uh-huh. I see. So you don't care if a black person kills another black person, but you do care if a white cop kills a black person even if he's doing it to save the life of another black person? I mean, it doesn't make a whole lot of sense. But then again you are really good at basketball, so I guess I'll take your word for it."
Tatyana Gray, a spokesperson for Central Idaho for Liberty, led a group of seven of Silvester's supporters at the City Council meeting, including Eric Parker, who recently ran unsuccessfully for a state Senate seat against incumbent Sen. Michelle Stennett.
"These are people willing to stand up for Nate," Gray said.
Parker warned that it would be detrimental to the city if Silvester were not kept on the job permanently.
"Putting him out for a week without pay was enough," Parker said. "We need experienced law enforcement here."
(Bellevue Mayor Ned Burns would not disclose whether Silvester was suspended for the video, with or without pay. The Bellevue Marshal's Office has not responded to requests for comment from the Express.)
Bellevue resident Tom Blanchard said city officials should terminate Silvester's employment to avoid further attention from the news media.
"We are in a period of distress," Blanchard said. "Bellevue will only continue to be the center of this dispute. We should take action to see that this officer is not part of our organization."
In an interview, Blanchard said the city needs "more community-based and sensitive policing."
Burns reiterated on Tuesday that he would not discuss any disciplinary actions taken against Silvester, citing internal personnel decision-making policy, but he did say that for the time being the officer is back at work.
"He is back to his regular schedule," Burns said in an interview.
Last week, Burns told the Express that Silvester would remain with the Marshal's Office. After the meeting, though, he indicated that Silvester's long-term employment has not been decided.
"The council and I have to weigh all the input we received last night," Burns said, "while making sure that the policies and standards of the city are upheld."
Burns had previously said that Silvester's conduct in posting this and other TikTok videos "does not comport well with city standards, particularly when he's on city time."
As of Tuesday, Silvester had around 481,000 followers on TikTok, up from 192,000 two weeks ago.