More than a thousand protesters throughout the valley took to the Main Streets of Hailey, Ketchum and Bellevue on Tuesday evening, dropping to a knee in solidarity with George Floyd, a black man killed while in custody of Minneapolis police last week, and against systemic racism and police brutality in America.
Some 800 people lined Main Street in Hailey, including Hailey City Councilman Juan Martinez, who led a group of young protesters into the middle of the road when the time came to take an eight minute, 46 second knee—a nod to the amount of time Officer Derek Chauvin, a white policeman, kneeled on Floyd's neck. A tense few moments followed, as police weighed their response.
Protesters chanted at them from all sides, "Take a knee, take a knee—."
Then, Hailey Police Chief Steve England broke in.
"I'm going to take a knee for one minute, for George Floyd and all the other socially oppressed people in the world," England said, and went to the ground.
His officers followed, static at the intersection of Main Street and Bullion as cheers swelled around them.
"There is racial tension here, but there is no police harassment," Martinez, an elected official whose job includes police department oversight, explained afterward. "This shows our solidarity with the outside world. Protesting takes courage and today that courage was also shown by our police. I had a ton of confidence in how they would respond. The biggest success of this day was having them take a knee for the oppressed."
Mia Castillo, 17, attended the protest with several white friends.
"We are here to support Black Lives Matter," Castillo said. "We should have ended this 300 years ago, but we didn't. So, we're here now."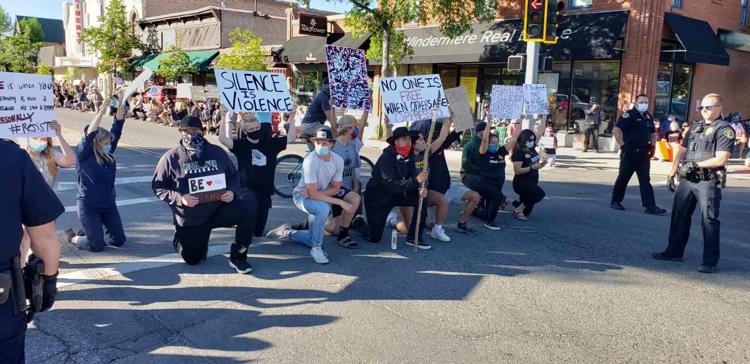 A similar scene played out in Ketchum, where for more than 10 minutes Tuesday night Main Street came to a standstill. As hundreds of protesters kneeled in silence in the streets and on the sidewalk, no cars honked and no drivers yelled. A few passersby stopped and took a knee themselves. Then a chant rose up from the crowd, quiet at first, growing gradually louder: "I can't breathe."
For co-organizer Sarah Sentilles, co-founder of the Alliance of Idaho, the Wood River Valley protests had two purposes. One was to send "a message of solidarity" to other cities around the country and world.
The other objective: "To make connections between that kind of very visible and fast violence that you can see in the video where George Floyd is killed by police, and the slower forms of racialized violence that are operating in our valley all the time," Sentilles said. "I don't think we can pretend that racism isn't at work here, too."
Days before the demonstration, as Blaine County residents watched protests in seemingly far-off cities through their computer and television screens, Sentilles said she was contacted from friends and neighbors in the valley seeking an outlet to express their support and anger.
"I'm hearing from a lot of white people who are willing to use their privilege at this time and are looking for ways to do that," Sentilles said Tuesday morning, before the protests.
One such individual was Hailey City Council President Kaz Thea.
"This started as a casual conversation between myself and three friends," Thea said. "We had to do something. Within 24 hours, it all came together."
Over social media, the message spread far and wide.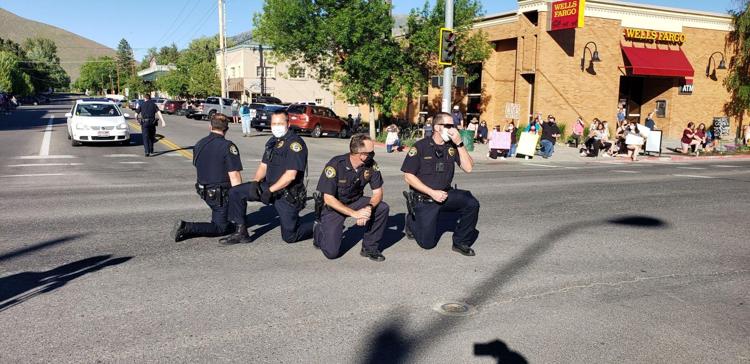 In Ketchum, an estimated 700 people turned up to show support for Floyd and the Black Lives Matter movement, kneeling downtown before marching to the Sun Valley Lodge and back.
Yasmine and Nissrine El Asraoui, 18- and 17-year-old sisters visiting the area from San Diego, said they hadn't been sure what to expect. Would Ketchum hold a protest? And if so, how many people would come? In the worst-case scenario, the sisters said, they were prepared to stand out on Main Street alone with signs in their own protest. They were pleasantly surprised to learn that the mountain town was holding a demonstration, and proud to see the response.
"When people started chanting 'I can't breathe,' I was bawling," Yasmine said. Her handmade sign read "Privilege is when you think something is not a problem because you aren't affected personally."
"You see protests on the news and it feels very powerful," she continued, "but it's not until you're a part of one that you really feel the power and energy and love and strength that unity brings."
A 14-year-old protester marching alongside the El Asrouis, an incoming freshman at Wood River High School, said she was also pleasantly surprised to see so many people from her hometown come out to march.
"I honestly didn't think a lot of people would show up," the 14-year-old said. "We do have a lot of people who stand up for things like this, but we also have a lot of people who don't care because it doesn't affect them."
This time, locals—predominantly white, mostly in masks—responded. Sally McCollum of Ketchum held a carboard sign with "Black Lives Matter" written across the front. She said she came out after feeling "sickened by the racial injustice in the country and police brutality."
McCollum said she didn't anticipate the Ketchum protest having a significant impact on local or state politics in Idaho.
"But," she said, "I think the fact that our little town, in a very red state, has this many people who care adds to the general level of awareness in the country and how upset people are. It's more of an issue of showing support in general than a belief that it's going to make a difference here in Idaho."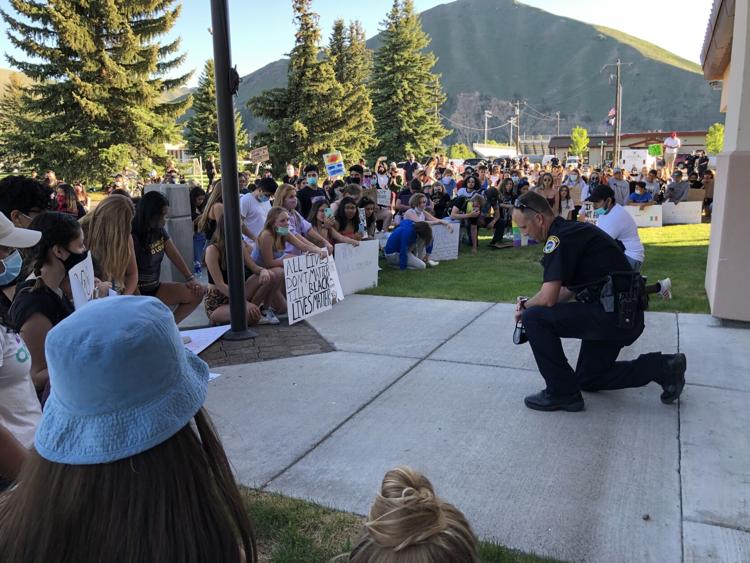 Bridget Kiser, also of Ketchum, hoped the protest would send a message.
"It's not just the minority groups that this matters to," Kiser said. "I don't want them to stand alone anymore. Many white people are sick of it, and [minority groups] need the support."
In Bellevue, a crowd of roughly 40 people dotted Main Street from Pine to Elm. Many were young, and several were Latinx.
One group of Mexican Americans—two sisters and a brother, ages 23, 20 and 13—didn't want to share their names, but said they came out to support black lives. Though local law enforcement agencies do a fine job, the 23-year-old said, "they could be better."
"Sometimes it feels like they're not there for us," she said. "Let's make a change."
Stephanie Castro, another Bellevue resident who was protesting alongside her husband, said she came out on behalf of her children, 4 and 6, whom she doesn't want to grow up to live in a world of fear and violence.
"We need to protect everybody," Castro said.
A mother, Amy Nilsen, was protesting alongside her children. She said she wanted them to use the privilege of their white skin to help everybody. Mixed race herself, Nilsen said these protests were against violence and brutality, not against police.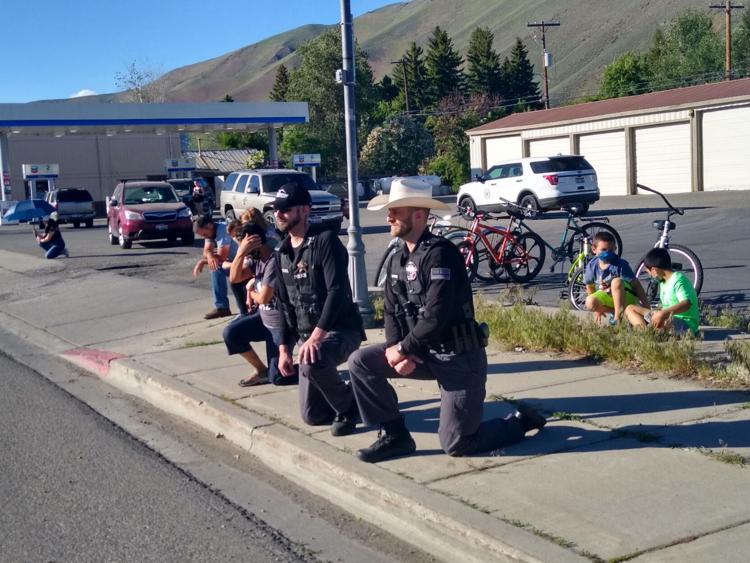 The Bellevue Marshal's Office was on the street during the demonstration. Both Marshal Ross Scaggs and a deputy took a knee alongside community members to honor the death of Floyd, Breonna Taylor, Ahmaud Arbery and other black Americans who have been killed as a result of racism or police brutality.
Bellevue Mayor Ned Burns was there, too, "to stand in support of our minority community and let them know that I am listening—I hear them," he said.
Living in a "sheltered" community like Blaine County, 16-year-old Sage School student Willa Laski said she didn't really know how to act or support African Americans. She thought Tuesday's protest would be a good place to start. Local schools should be doing more to educate students early on about the ties between history and the current American landscape, she said—if students had the opportunity to learn more about systems that spawned institutional racism, they could connect the dots to the present situation.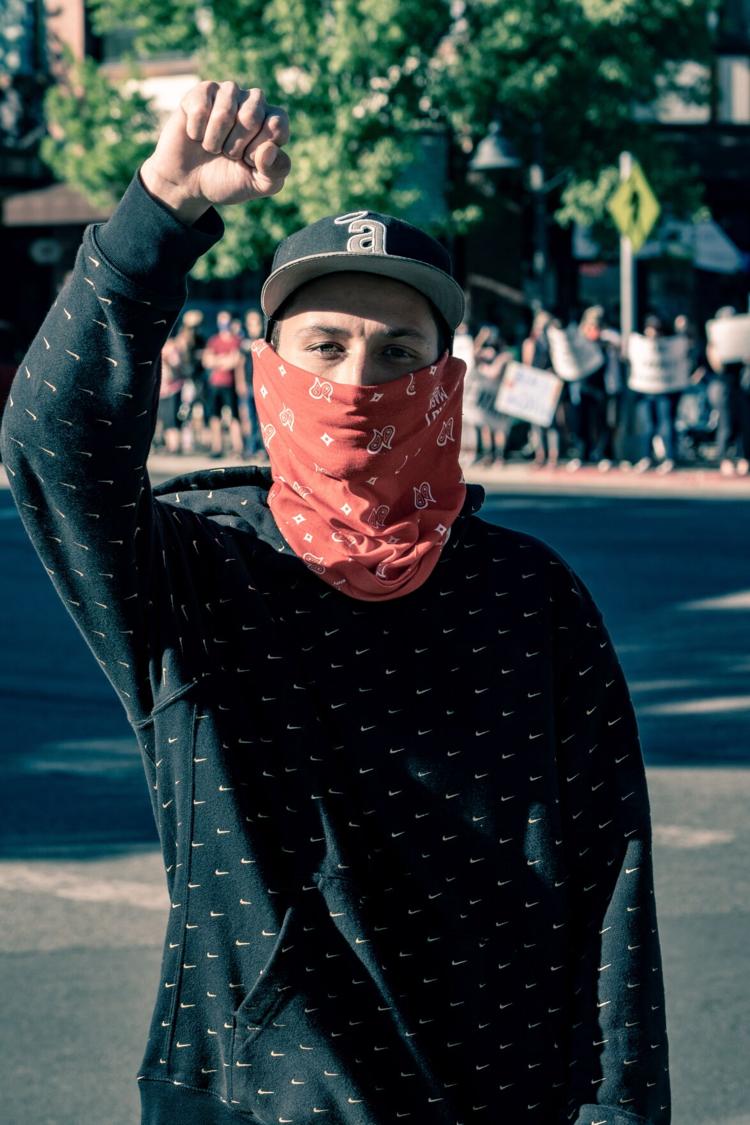 Marching alongside a friend in his hometown, Sam Wolff of Ketchum said he hoped the protests in the Wood River Valley would help to normalize engagement with racial injustice among non-black Idahoans.
"I think it's good in states like Idaho, where there's not a large black population, for people to see other people getting riled up by it," Wolff said. "It makes [the anger] seem like more of a natural, acceptable, second-nature thing, even if it's not an issue in your immediate life."
On Tuesday night, a Facebook post from the Bellevue Marshal's Office thanked the community members who participated peacefully in the protest.
"We are on your side of this issue and we respect each and every one of our citizens," the post reads. "We strive to serve our city with the utmost respect and treat each and every person the way we want to be treated."
Alejandra Buitrago reported from Bellevue. Gretel Kauffman reported from Ketchum. Tony Evans and Emily Jones reported from Hailey.