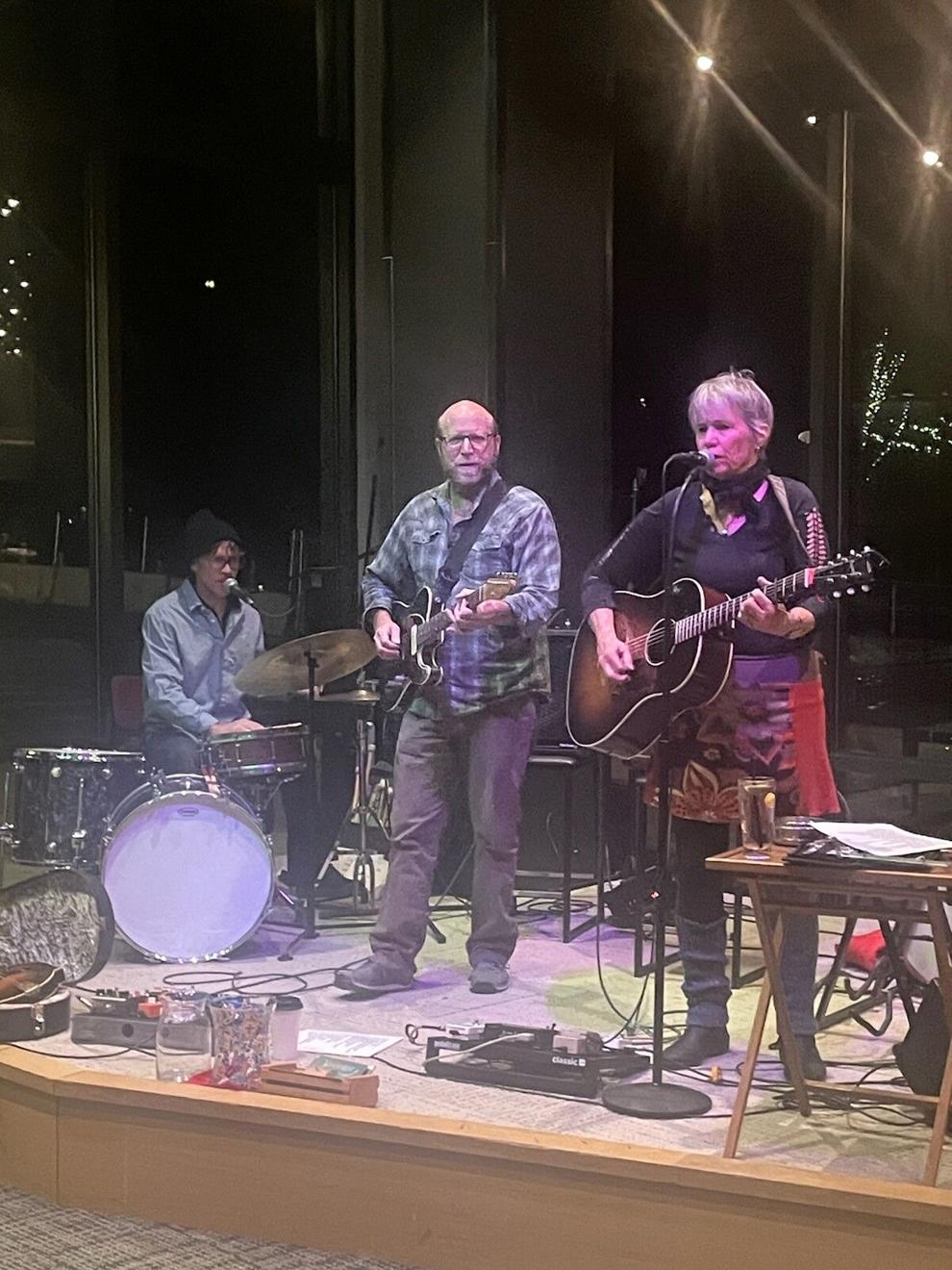 Legendary Idaho folk singer Rosalie Sorrels once told Mia Edsall, "If you're going to be a good singer, you've got to have something to say."
When the singer-songwriter returned to the Wood River Valley music scene in 2005 after 26 years away, she found that she did.
"When I got sober in 2005, I had to play to express myself," she said. "That was what came down from the universe. It was non-negotiable."
Her band No Cheap Horses performs Sunday night at the Limelight. The group combines blues, folk, Americana and bluegrass.
In her 20s, Edsall worked in a local bar, soaking up all the live music. Bands came from L.A., Seattle and Salt Lake City—"Just outrageously good bands," Edsall said. She studied groups like Mission Mountain Wood Band and Live Wire Choir, making friends with their members.
On any given night, there would be four or five venues featuring live music.
"In the 70s and 80s, the music scene was very vibrant," Edsall said.
While teaching ski lessons, she met the members of her western swing band, Stetson. They started singing together on the chairlift.
"To this day, I think harmony is maybe the best thing I do," Edsall said.
Stetson regularly performed at the old Silver Dollar in Bellevue.
"There was a lot of dancing then," Edsall said. "It was a dancing deal. Everybody danced."
Then one day, she was kicked out of the band. Even now, she doesn't know why. It broke her heart, Edsall said. She began feeling the cold shoulder from other musicians around the area. This came around the time she met the love of her life. When she got pregnant very early on in their marriage, she gave up music. The family moved to Michigan, then Boise. Through all that time, her Martin guitar stayed in her closet.
When she returned to the Wood River Valley in the early 90s, she went through a rough patch, forcing her to confront her demons.
"I realized I needed to address some personal issues, like alcoholism," Edsall said.
But when she finally began performing again in the Wood River Valley, it was not how she remembered it. The Silver Dollar had been rebuilt.
"I found it not as vibrant," Edsall said. "The music scene needs a shot in the arm."
Still, she remains optimistic, thankful for places like the Limelight which keeps acts coming through.
"I think people being isolated from COVID realize how much they need [live music]," Edsall said.
The newest lineup of No Cheap Horses features her harmonizing with drummer Jason Vontver and multi-instrumentalist Greg Schochet.
"Mia and I are really on the same wavelength musically, and it's like rolling off a log playing with her," Schochet said. "I can see her influences a mile away, because they're the same as mine, but she sounds totally like herself. She's a fierce artist who feels deep into the music, and you're lucky to have her here."
Above anything else, Edsall considers herself a songwriter. On her phone, there is a collection of random lyrics she's written whenever she feels moved. Sometimes in the midst of writing a song, she will wake up at 3 in the morning to work on it.
Life stands still until she finishes a song. Strumming on her banjo, she toys with melodies, hunting down verses and choruses.
"The whole thing gnaws away at me until I finish it," Edsall said. "When it's somewhat completed I can lay it down and get on with my life."
Recently, she wrote a song about the passing of Rolling Stones drummer Charlie Watts. When she heard the news, she had to pull her truck over. She was numb.
"I couldn't believe that the Rolling Stones were starting to die," Edsall said.
This inspired her to write a song about the fleeting nature of rock n roll.
These days, however, most of her songs focus on her horses, her dogs and the "universe as [she sees] it."
"I want the songs to get out there on their own," Edsall said. "They are their own entity. I want them to be heard. I love the practice of songwriting and the art of singing what I want to say."