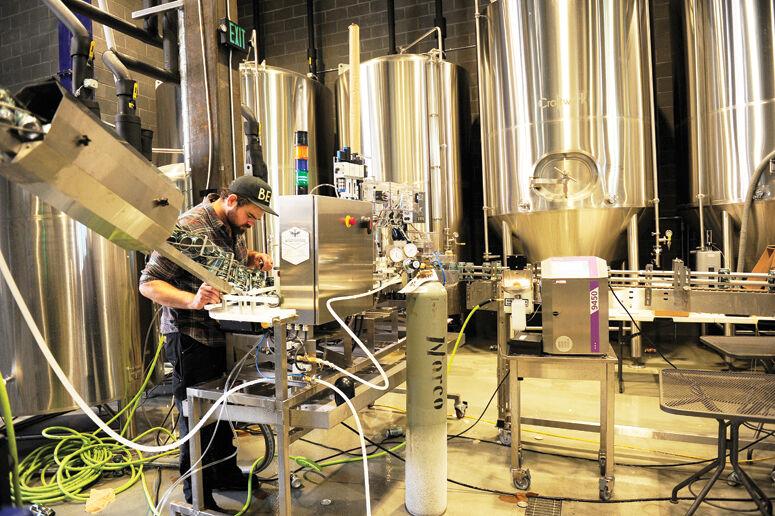 The Warfield Distillery and Brewery began preparing for its Oktoberfest celebration in early summer. Being the only combination brewery and distillery in Idaho, their recent production expansion allowed them to manufacture their signature Kriegsfeld Festbier in house, where it is currently on tap.
Warfield's second annual Oktoberfest runs Oct. 2, 11:30 a.m. to close, offering German festivities and food at its downtown Ketchum facility.
If the European celebrations had not been cancelled due to COVID concerns, this weekend would mark the finale. Marketing Director Colleen Gilligan helped to make the event as authentic as possible. 
"Warfield itself has always been really inspired by European pub culture and European-style beers," Gilligan said. "Something like Oktoberfest is right in our wheelhouse."
German music will be played. They encourage patrons to dress up and bring games for the deck. 
"It can really be a community hub," Gilligan said. "You can get a lot of people up on deck. People love that deck because of the views."
Warfield asks people to remain seated for the duration of the festivities. 
"People are open to do whatever they want within their space and enjoy themselves and be in a group," Gilligan said. "But we still have to follow most COVID protocols."
In advance, Warfield's chef researched German cuisine, putting a lot of thought and care into a menu that exclusively uses organic ingredients. 
"That's always been paramount to the operations that go on in that place," Gilligan said. "They want it to be clean. They want great ingredients. They want it to be locally made."
People can buy a German sausage and kraut with pretzel and mustard, wiener schnitzel with blaukraut boiled golden potatoes, beer-braised pork rack with kraut-fried potatoes and mustard, wiener roastbraten NY steak with caramelized onion potato ball and sherry wine jaeger sauce. Kids can also order a pretzel and sausage.
Buy your stein online before Saturday for early bird pricing. The half-liter (which includes free refills) costs $12. The full liter (which also includes free refills) costs $15. On the day of, they cost $15 and $20 respectively. You can also get a traditional one-pint stein (which does not include refills.) 
Warfield appreciates the advance notice so they know how many people to expect, Gilligan said.