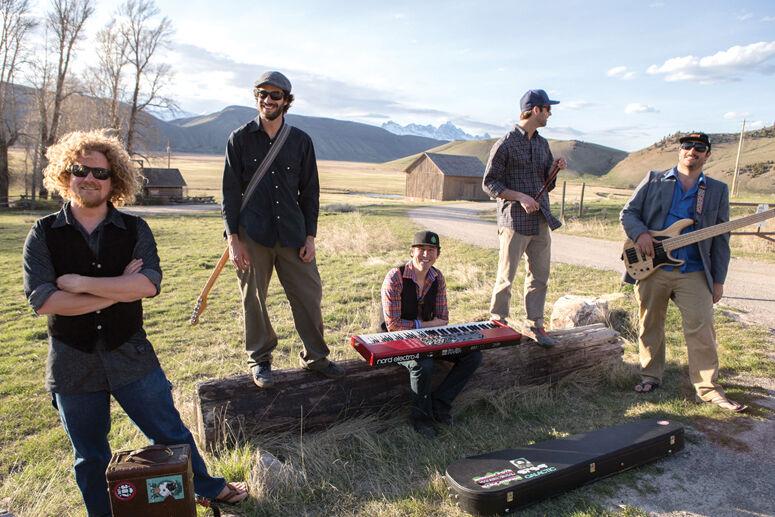 The Road to the Summer's End Concert Series will descend upon Hailey this weekend, July 23-24, with more than two dozen bands set to play 22 hours of live music at Lion's Park.
Usually a quaint softball field, music entrepreneur Dr. Swan (AKA Luke Henry) will construct a booming two-day mini music festival south of Croy Creek Road. Situated right next to Wood River with lots of shade, the scenic venue is a great location to honor the brevity of summertime. Limited camping is available at both Lion's Park and nearby Hop Porter Park. 
After the first festival two years ago, last year's event had to be cancelled due to the COVID-19 pandemic. 
"This year, with life and music starting to come back, I wasn't really sure if COVID was going to be around," Henry said. So, he took all 60 bands he'd booked for 2020 and split them up between two weekends. The Road to Summer's End Concert Series is the first, followed by the second annual Summer's End—The Draper Rendezvous in late August.
The festivities run from noon to 11 p.m. each day with shows split between two stages. 
Headliners include epic electronic trio Magic Sword from Boise, tender singer/songwriter Gene Evaro Jr. from Joshua Tree and twangy bluegrass Pixie & the Partygrass Boys from Salt Lake City. 
But even the undercard features some true gems. Sneaky Pete & the Secret Weapons will bring the funk from Wyoming. Tony Holiday & the Soul Service will shred some guitar-driven blues. Portland's Cedar Teeth will scramble your brain and make your heart flutter with their psychedelic fusion of roots rock and indie pop.
Although acts are traveling from all over the country to perform, the concert series also boasts its local music community with such bands as Olivia & the Sundog, Side Hustle, Spike Coggins & the Accused.
Other national, regional and local acts performing include the Quick & Easy Boys, the Sweet Lillies, the Atomic 44's, Hillfolk Noir, Lee Penn Sky & the Olyphants, Brook Faulk & the Family Corvidae, Ryan Curtis, Steve Fulton Band, The French Conditions, Cactus Stew, Jeffrey Halford & the Healers, Dead Lee and Moonshine Schubert.
The Road to Summer's End showcases a number of artists-at-large who will jump in on others' sets to collaborate and improvise. These artists include Sean McLean, Aankha Neal, Tamila Johnson, Jimmy Russell, Andrew Sheppard, Ashley Rose Smith, Alyssa Joy Claffey and Kirsti Rae. Outlaw country artist Cruz Contreras will conduct a special church event Sunday Morning. 
Even after the scheduled concerts finish at 11 p.m., the party does not stop. The Red Shoe is hosting separately-ticketed late night shows. The first night, July 23, will be mostly electronic music, with Send Help!, Mikayli, and Skylimit providing beats. The second night, July 24, Boot Juice and Hand Trembler will rock out into the night time. 
Apart from music, Road to Summer's End hosts several vendors, such as Sun Valley Snow Shave, Wood River Sustainability Center, Sun Valley Brewery and multiple jewelers. 
Tickets are available on the Road to Summer's End website. A general two-day admission pass costs $104.92. The two-day kid pass (for ages 16-18) is $33.81. The concert series allows those under the age of 16 in for free. Single day tickets are also available. The second weekend of Summer's End comes August 27 and 28.  
Of course, no one wants summer to end. But who could complain with such a sweet soundtrack?