Fran Kranz was almost out of town. Over the weekend, he had gone to services at nearly every church in the Wood River Valley. His flight back to Los Angeles was booked for seven the following morning.
"I was pretty tired," Kranz said recently. "I was ready to move on."
As he headed back north to Ketchum for dinner with friend Casey Mott, he noticed one more church on Google Maps: Emmanuel Episcopal in Hailey. He stopped by, half-heartedly peering into the windows. Reverend Lea Colvill noticed and waved him in.
They talked for a while. Kranz explained he was scouting locations for his debut feature film, inspired in part by the anxiety he felt over the Parkland shooting and his (then) recently born daughter growing up in this country.
Colvill said to him, "I hope one day you can start to enjoy being a father."
In that simple sentiment, she encapsulated Kranz's experience of researching school shootings over the previous year and a half: the desperation, the urgency, the toll it was taking on his personal life and family.
"It was really kind of unsettling," Kranz said. "I honestly wanted to get out of there. It was like being in an intense therapy session."
When he finally met with Mott, he told him he found the location.
That was the summer of 2019. Now, this Wednesday, he will present his final product, "Mass," at The Argyros Performing Arts Center in Ketchum. The film follows the parents of a fictional school shooter sitting down for a conversation with the parents of one of the victims.
"I wrote this very specifically about a school shooting, but I look at the country now and I just see how divided we are," Kranz said. "Sometimes I feel it has nothing to do with what brought the parents there. It has everything to do with what they get out of it, what they do now, how they can move forward."
"Mass" stars Ann Dowd, Martha Plimpton, Jason Isaacs and Reed Birney. After premiering at Sundance, it had a limited release and has grown into one of best-reviewed films of the year. It has a 95% rating on Rotten Tomatoes, indicating near universal acclaim. Already winning a handful of critics awards, it has ended up on several Oscar shortlists.
"We have these good reviews that speak about how challenging it is, how difficult it is," Kranz said. "It is emotional ... But, I like emotional experiences. If it's difficult I like to think it's because it's meaningful."
The film is tense and uncompromising. It centers around a 75-minute long conversation in a single room. There are no cut-aways, flashbacks or music cues.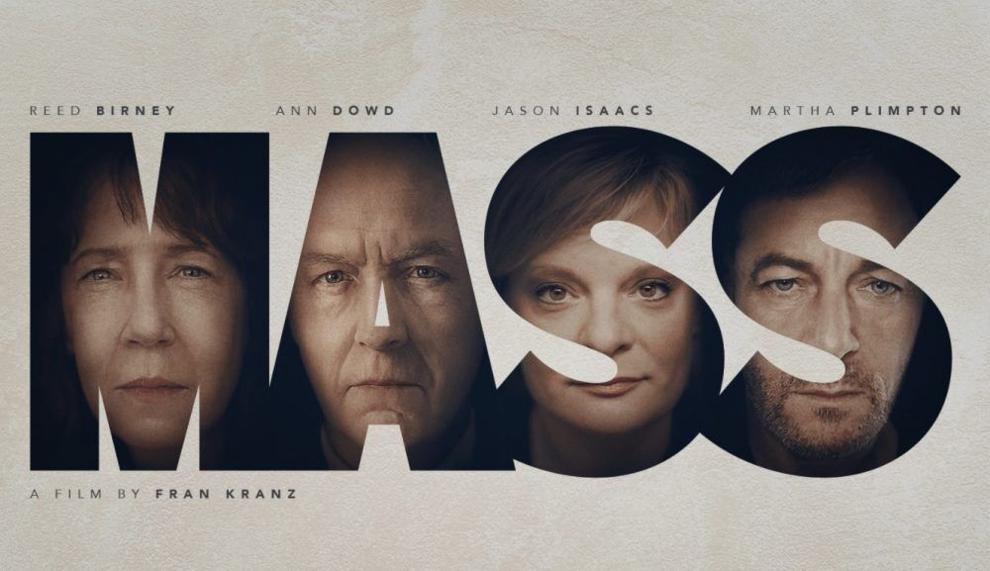 Kranz came to Sun Valley at the suggestion of Mott. Friends since college, Kranz worked as an actor and producer on Mott's first film, "A Midsummer Night's Dream," a few years back. As Kranz prepared on "Mass" he frequently asked Mott for advice. It quickly became apparent that Mott should be a producer.
Then, The Argyros hired Mott as its executive director. He told Kranz he could not produce unless then shot in Sun Valley.
As it turns out, that was perfect. The script said that it should take place "anywhere in America."
"I had always envisioned the film couldn't take place in Los Angeles or New York," Kranz said. "We talked a lot in pre-production that it should look like 40 out of 50 states."
One of the things that made Kranz fall in love with Emmanuel Episcopal was its modesty.
"There's an authenticity to it," Kranz said. "It lives and breathes by its community."
In an increasingly secular world, he could see quilt clubs and 12-step meetings taking place there.
"What other ways do these buildings serve the community when people become less religious?" Kranz said. "That felt like the spirit of what this movie was and what this location needed to be."
In the groundwork for "Mass," he spoke with many people who lost loved ones.
"You live with grief," Kranz said. "Your relationship with it changes. You live with it differently. You live with it, hopefully, more easily. But, it doesn't really go away."
Through his extensive research before the film, he was disarmed by how much compassion he found for the parents of the shooters.
"I never found monsters," Kranz said. "Even in some of the most abhorrent cases ... I found parents who were desperately trying to help their child and lost their way."
As a new father, he could relate, constantly juggling between disciplining his child and spoiling her.
"Being a parent is so hard—you can't win," Kranz said. "It wasn't hard for me to amplify those feelings to these extreme scenarios."
He spent Halloween 2019 with his daughter before delving into the filmmaking process.
They shot for only 14 days, done before Thanksgiving. The 75-minute conversation at the church was shot chronologically over 8 days. It was critical that nothing went wrong. If one day it dumped snow outside the window, their continuity would be ruined. Things aligned, weather cooperated and the shoot went as planned.
The actors had to do 15 minute takes and memorize 10-12 pages of the script per day. On one of the last days of shooting, Plimpton had to weep all day long, take after take.
"It was superhuman," Kranz said. "It was really something to see."
He knew he needed to recruit a group of theater veterans to handle the material, to be present for one another.
He has admired Martha Plimpton ever since saw her in "Running on Empty."
"I remember thinking, that's a real actor," Kranz said.
When he first heard Jason Isaacs was interested, he considered rejecting him.
"You can't have Lucius Malfoy walk into this room," Kranz laughed. "The whole illusion of reality will be destroyed. I can't have these famous actors."
Eventually, his better judgement prevailed and he met with him.
He wrote the part of Richard for Reed Birney.
"I think he's one of the best living American stage actors," Kranz said.
A professional actor himself, Kranz is known for his roles in "Dollhouse," "The Cabin in the Woods" and "Much Ado About Nothing." He performed on Broadway for "Death of a Salesman" and "You Can't Take It With You." His experience helped inspire the powerful performances in "Mass."
"I think they're all better than I am," Kranz said. "So I knew one of the better things I could do as a director is honor their talent and show them respect by giving them space."
During filming, he watched on monitors from outside the room, coming in between takes to give notes. Collaborating with the performers, he would work on portions of the script if they didn't feel it was true to their characters.
People have asked him why he didn't write it as a play, since it's mainly people talking in one room. In his mind, it always had to be a film.
"It looks so close," Kranz said. "It gets so intimate."
If it was on a stage, he would have to block actors to cheat out to an audience.
"Doing that felt false," Kranz said. "As we got into the material, it just never felt honest to have an actor get up and present themselves ... It seemed ridiculous."
At the wrap party in Sun Valley, he was reduced to tears, so proud of what they had accomplished.
"As an actor, I was so naïve about the filmmaking process," Kranz said.
As it turns out, the work was just beginning. A director friend of his told him that principal photography is vacation.
"You've done nothing," Kranz recalls the director saying. "You haven't made a movie. You just shot one."
Going into the drudgery of editing, fine-tuning color and sound, he found himself paralyzed with panic, worried they would never finish the perfect version in time.
Thankfully, they found it along the way, and it turned out a success.
Kranz, now a father of two, does not have any resolution on the apprehensions about the future of this country that kept him up at night years ago. Four students died in a school shooting in Michigan last week.
"Unfortunately, it sits very heavy with me, still," Kranz said. "It feels like a great burden."
With so much press, he hasn't had an opportunity to stop and reflect. "Mass" will be on video-on-demand and streaming Dec. 28.
"I don't really have closure," Kranz said. "I don't really have answers or solutions. The movie, I believe, is a hopeful one because it's about people trying to work out differences."