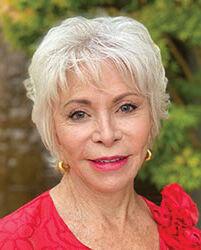 Summer 2021 is rapidly shaping up, with more and more annual events plotting their returns after missing out on 2020 due to COVID-19 restrictions.
Having canceled its annual proceedings last year, the Sun Valley Writers' Conference has now confirmed plans to hold two smaller conferences in-person at the Sun Valley Pavilion this July.
In the past, the conference has brought in top writers for four days in July, and while that is once again the case, attendance will be split into a pair of two-day sessions. The first is set for Saturday and Sunday, July 17-18, and the second will span that Monday and Tuesday, July 19-20.
Around 20 writers will attend the two mini-conferences, including George Packer, Delia Owens, Daniel James Brown, Isabel Allende, John Lithgow and Elizabeth Kolbert.
Presentations and programs throughout Sun Valley will be held with limited capacity. Six "Sun Valley Pavilion Talks" will be broadcast to the pavilion lawn and open to the public at no charge. For those unable to attend in person, the talks will also be streamed online.
Other events require a ticket. Any available passes will be available via a lottery system in early June for $600 each. Visit svwc.com for up-to-date information.
Conference organizers crafted the split model in an effort to ensure all relevant COVID-19 safety protocols—whatever they may be by July—can be accommodated. According to a statement made by the conference, "conservative COVID-19 protocols will be followed" under the guidance of medical consultants.
Last week, the Sun Valley Writers' Conference announced its complete 2021 Summer Speaker Series: four in-person, outdoor talks across four weeks in July, presented in collaboration with The Community Library. Authors Rebecca Makkai, Susan Orlean, Tobias Wolff and Radden Keefe will participate in the free series on July 1, 15, 21 and 28, respectively.
Though free, preregistration is required for attendance in order to ensure proper social distancing. For more information, visit svwc.com or comlib.org.