As temperatures rise and attitudes turn toward more summery considerations, The Mint in Hailey has confirmed a promising lineup of upbeat musical acts for April.
Kicking off The Mint's spring concert series is The Band of Heathens, a five-piece folk-rock jam band hailing from Austin, Texas.
Perhaps their best-known track is "Hurricane," the penultimate track from the band's 2016 album "Top Hat Crown & the Clapmaster's Son." The track captures much of the group's signature style, a harmonic blend of Americana, roots, blues and folk.
With two guitarists, one bassist, one pianist/keyboardist, one percussionist and all five fulfilling vocal duties, The Band of Heathens' division of labor and instrumentation perfectly complements their musical roots in the American folk tradition.
Tracks like "Gris Gris Satchel" and "Jackson Station" invoke a jug band aesthetic, but the group is far from defined by compositional norms, blending genre characteristics from country, rock and soul to create their own unique sound.
For their latest release, The Band of Heathens tried something completely different from their previous output. After a disheartening review of the troubles and woes plaguing the United States today, the group found solace in one of Ray Charles' lesser-known records, "A Message From the People."
Charles' album reconfigures a number of American standards, traditional songs like "America the Beautiful" and "Lift Every Voice and Sing," and contemporaneous tracks like John Denver's "Take Me Home, Country Roads," transforming them into bluesy gospel ballads.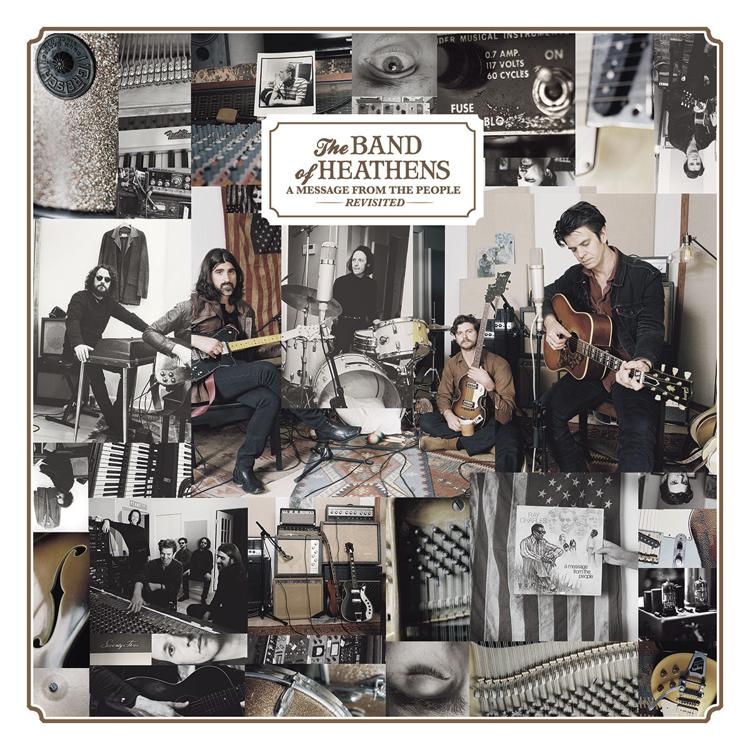 Finding that Charles had managed to vocalize everything they were feeling, this listening prompted the Heathens to share "A Message From the People" with their listeners. "Nothing heals the soul quite like music," they said. Guitarist and vocalist Gordy Quist proposed the idea, "What if we covered this album? People really need to hear these songs again."
The Band of Heathens' covers of these Ray Charles recordings—most of which are covers themselves—presents a fascinating portrait of the evolution of American music and the cyclical nature of the folk genre in particular.
Some of the Heathens' versions follow very closely in Charles' footfalls, especially their rendition of "America the Beautiful," which tilts heavily toward gospel and soul traditions. Their version of the John Denver classic, however, seems to bear greater kinship to the songwriter's original recording rather than Charles' cover.
The final product acts as a kind of sonic essay on the timelessness of these songs and their undying ability to uplift the downed spirit, but is also an insightful look at the pendulous nature of progress and regression. Recording in 1972, Charles' assembly of American musical classics made a clear commentary on the state of the country he called home. The Band of Heathens have done just that in their version.
The band will bring their American tones to Hailey this Saturday, April 13. Doors will open at 8:30 p.m. ahead of a 9:30 p.m. kickoff. Tickets range in prices from $35-$60 and can be purchased online at haileymint.com.
One week later, on Saturday, April 20, The Mint will play host to Thomas Gabriel, grandson of the incomparable Johnny Cash.
Gabriel was raised on the music scene, travelling alongside his grandfather on tour, even frequently joining Cash onstage.
While Cash's influence is plain on Gabriel's tracks, the artist is hardly defined by his grand-parentage. Musically, instrumentally and lyrically, Gabriel's songs are wholly original. His debut album, released only last year, signals the arrival of a powerhouse new American rock talent.
It is worth noting that as he establishes his own tone and deftly avoids being eclipsed by his grandfather's legacy, Gabriel's singing voice does sound eerily similar to Cash's. That, he clearly inherited.
Doors will open at 7 p.m. before an 8 p.m. show. Tickets are now available, ranging in price from $15-$30.
Just two days after Gabriel's performance, on Monday, April 22, The Mint will host American roots musician Charley Crockett.
Crockett traces his influences to the classic repertoires of Texas blues, country music and Cajun soul, steeping himself in the rich traditions of what he calls "timeless songs."
"I love timeless songs," he said. "I've always believed that the more timeless songs you learn how to play, the more timeless songs you can write."
Crockett built a career not only on those tunes, but also on the mythos and musicality they represent. A descendent of Davy Crockett, Charley Crockett has wandered all over the United States, busking in New Orleans and New York; he has crossed the Atlantic, spent time living on the streets of Paris and traversed North Africa, bringing the songs he loves and the songs he wrote to a global audience and garnering a considerable fan base in the process.
Tickets for his concert in Hailey are now available, ranging from $15-$30. As with Thomas Gabriel, doors open at 7 p.m. for an 8 p.m. show.