Bundled in warm parkas, thousands of people made their way to Sun Valley Village on Tuesday night for the resort's annual Christmas Eve Celebration.
As the sun set, parents towed children across snow and ice in wooden sleds and plastic saucers. Families stopped in front of giant snow sculptures to pose for pictures. On the Sun Valley Lodge terrace, groups of friends sipped on hot chocolate and munched on free sugar cookies.
As always, the Christmas extravaganza kicked off with the Sun Valley Figure Skating Club's "Skating in a Winter Wonderland" holiday ice show—this year featuring performances by U.S. Gold medalist Ryan Bradley and U.S. Open champ Ashley Clark.
In a show of support, spectators packed shoulder-to-shoulder on the terrace and in bleachers to cheer on the professionals and dozens of young skaters alike. A series of acts by choreographer Gia Guddat and show director Scott Irvine put modern spins on classic holiday tunes like "Carol of the Bells," and a fire-twirling act by Clark—choreographed to Leonard Cohen's "Hallelujah"—perhaps elicited the most excitement from the crowd.
"Since moving away from a Nutcracker theme, we've embraced more modern renditions of Christmas classics," Irvine said of the show.
He added that the short two weeks of rehearsal leading up to the ice show demanded a high level of focus.
"It's a difficult time of year, between family gatherings and competitions," he said. "While we have months of prep time for our summer show, 'Skating in a Winter Wonderland' requires more moving parts. Luckily, Gia [Guddat] and I have worked long enough on this that it's become a well-oiled machine."
After a farewell wave from Olaf—the beloved buck-toothed snowman from the Disney movie "Frozen"—Santa Claus arrived on the ice. To kids' delight, jolly St. Nick exited his sleigh to give out high-fives and listen to last-minute Christmas wishes.
Then, like clockwork, fireworks erupted over Dollar Mountain and the celebration transitioned into the next festivity—the annual Torchlight Parade, a resort tradition since the late 1930s.
As fireworks rained down to the tune of "Santa Baby," hundreds of red torches snaked down Dollar Mountain.
Initially resurrected by the resort's first ski instructors in 1937, the Torchlight Parade has deep roots in Austria, according to Sun Valley Resort spokeswoman Kelli Lusk.
"The Austrian ski instructors brought the tradition over from their country, where it was practiced for generations," Lusk previously told the Express.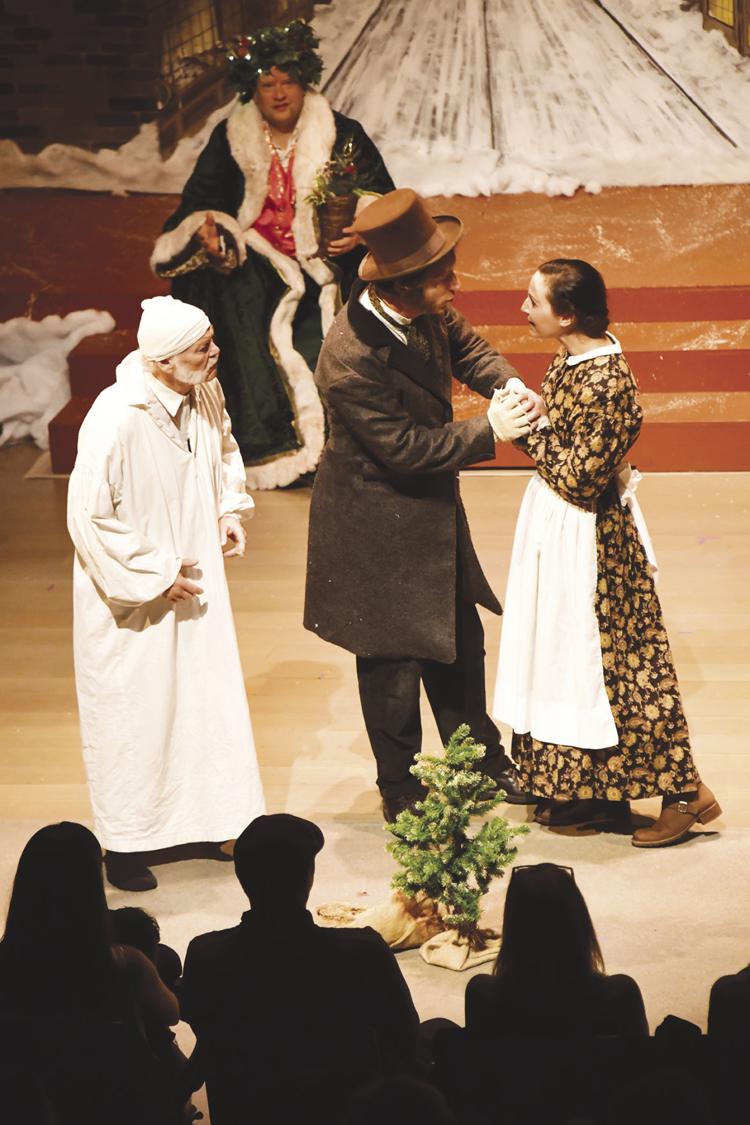 Following an explosive finale of fireworks, Tuesday's crowd began to head into the Sun Valley Village. While some spectators turned into Pete Lane's Mountain Sports for last-minute Christmas shopping, others warmed up in the Konditerai with pastries and Austrian spiced rum. Some children opted to stay outside, building snow forts and tunnels around the Inn as Christmas carolers sang holiday music throughout the village.
Lusk said the carolers will be in Sun Valley until Saturday, making a stop each night at 7:05 p.m. in front of the Sun Valley Inn fire pit.
Looking ahead at the calendar of events in the Wood River Valley, it's clear that this year's holiday magic hasn't stopped. Here's a rundown of things to do or see before the new year:
The Environmental Resource Center, along with birding expert Poo Wright-Pulliam, will lead a winter bird-watching expedition today, Dec. 27, from 10:30 a.m. to 1 p.m. The group will depart from The Community Library in Ketchum. To register, call 726-4333.


The Liberty Theatre in Hailey will present "Miss Bennett: Christmas at Pemberley" at 7:30 p.m. on Sunday, Dec. 29. Liberty Theatre is also presenting a 3 p.m. "parent and baby" matinee on Saturday.


The Sun Valley Resort will host a family-friendly night of skiing and fireworks on Dollar Mountain on New Year's Eve from 4-9 p.m. The event will feature live music, face-painting and a photo booth. Tickets cost $40 per adult, $30 per kid.


Rock band Three Dog Night will arrive at the Argyros on Dec. 31 to present Top 40 hits like "Mama Told Me," "Black and White" and "Shambala," starting at 7 p.m.


The Boho Lounge will hold a "Roaring '20s" burlesque show and party from 8 p.m. to 2 a.m. on New Year's Eve.


Starting at 9 p.m. on Dec. 31, the Limelight Hotel will welcome entertainment from the New York Connection.


Rotarun will hold a family New Year's Eve party from 5:30-8 p.m., with food from KB's and a torchlight parade to follow.


The Sawtooth Club will host its annual 5B Bash on New Year's Eve, beginning at 5 p.m. All proceeds will go to Higher Ground Sun Valley.


Whiskey Jacques' is holding a Welcome to 2020 party featuring music by The Social Animals, The Jacks and SoDown; doors open at 9 p.m.


Bubbly Bash—an annual benefit for the Sun Valley Center for the Arts—is yet another option for New Year's Eve. The party will kick off at 9 p.m. at River Run Lodge.