"In a summer cottage by a lake in a room full of tearful and anxious members of Jimmy Hoffa's family, the FBI found a yellow pad. Hoffa kept the pad next to his phone. On the pad Hoffa had written in pencil 'Russ & Frank.'"
Thus begins Ketchum author Charles Brandt's case-closing true crime exposé "I Heard You Paint Houses." Weaving together tireless research and first-hand accounts from the triggerman himself—Frank "The Irishman" Sheeran—Brandt's seminal work gets to the bottom of Jimmy Hoffa's disappearance, one of the most infamous unsolved cases in American history.
Like the Hoffa mystery itself, "I Heard You Paint Houses" captured widespread attention. The book became an instant bestseller, ruffling the feathers of self-professed Hoffa experts, igniting debates and, as fate would have it, attracting the notice of some of Hollywood's most celebrated filmmakers.
Now, after more than a decade in development, the film adaptation of Brandt's book, titled "The Irishman," is finally set to hit theaters this week.
Accolades have been cascading in for "The Irishman" since its world premiere in late September, with many critics singling it out as a major Oscar contender, but the hype had been mounting for years prior to that.
The extensive cast boasts Oscar-winner Robert DeNiro as Frank Sheeran, Oscar-winner Al Pacino as Jimmy Hoffa and Oscar-winner Joe Pesci—brought out of retirement specially for this project—as mafia boss Russell Bufalino, the man who called in the hit on Hoffa. Oscar-winner Anna Paquin and Oscar-nominee Harvey Keitel are among a long list of celebrated costars, which includes Ray Romano, Stephen Graham, Bobby Cannavale, Jesse Plemons and Jack Huston.
The screenplay was written by Steven Zaillian, the Academy Award-winning screenwriter of "Schindler's List," whose much-lauded filmography also includes "Gangs of New York," "Moneyball," "Awakenings" and "American Gangster."
Rounding out this star-studded ensemble in the director's chair is Martin Scorsese, one of America's most beloved filmmakers and, yes, also an Academy Award-winner.
"I like to express it as the book that brought together Martin Scorsese, Joe Pesci, Al Pacino and Bob DeNiro. Actually, my brother-in-law Gary made that up and I stole it from him," Brandt said, chuckling.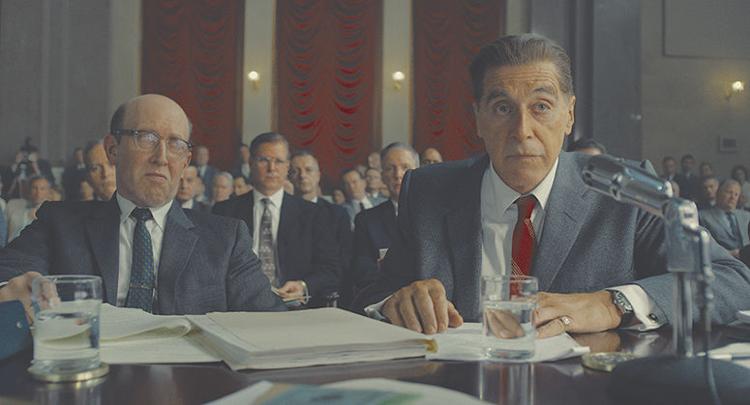 "It literally was my dream pretty much from the start," Brandt said. "I turned down two credible offers to sell the rights because I had in my mind that somehow this was going to get to Scorsese and DeNiro. They were good offers, too, not like some third-rate companies. They were big deal people, but they weren't Scorsese and DeNiro."
Brandt's story, and the story of "The Irishman" as a film production, is in many ways a parable to demonstrate just why patience is considered a virtue. Not only did Brandt hold out for the one-in-a-million dream deal, but once Scorsese and his team did lock down the rights, the film wallowed in developmental purgatory for more than a decade.
Brandt sold the rights to "I Heard You Paint Houses" in 2007. Funding difficulties and other projects—plus, the emergence of additional material and details to corroborate Sheeran's account—are just some of the factors that delayed "The Irishman" to its current release date.
Between acquiring the rights and now, Scorsese—who had just won his first and, so far, only Oscar (Best Director for "The Departed")—has directed four feature films: "Shutter Island," "Hugo," "The Wolf of Wall Street" and "Silence."
A dozen years down the road, however, and the stars finally aligned for "The Irishman." The final product was more than worth the wait for Brandt, though.
"I'd wait another hundred years," he said. "I could not ask for a better film. This is a masterpiece for the ages."
Critics all seem to agree with the author. Since premiering at the New York Film Festival on Sept. 27, "The Irishman" has received universal acclaim, with online review aggregator Rotten Tomatoes granting the film a rare 100 percent approval rating.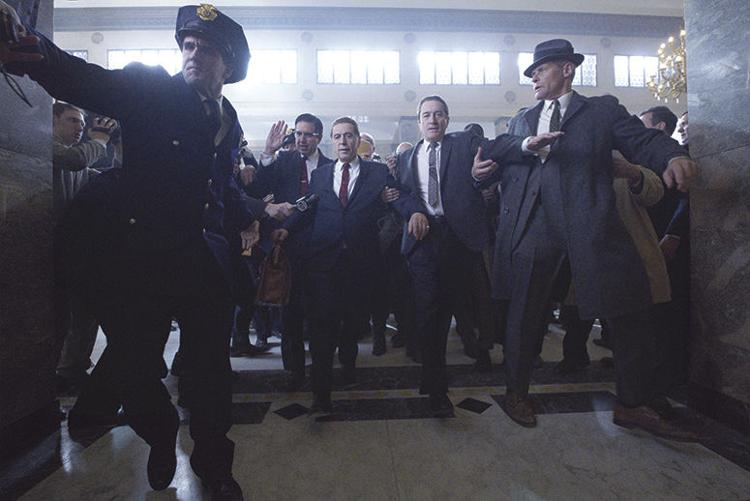 Many reviewers—like Richard Lawson, writing for Vanity Fair—have expressed pleasant surprise at the film's depth and thoughtfulness. Far from a simple shoot-'em-up, macho gangster flick, "The Irishman" has been noted by Lawson and many of his colleagues—and even Oscar-winning filmmaker Guillermo del Toro—as a cinematically rich, elegiac and introspective deconstruction of the life of a killer, the ultimate futility of mob violence and power struggles, and the inevitability of death.
These themes, though hardly overt or explicit, are integral to Brandt's book. His chronicle of Sheeran's experiences depends heavily on the personal confessions of a professional hitman as he nears the end of his life. Encouraged by his daughter, who was concerned for her father's soul, Sheeran sought to make a confession.
After an initial meeting in which Sheeran did not divulge the full narrative, "It took him eight years after that one night to come back to me," Brandt said. "He did it because his daughter Delores—strict Catholics, the whole family—his daughter wanted him to go to heaven, to be remorseful for his crimes."
Building upon his expertise as an interrogator, Brandt—the former homicide investigator and prosecutor—met Sheeran nearly every day for almost five years, goading the former hitman into finally divulging the whole truth.
"Interrogation is a journey, if practiced right, from gaining trust to unburdening," Brandt explained. "In the unburdening, you point out to him what is happening physiologically. Getting it off your chest is a real phenomenon. You point out to him, 'Didn't that feel better?' It encourages him to tell you more over time."
Scorsese's film, many critics have noted, seems to serve a special purpose for the director, not unlike Sheeran's confession did for the hitman. "It's hard not to read a bit of Scorsesian self-reflection into the film," Lawson wrote in Vanity Fair. "It's there in the way the director happily revels in his proficiency, gamely telling a rambling old story that we've maybe heard before, only to then underscore it with an unexpectedly mournful pathos. 'Here's how I would have made "Goodfellas," had I only know then,' Scorsese seems to say with a weary new wisdom—a ruefulness, too—that feels pretty hard-won."
If, for some of those involved, "The Irishman" appears a kind of career-summing swan song, it is a purely positive and once-in-a-lifetime achievement for Brandt, the icing on the cake of a life of hard work.
Any author may be proud to see a particularly well-made adaptation of his or her seminal work, but Brandt's experience is nearly unheard-of in Hollywood.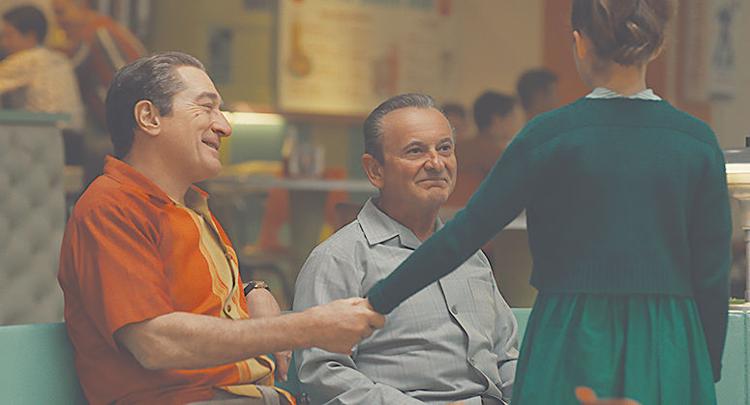 Brandt entertained no starry-eyed delusions about how writers are treated in Hollywood.  Stephen King, Anthony Burgess, Anne Rice, John Grisham, Gore Vidal, Roald Dahl, Truman Capote and countless others have famously derided cinematic adaptations of their works and have complained bitterly about being cut out of the cinematic process.
Brandt's own experience more closely reflects author Philip K. Dick's with "Blade Runner," a beloved adaptation of his fiction. "My life and creative work are justified and completed by [this film]," Dick said.
Once they have purchased the rights to a source material, Hollywood productions generally keep the original author at an arm's length. Brandt recalls another author, who once recounted that "he sold the rights and then he had nothing to do with the movie after that until he paid the price of admission."
"Well, I not only wasn't shut out, I was brought in," he said. "They put me in a hotel, they generously opened the doors. I helped on the script.
"The first time I met with Scorsese, DeNiro and Steve Zaillian was in August of 2009. At that point, they'd owned the rights for two years, they had a screenplay already done and they were soliciting more information from me that wasn't in the book. It was supposed to last an hour but it lasted four hours, because I had so much information to deliver. In that first meeting in August, 2009, they wanted to know about me personally."
In the course of the next ten years, Brandt was invited back many times, especially when production picked back up in earnest in 2017. He recalled a series of script meetings with Scorsese, DeNiro and Zaillian in New York City two years ago.
"When I would leave the hotel they had me in on the corner of Broadway and 54th, and I needed to go to the Eastside to Marty's house, I would look to my left and about four or five blocks down was a fairly tall building belonging to the telephone company.
"In 1960, I worked on that building as a timekeeper. I would have to walk the beams—five stories to my death—to deliver messages to people or check to see if they were still working where they belonged. That was 1960. I was making $65 a week and thought it was a fortune. And here I was now, heading to Marty Scorsese's house to work on the script to 'I Heard You Paint Houses,' 'The Irishman.'
"Bob, me, Marty, Steve—they treated me as an equal, as a colleague. It was, and I mean this in all sincerity, one of the most humbling experiences a man could have, much less any writer could have. Every one of these people is a true artist. That's from a man who grew up thinking a movie was a John Wayne movie and had never heard of John Ford." Ford was, arguably, the most celebrated American director in history and frequently collaborated with Wayne. "It was such an honor to be in their company, and to have them eager to hear what I thought—asking me questions. They didn't have to use what I said, but at least they considered it. That makes all the difference."
Brandt's schedule has been packed full since he was invited to the world premiere at the New York Film Festival. Subsequent premieres, screenings, book-signings and speaking engagements have required him to travel all over the world, and though busy, that schedule is just another part of what he deemed "a dream come true."
"The Irishman" will be released into cinemas on Friday, Nov. 1, for a limited run before coming to Netflix on Nov. 27. The Magic Lantern in Ketchum is currently planning to host the film starting Nov. 29. Keep an eye on mlcinemas.com for showtimes and any future developments.
"I Heard You Paint Houses" was recently rereleased under the title "The Irishman" as a movie tie-in edition. Both versions of the book are currently available for purchase at local bookstores and the former is on the shelves at the Hailey Public Library and The Community Library.
As acclaim and praise continue to descend upon book and film alike, and with the Hollywood awards season rapidly approaching, "The Irishman" shows no signs of slowing down. Oscar-buzz is inevitable for a project of this caliber, and for some films would be nothing but empty posturing, but at this point the 2020 Academy Awards ceremony seems all but certain for Scorsese and his cohort, with hopefully an invitation in the cards for Brandt.
Regardless, the local author is soaking it all in.
"100 percent on Rotten Tomatoes? It's crazy, and it's really just getting started," he said. "The movie is so faithful to [Sheeran's] story in every way. It is a masterpiece—a Mona Lisa masterpiece. This movie will be around forever. I couldn't ask for anything more. My dream has come true."