Laughing Stock's annual Shakespeare in the Park series is set to return to Ketchum's Forest Service Park for a seven-day saga fitting the company's moniker. This year, the group has selected Shakespeare's "The Comedy of Errors."
Reflecting on past years, Laughing Stock Artistic Director Patsy Wygle said, "We went through what I like to refer to as our dark period—'Hamlet,' 'Romeo and Juliet,' 'A Winter's Tale,' 'The Tempest'—after that, we wanted to get back to our comic roots. This year, we decided that we wanted to do something with 'comedy' in the title, and there was only one option," she said with a laugh.
"The Comedy of Errors" follows the chaotic cacophony of confusion and consternation that unfolds when two sets of identical twins—each twin separated at birth and oblivious to the existence of his counterpart twin—happen into the same city at the same time. The resulting epidemic of mistaken identity is only spurred forth by the fact that, for some reason, each set of twins shares a first name. Two servants named Dromio serve two masters named Antipholus. Hilarity ensues.
Unsurprisingly, as one may imagine given the number of dissertations and conflicting biographies published each year on this hotly debated writer, the exact chronology of the Bard's plays is a constant source of controversy for historians and literary critics. Some consider "The Comedy of Errors" his first comedy, though "The Taming of the Shrew" and "Two Gentlemen of Verona" are also thought to be early works. Scholars are fairly certain, however, that "The Comedy of Errors" was the first of his comedies to be performed on stage, and probably his fifth play overall, following the first historical tetralogy.
As such an early work, "The Comedy of Errors" exhibits comic elements that tend to fade in later comedies. In particular, this play more than any others in the Bard's 37-play (or 38-, depending on whom one asks) oeuvre relies heavily upon slapstick humor.
The physical comedy couples with puns and constant instances of mistaken identity to form the backbone of the script. The two Antipholuses are played by Sean Cleary and Marhsall Thurman who, while not related, look enough alike for the sake of the play. The two Dromios, however, who generate much of the humor themselves, are played by real-life twins Robbie and Paul Rescigno.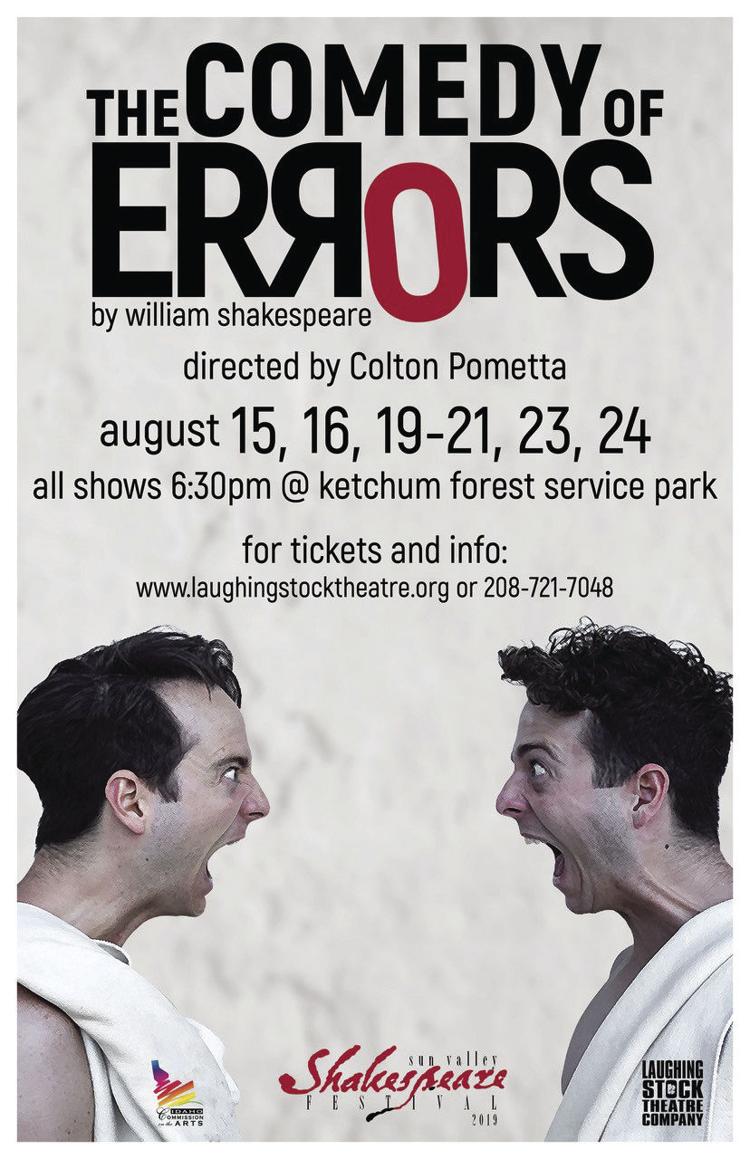 The Rescigno twins, being both actors and, more specifically, accomplished Shakespearean actors, have frequently been tapped for the roles of Dromios. The two of them are old hands at "The Comedy of Errors," but have said the text is so innately funny and, as with Shakespeare's other works, so versatile, that they not only never get bored of it, but find new ways to perform it each time.
"Every actor is different, and every actor brings something different to the table. You'll see something new, or hear something you never heard before," Robbie Rescigno said. "Even as an actor in a show I've performed so much before, I get more out of it each time. It's true of any play, but especially Shakespeare."
"For example," his brother chimed in, "We've never done a production where there's flying fish."
The aviated marine life are among the many elements in this prop-heavy production that help generate the slapstick humor. Though Shakespeare wrote a fair amount of physical comedy into the script, director Colton Pometta has, in Wygle's words, "really dialed it up."
The unrelenting slapstick nature of the comedy is part of what makes it an endearing classic, and what sets it aside from the rest of the plays in the First Folio as, arguably, Shakespeare's most easily accessible work.
"For someone who isn't perhaps used to the language, it's one of the easiest plays to follow along," Pometta said. "It's so physical. There's so much slapstick. It's just a good old-fashioned farce."
While the two sets of identical twins who share names may, initially, be as confusing to an audience as it is to the characters, Wygle said, "Once you catch on it's a mistaken identity story, it's not that hard to follow. You can just sit back, laugh along and have a good time."
The text of this fast-paced play is nearly entirely composed of jokes, wall to wall and from start to finish. Shakespeare packs them in tightly to fill what turned out to be the shortest play he ever wrote.
This production, set in the Greek Ionian city of Ephesus, employs extravagant props designed and provided by a Broadway prop master, detailed costumes and a lavish two-story set. Wygle even teased there being an actual live horse involved. Needless to say, this looks to be a memorable season of Shakespeare in the Park.
Laughing Stock will present seven performances of "The Comedy of Errors" beginning Thursday, Aug. 15, and continuing on Aug. 16, 19-21, 23 and 24. All performances begin at 6:30 p.m. in the Forest Service Park, behind the Limelight Hotel in Ketchum.
Tickets are available online at laughingstocktheatre.org and over the phone at 208-721-7048. Adult tickets are $25, students are $15 and children 12 and under are admitted free when accompanied by an adult.