The Sun Valley Writers' Conference is seeking to expand its programing beyond the few summer days of its flagship eponymous event, and has begun promptly by scheduling acclaimed children's author Pablo Cartaya for a series of talks in the Wood River Valley on Tuesday, Oct. 8.
The celebrated author will visit dual-immersion classes in the valley and give a presentation to the entire host of students at the Wood River Middle School during the day on Tuesday.
Later that evening, he will head to The Community Library in Ketchum for a free public presentation, question-and-answer session and book signing.
Cartaya kicked off his authorial career in 2017 with "The Epic Fail of Arturo Zamora." His debut novel far surpassed the dismal outlook of its title and soon became a best-selling middle-grade children's book, garnering several prestigious awards and nominations.
The book follows the summertime tribulations of 13-year-old Miami resident Arturo Zamora. Initially oblivious to the wide world around him, Arturo sets his summer priorities on playing basketball and sipping smoothies. His life is turned upside down when a smarmy land developer threatens his community, and his new neighbor, Carmen, ignites in him a passion for poetry.
Since "Epic Fail," Cartaya has released two follow-up novels, "Marcus Vega Doesn't Speak Spanish" and, just this past August, "Each Tiny Spark."
Each is an independent, standalone tale, but all cohere under a single thematic umbrella.
"I always focus on the same message of family, community and culture," Cartaya said.
These three core elements form the thematic backbone of all his works and—philosophically speaking—motivate him to write for children.
"The idea of writing for young people was a response to the things I missed as a kid or didn't feel comfortable claiming as a kid," he said.
Cartaya's parents fled Cuba before he was born to escape Fidel Castro's rise. He said his Cuban heritage was always a point of familial pride, but when he attended an English-speaking school in the United States, he found himself forced to bury a fair amount of that cultural identity, especially facing stigmas against Cubans and stereotypes that painted his people as criminals, drug dealers and communists.
"Reclaiming that pride of heritage has become a lifelong mission for me and has made its way into my stories," he said. "What I write is always fiction, but never imagined. I want my readers to know that they are deeply personal stories. They are fictional and they aren't based on real life events, but they are real to me because they come from the depths of who I am."
Cartaya said that as an author—and especially one whose core demographic is at a very impressionable and formative age—he feels it is important to help foster a confidence of self and cultural identity.
Having grown up bilingual, Cartaya writes in both English and Spanish, but not in a manner of mere translations. His characters are multilingual, and both English and Spanish are integral parts of their lives and identities, as they were for the author.
"I write with a lot of Spanish and English because my characters live in bilingual worlds," he said.
That natural multilingualism permeates all areas of speech, sometimes unconsciously.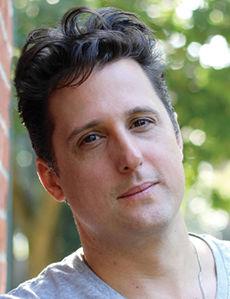 "It's a manner of speaking," he said. "Sometimes sentences can start in English and end in Spanish."
His books do not specifically target or cater to Hispanic or Latin communities, however. Those three thematic elements he previously outlined—family, community and culture—are universal.
Much as his books present young readers with positive messages, Cartaya said his intent at the onset is never to teach anything in particular; rather, he presents readers with the tools and supplies they may need to derive meaning on their own.
"I don't write to teach them a lesson. I would never presume to do that to a young person. I respect them too much to talk down to them," he said. "I'm just real with them. I'm going to put this stuff in the book, and you read it and do with it what you will.
"I love this age group. You cannot B.S. them. They will see through you. They have that discerning power of truth. It's the most important thing for them to have, and that's what I want to encourage and promote: truth."
That sense of truth will run through all his classroom engagements and his free public talk at The Community Library.
Cartaya will remain to sign books and chat with audience members following his library presentation. Copies of several of his works will be available for purchase courtesy of Iconoclast Books in Hailey.
The event is free and open to the public. Audiences of all ages are encouraged to attend, and as an avid multilinguist, Cartaya will speak in both English and Spanish.
The author's talk will begin at 6 p.m. on Tuesday, Oct. 8, at The Community Library, 415 N. Spruce Ave. in Ketchum. For further information, visit comlib.org.