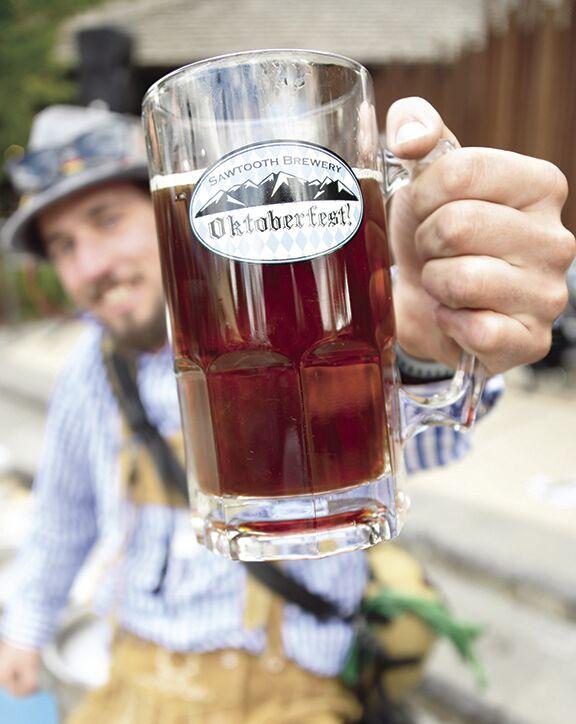 Like it or not, summer is coming to a close. It's time to pull on those UGG boots and step on some especially crunchy leaves. It's time to wear a turtleneck and write pensive poetry in the park. It's time to carve pumpkins then turn those pumpkins into lattes. Is that how that works?
This weekend, Sawtooth Brewery will celebrate the arrival of autumn with an Oktoberfest event at the idyllic Festival Meadows. Sawtooth's Head Brewer and CEO Paul Holle has assisted in planning Oktoberfest for the past nine years. 
"It just gives us a chance to spread out and relax," Holle said. "The weather looks beautiful for it. You're right there at the base looking up at the mountains there in our local ski hill. It's kind of that end of summer, start of fall-kick off celebration where we can have one last good window to just go outside and enjoy."
Jae Hill has been to every Oktoberfest hosted by Sawtooth Brewery. For him, it's an excuse to come home and see friends. 
"It's a very relaxed atmosphere focused on friends and beer," Hill said. "I think that's what I love about it."
Hill has seen the event expand over the years. Originally taking place in Ketchum Town Square, it moved to Festival Meadows for more space and a more scenic location at the base of the mountains. 
"Between Wagon Days and Trailing [of the Sheep], I think it's a great mid-September activity in town," Hill said. 
With the end of the summer tourism rush and in preparation of the ski season, many see fall as the "slack season" in this area. 
"I always thought of it as the time of the year we get our town back," Hill said. "It does draw people in from all over the place, but I think it's a real locals event ...  You're buying beer from a local brewery. It's definitely a place for the real part of town."
Signature beers on tap include Sawtooth Brewery's Oktoberfest, Cold Springs Pilsner, Queen's Kolsch and Festival Hefe. There is cider for our gluten-intolerant friends. Also, there will be local wine and whiskey barrel-aged Standhope doppelbock. You must have or purchase a Sawtooth Brewery stein to buy any drinks. Your stein is your ticket.
The Beer Olympics takes place on Saturday at 3 p.m. It is a survival of the fittest, a battle of the wills. It tests strength, endurance and mental fortitude. Those of weak resolve need not participate. Gather a group of four, pay $40 and compete in cornhole, flip cup, volume chug and stein hoisting. Champions receive Das Boot: a one-liter glass stein shaped like a boot. 
Separate activities include giant Jenga and hammerschlagen. Hammerschlagen (known as "nails" to many American college students) has players attempting to drive opponents' nails into a stump with, you guessed it, a hammer.  
This event is dog friendly and family friendly. For kids, there will be root beer on tap, snow cones and bounce houses. The Sawtooth food truck also features an array of authentic German cuisine.
Friday evening, psychedelic blues/funk trio Shop Dog will perform live music. On Saturday evening, singer/songwriter Kevin Ware takes the stage, followed by the country-western stylings of Luc McCann & the High Mt. Herd.