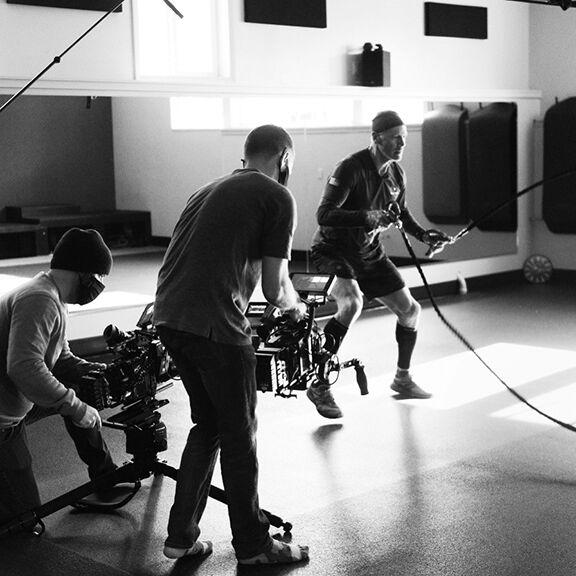 When former pro football player Mark Pattison decided to take on the Seven Summits about 10 years ago, he was in a dark place. He was going through a divorce, his father had recently passed away, he was coming to terms with his daughter Emilia's epilepsy and he still struggled to find a purpose after the NFL.
What started as a daunting physical test became a journey of self-discovery.   
"At the end of the day, we all go through bumps," said Pattison, now 59. "The question is how do you deal with those things? What are you going to do about it?"
  NFL 360's 30-minute documentary "Searching for the Summit" presents Pattison's journey up Mount Everest, the final climb in his quest to conquer the Seven Summits—the highest peaks on all seven continents. It shows at the Argyros on Sept. 23 at 7 p.m. Those who cannot attend can stream the event online. All proceeds go to Higher Ground's mountaineering program. 
John Waechter, who reached the summit of Mount Everest in 2001 and was the 58th person to scale the Seven Summits will host the evening. Collaborators Jim Mora, a longtime coach, and Hugh Millen, a former NFL quarterback, will join Pattison for a Q&A after the showing. 
Before this endeavor, Pattison finally moved full-time to west Ketchum. In college, he came to the Wood River Valley from Washington with his friends on breaks. They skied and frequented Whiskey Jacques'. When he returned to school, he had a leg up on spring ball because of his exercise at high altitude. He taught his children to ski in Sun Valley.
Pattison took advantage of Baldy and the Sawtooth Mountains while preparing for Everest, his seventh and final peak. They exposed him to the rough conditions of the outdoors. He learned how to hydrate correctly, eat right and layer clothes on and off so as not to end up as another statistic.
"With the mountains, there was a schedule," Pattison said. "I had to cut my chops."
Transitioning from the NFL to the rest of his life was difficult for him. 
"It was like going off a cliff," he said of life after football.
Training for the Seven Summits reintroduced a sense of structure to his life. He had to train completely different parts of his mind and body. 
"The NFL is more of a sprint game," he said. "Climbing mountains is certainly more of an endurance game."
Despite all his preparation, the Everest expedition still brought hardship. On summit day, he went snow blind, ran out of oxygen and hadn't eaten for three days. Still, he survived.
The filmmakers flew to Everest in February to capture gorgeous landscape shots. While the story of his climb is compelling, it's really a Trojan horse to gain entry into Pattison's personal life.
"They did a great job of telling that story," he said. "Not necessarily about climbing Mount Everest, but how we all overcome our own summit and getting to where we want to get to."
A lot of the documentary focuses on Pattison and his daughter's journey with her epilepsy.
"When things got really tough, I had to buckle down," he said. "Keep fighting for all the things she's gone through."
His daughter, a senior at the University of Arizona, has reached a few summits of her own. The NFL has officially recognized her. She recently stood up and spoke in front of around 350 people. She has not had a seizure in about seven months. That inspired Pattison to collaborate with Higher Ground. 
"The core value with Higher Ground is really trying to create empowerment for people who have gone through a tough time," he said.
Higher Ground helps those with cognitive issues as well as physical impairments. Many veterans with PTSD and lifelong injuries can come to the Wood River Valley to canoe, ski or mountain bike. 
Looking forward, Pattison is working on the "Seven Summits Summit" bringing some "rockstar people" to the area. 
For his upcoming 60th birthday, he plans to fly to Ecuador and climb Mount Cotopaxi, a stratovolcano in the Andes Mountains of nearly 20,000 feet. He vows to drop down and give 60 push-ups. 
Tickets for the event cost $50. Anyone trying to turn their documentary into a fancy night out can buy a cabaret table for up to four people at $300. Streaming tickets cost $30. For more information, visit the argyros.org.