In 1769—250 years ago, for those keeping count—Gaspar de Portolá, Catalan soldier, explorer and later administrator of the Viceroyalty of New Spain, led an ambitious, months-long expedition to explore and survey what would soon become known as Alta California.
Missionary Juan Crespí accompanied the Portolá Expedition, maintaining a detailed journal of events and providing a reliable source from which future generations could plot a fairly accurate recreation of the Spaniards' original route.
That is exactly what Hailey resident Nick Neely did. Neely grew up in California, but recently realized how little he knew about the history of his home state. Initially armed with only a tertiary knowledge of the expedition, he dove into research and, using Crespí's diary, plotted a course from San Diego to San Francisco to reenact the twelve-week excursion and gain firsthand historical perspectives.
"It seemed to me an opportunity. I had always wanted to do a big through-hike, but it's hard to know how to do that in the post-'Wild' era," Neely explained, referencing Cheryl Strayed's bestselling account of hiking the Pacific Crest Trail. "Is that even a viable project? How could I make that fresh? This was an immediate solution to that problem."
In his new book, "Alta California," Neely chronicles his own journey and the layered insights he gained about history, ecology, geography and society along the way.
With a background in journalism and environmental science, Neely's ever-observant eye catches all the minutia of both the natural world he traverses and the human influence—past and present—he encounters. As a writer, he collects and organizes all these diverse images and narrative elements into a story that is both richly thoughtful and a highly entertaining read.
"I grew up in a town called Portola Valley, which, of course, was named after Gaspar de Portolá, but I knew nothing about the Portolá Expedition," he said. "When compared to other aspects of California history, it gets almost no attention at all."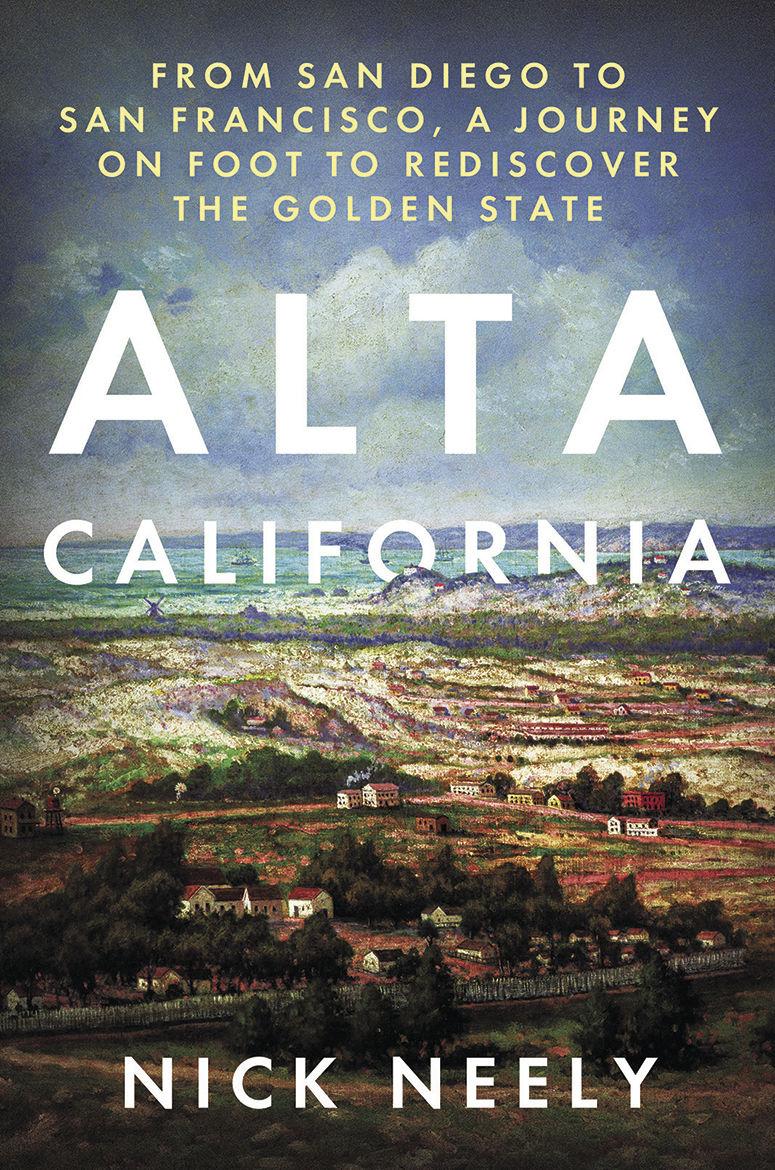 Early on in "Alta California," while still setting the scene and laying the expositional groundwork, Neely muses on the explorative ambitions of his journey, and all he can learn about the past, present and future of humanity's relationship with the natural world, using the California microcosm as a kind of informative case study.
"In 'wilderness areas,' signs of former human habitation have been scrubbed to preserve the myth of an untouched, more 'authentic' landscape, and this fiction encourages us to overlook and neglect where we actually live," he writes.
"I thought that plodding through our cities and suburbs on a forgotten, but foundational, transect would be the best way to truly see what's become of what we call California, to discover its wild and feral interstices, to immerse myself in the ceaseless detail of landscape and to confront our past and present head on. Time, I have come to believe, is the one true wilderness."
Speaking later upon these ideas, Neely said, "I truly believe that now, 'Time is the one true wilderness.' You can get so lost in history, and there are so many different interpretations, you can get lost exploring and not come away with a lot of answers."
Examining microhistories, local stories, the natural histories of specific species or landscapes, and compiling them together, Neely and others like him have taken strides towards a greater understanding of the world. But, as Albert Einstein said, "The more I learn, the more I realize how much I don't know," and in excavating history and nature, Neely finds that each step along the trail leads to more knowledge and more mysteries alike.
That said, Neely himself insists that it is "mainly an experiential book," and that "there's not a lot of commentary or theorizing." While it is true that that he rarely explicitly explicates, there are plenty of thoughtful insights woven into the fiber of the narrative, integral to the writing yet completely unobtrusive.
"I had built this project up in my mind a lot—and I invested twelve weeks of walking—so there was a lot on the line for me, and I wanted it to take on a lot and I didn't know how I was going to manage it," he said. "In the end, if it does tie together, it's in the images and resonances, not in any kind of overarching theory of California.
"I think a lot of other books try to build California up or present theories about why it's exceptional, but that wasn't my agenda. I wanted to present a really in-depth and thorough picture of California today and as it was in the past and let the reader digest it."
"Alta California" will go on sale Tuesday, Nov. 5. Neely has a number of book events coming up in the next few months, including a reading and discussion at The Community Library in Ketchum on Tuesday, Dec. 10. Learn about that event by visiting comlib.org.
Before that, though, Neely has been invited to attend an event in Pacifica, CA, commemorating the sestercentennial of the Portolá Expedition's arrival there. He will participate in a hike, cresting once again the most northerly point the expedition reached, and will read from his book.