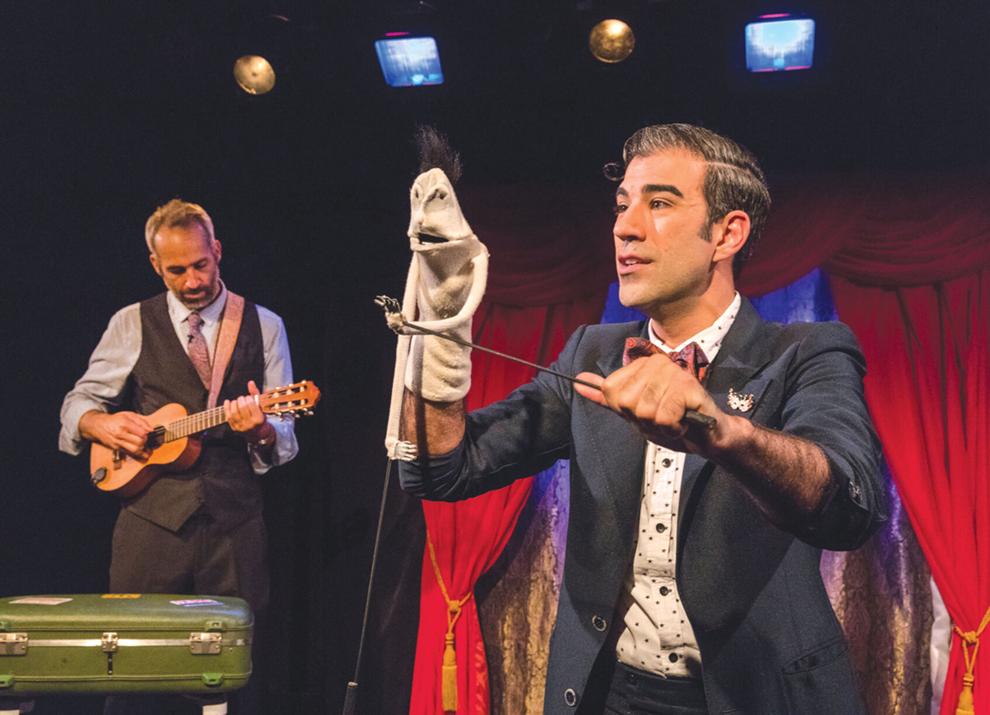 Rediscover your childlike wonder with "The Joshua Show," playing at the Wood River High School Performing Arts Theatre on Sunday, Oct. 3. This production, presented by the Sun Valley Museum of Art, is fun for the whole family starting at 6 p.m.
In the show, Mr. Nicholas, Joshua Holden's puppet sidekick, his "right hand man," becomes so disheartened with the state of the world, he decides he's going to leave the planet entirely. Holden, along with some other friends, convince him to not give up hope. 
"When you don't dumb things down for kids, they respond really nicely to it," he said.
His production feels like a classic kids television show. It has no fourth wall. Holden talks directly to the audience and encourages people to respond. 
Two of his biggest idols are Mr. Rodgers and Pee-Wee Herman. From Rodgers, he gets his relentless fight to treat kids with respect and honesty. From Herman, he gets an oddball wackiness. That balance makes him something unique entirely. 
"This character encourages others to find what they have within themselves to be a kinder, better person to other people," Holden said.
Holden grew up a performer, studying dancing, singing and theater. After college, he fell into puppetry with the Chicago Children's Theatre. 
"I was sort of faking it until I made it," Holden admitted.
He went on a national tour with Avenue Q in 2009. To this day, he still works with the Jim Henson company for "Sesame Street," building puppets and props when not working on "The Joshua Show."
Holden is a firm believer in practical effects. Mr. Nicholas is just a sock on his hand. He isn't hiding anything. He handmade most of his set and it appears that way—and that's a compliment. It looks like it was built with love. His enthusiasm and storytelling transport you somewhere else completely. 
The show features tapdancing and nostalgic vaudeville music. Some of the lyrics' double entendres may go over some of the kids' heads. Some of the songs even take a sinister twist. 
"The show is very much accessible to adults and kids," Holden said. "While there are moments that are dramatic in nature, kids get one thing out of it and adults get another."
Holden often gets mistaken for his onstage persona: an eternal optimist. Once after a show in Boston, a child asked him if he was more like Joshua or Mr. Nicholas. 
"Moments like that make me realize kids are way smarter than we make them out to be," Holden said. "They're listening a lot more intently than we think."
Truth be told, the onstage Joshua and Mr. Nicholas are each a part of him—the duality of man. Mr. Nicholas' dramatic monologues about humanity being doomed come from Holden watching the news and wondering what the point of anything is. He wrote the show back in 2016 when he felt like the world was falling apart. Now, he says, the show is more relevant than ever. 
But, at its core, the show proves that notion wrong. Holden wants people to keep fighting for what is right. 
"We're focusing on the empowerment that we all have the chance to make a positive change," Holden said. 
Tickets can be purchased online at svmoa.org. For anyone who would like to attend, but cost is an issue, reach out directly to the Sun Valley Museum of Art. They have a limited number of free tickets available. Holden will stay for an extra day to perform for the students of Blaine County schools.