"We have heard the chimes at midnight … Jesu, the days that we have seen." In a pensive mood in "Henry IV, Part 2," Shakespeare penned a pair of simple, but perfect lines to convey a weary melancholy at the passage of time, the bittersweet mixture of elation and sorrow that comes with reminiscing.
As the chimes toll at midnight to mark the beginning of Jan. 1 and the end of Dec. 31, many will no doubt reflect upon the highs and lows of the decade being left behind.
Most will probably be partying, though.
New Year's Eve lands on a Tuesday this year and for the Wood River Valley, that means far more parties, celebrations and general rambunctiousness than any other Tuesday on the 2019 calendar.
Many of these year-end hootenannies are already sold out, unfortunately for those just learning about them.
At The Argyros in Ketchum, for instance, the 7 p.m. concert by '70s rock sensation Three Dog Night boasts a full house. Tickets went on sale for that event back in October, ranging from $150 to $200 a pop. Those who were able to procure admission will be treated to a rowdy rock 'n' roll exposé by the Grammy-nominated band.
Since that performance gets underway so early in the evening, it will not conflict with most of the other New Year's Eve bashes in the area, giving its audience an opportunity to pregame, so to speak.
Across the street from The Argyros, the Limelight Hotel will host live music by New York Connection, a light buffet from 9-10 p.m., a midnight toast, party favors and an interactive photobooth.
As with many of the valley's offerings on Tuesday, attendees to the Limelight's celebration must be 21 or older, and photo IDs will be examined. Tickets are now available for $75 apiece online at Eventbrite.com.
A few doors down Main Street from the Limelight, the Sawtooth Club will host its fourth annual 5B Bash. Dinner will be served until 8 p.m., at which point the party will kick off in earnest with music by DJ Alien and Doc Rock. Tickets are $50 and the Sawtooth Club will be donating a portion of proceeds to benefit Higher Ground. Tickets can be purchased in person.
Whiskey Jacques' will host a quadruple bill with music both upstairs and downstairs, plus a midnight champagne toast and a plethora of party favors.
For a $60-$65 ticket, late-night revelers can enjoy food, drink and music by The Social Animals, The Jacks, SoDown and DJ Diva. Head to whiskeyjacques.com for details and purchases.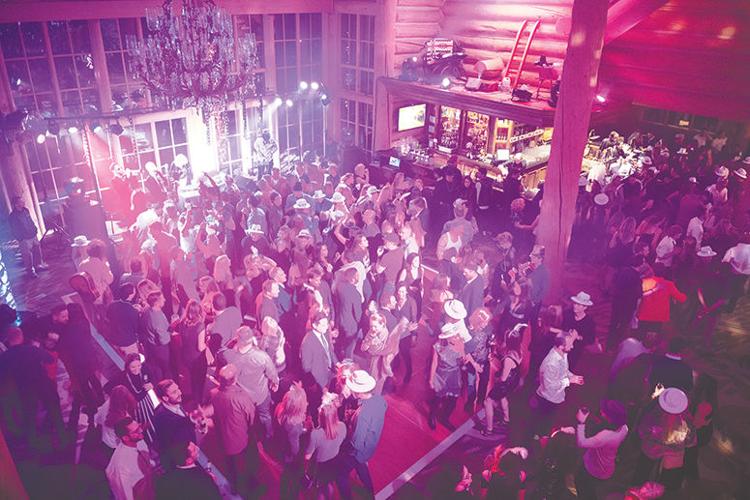 Whiskey's is far from the only bar in Ketchum celebrating the holiday. The Boho Lounge will be dialing things back about a hundred years with a Roaring '20s-themed soirée, invoking the 1920s while ringing in the 2020s.
Dressing to the theme is heavily encouraged, so expect plenty of flappers and Gatsby-types moseying around the place. In addition to live music, food and drinks, the Boho party will also sport a burlesque by Red Light Variety Show.
Needless to say, attendees must be 21 or older. Tickets are $150.
Following First Avenue southwest from the Boho will eventually lead to Bald Mountain and the site of one the hottest tickets in town.
At 9 p.m., the Sun Valley Center for the Arts' annual New Year's Eve party, the Bubbly Bash, will kick off at the River Run Lodge. This event does typically sell out, but at the time of this article's completion Friday, some tickets were still available.
Guests to The Center's Bubbly Bash will be treated to live music, food, cocktails, a boozie photobooth and, indeed, a fair amount of bubbly, as advertised.
Tickets, if still available, may be purchased online at sunvalleycenter.org for $150. This event is one of The Center's biggest fundraisers of the year, ending things on a high note and, after the stroke of midnight, starting as they mean to go on.
For a full, detailed preview of the New Year's Eve Bubbly Bash, see the arts section published in the Mountain Express of Dec. 11 or
Those party-hopping about Ketchum may want to poke their heads into The Cellar Pub as well. From 4 p.m. on Tuesday clear through until the end of the year, the Ketchum watering hole will be serving champagne and various beverage specials with no cover charge or price of admission.
Not everything is adults-only, however. Sun Valley will hold its regular New Year's Eve night skiing on the Quarter Dollar run at Dollar Mountain from 5-9 p.m. In addition to the skiing, those in attendance will enjoy party hat decorating, face painting, a photo booth, a bouncy twister and fireworks at 9 p.m. Tickets are $40 for adults and $30 for children 12 and under. Season passes will not be honored for night skiing.
Outdoor enthusiasts can also join in with the Rotarun New Year's Eve Party (at the Rotarun ski area, on Rodeo Drive, just off Croy Creek Road). This entirely free public offering allows skiers to enjoy Rotarun at their leisure, dine at the KB's Food Truck, check out a torchlight parade and much more. The party lasts from 5:30-8 p.m.
Whether dropping a couple hundred dollars on booze or gently skiing with the kids, the Wood River Valley's New Year's Eve offerings cater to just about everyone. For those who like a quieter evening, Dec. 31 is also a good night to stay home, keep cozy, reflect on the past and look forward to whatever the future may bring.