During the 19th century, railroads brought great fortune to some places in the West, while leaving others behind. The city of Hailey was transformed in 1883 when Union Pacific laid track into town, primarily to support the mining industry.
Author John W. Lundin will deliver a presentation at the Hailey Public Library detailing the efforts of Union Pacific publicist Robert Strahorn and his wife, Carrie Adell Strahorn, to promote the Wood River Valley during the mid-1880s, while speculating on its imminent development.
Lundin's talk, "Robert Strahorn and Development of the Wood River Valley," will take place on Wednesday, June 26, at 5:30 p.m.
Lundin is a Seattle lawyer on sabbatical who has family roots in the Wood River Valley dating from the 1800s. He has delivered numerous talks at The Community Library in Ketchum and is at work on a family history based in the Wood River Valley.
"Once the railroad came in to an area, it opened it up to the world," Lundin said. "It was the key to economic development in those days. If the railroad had not been built here, Ketchum and Sun Valley would have never been built here."
Bellevue resident and mining historian Tom Blanchard said the rail line was extended from Hailey to Ketchum in 1884.
A well-known story about the Wood River Valley recalls Union Pacific Chairman Averell Harriman's reliance on Austrian Count Felix Schaffgotsch to find a suitable location for Sun Valley Resort in the mid-1930s. Lundin's talk will be about the lesser-known fact that Strahorn had been an advance scout about 50 years earlier for previous Union Pacific owner and railroad tycoon Jay Gould, who needed to get the lay of the land to find suitable places for rail lines.
"Strahorn was Jay Gould's eye and ears," Lundin said. "He would purchase townsites [including Hailey's] knowing full well that a railroad would soon be built there."
Strahorn traveled throughout the West with his journalist wife, Carrie Adell Strahorn, for whom Della Mountain west of Hailey is named. He wrote "unrealistically rosy" descriptions of life out West to get people to live here, said Lundin, later prospering from his own boosterism.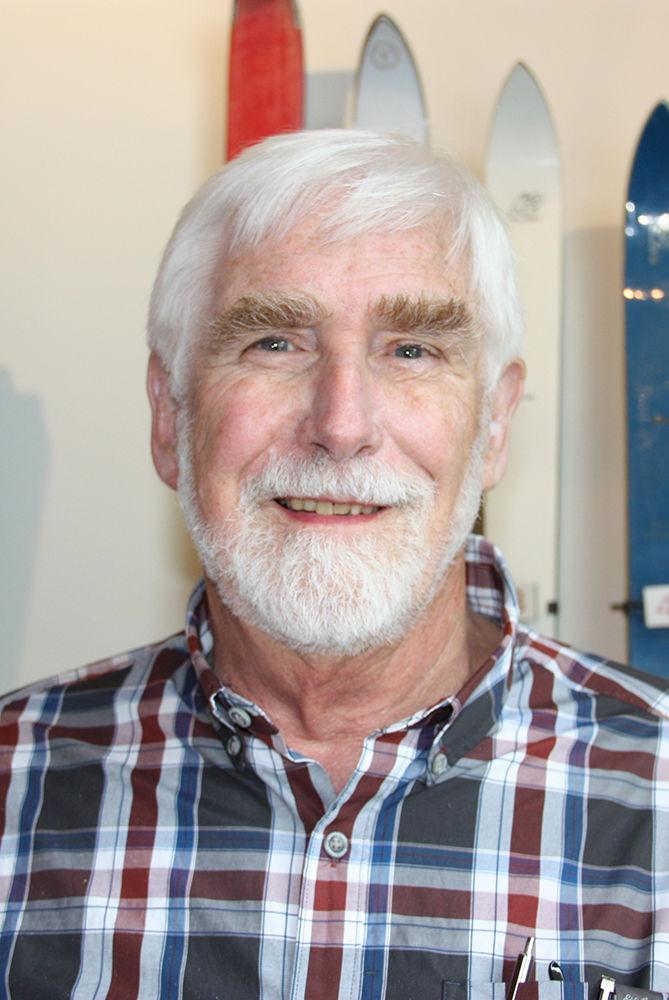 Strahorn's promotional skills presaged the modern era of lifestyle and real estate advertising common today, and he put them to use even before much of a town existed in Hailey.
Lundin discovered through his research that in 1882, Strahorn and other investors formed the Idaho and Oregon Land Improvement Co. to develop towns at locations they knew the new rail line would go, including Hailey, Shoshone and Mountain Home.
According to Lundin, Strahorn's company in 1882 owned the Shoshone townsite, and bought the townsite of Hailey, and land in Croy Canyon for $100,000, which included the 2,500-acre Croy Ranch and 8,000-acre Quigley Ranch. The Wood River Journal of June 24, 1882, proclaimed, "The Idaho and Oregon Land Improvement Company takes the whole Loaf," Lundin said in his Community Library lecture.
Lundin said Strahorn's company also developed hotels and hot springs in Hailey and obtained rights to 12,000 inches of water from the Big Wood River as a water supply for the town and to irrigate surrounding land.
"He was trading on inside information and making enormous profits, something that would be illegal these days, ever since the Securities Exchange Act of 1934," Lundin said.
Lundin said that in 1881 it took his great-grandparents two weeks to travel from Eureka, Nev., to Bellevue by wagon. At that time, it took about three hours to travel from Hailey to Ketchum by stagecoach.
After the railroad arrived in 1883, travelers moved from Hailey to Shoshone in two hours, could reach Boise a few hours later and be in Portland eight hours after that, Lundin said.
Rail lines brought not only the rapid transportation of people and goods. The telegraph lines that came along with them connected those living along its path with an option for very fast communication.
"The telegraph that came with the railroad supplied local newspapers with a lot of reading material from the outside world," Lundin said.
Robert Strahorn wrote numerous books and "immigration brochures" during his tenure as director of Union Pacific's "literary bureau." Carrie Adell, a college-educated woman from a wealthy Illinois family, wrote dispatches from their travels for the Omaha Weekly Republican and women's magazines. In 1911, she published her stories in a book titled "Fifteen Thousand Miles by Stage," which was reviewed by The New York Times.
For more information about Lundin and his previous writings go to johnwlundin.com.