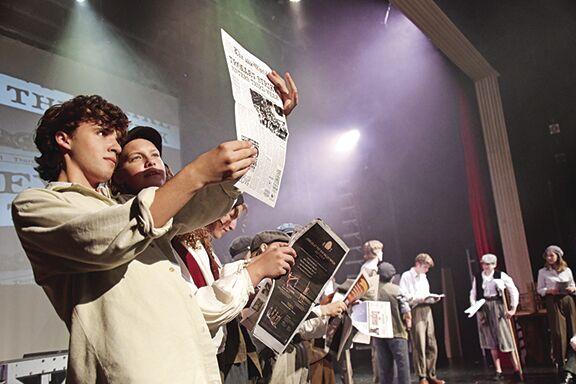 St. Thomas Playhouse will return to the stage for the first full-fledged production in two years this week, performing its take on "Newsies" from July 21-24 as a part of its Summer Theater Project.
Originally based on a 1992 Disney movie, the 2012 stage adaptation of "Newsies" received eight Tony Award nominations. It tells the story of the Newsboys Strike of 1899 in New York City. Instead of charging consumers more for their newspapers, Pulitzer and Hearst begin charging the newsboys more, forcing them to increase their sales. The newsboys decide to fight back. 
Eighteen-year-old Wyatt Root, who plays the intimidating Spot Conlon (among several other roles), describes the musical as having "high octane energy throughout the show."
Luke Mauldin, who plays the bookish Davey, agreed.
"This is a dream show for me," the 17-year-old Mauldin said "There's no wasted space in the story. Everything drives it forward constantly."
Even though the musical takes place over a century ago, the cast and crew took inspiration from modern day protests. Whether Amazon's union busting or teachers dealing with the rise of privately-run charter schools, this group of teens and young adults found plenty of modern-day analogues to the story.     
"I think this is the first time in a couple years in the Summer Theater Project where the kids don't have to play up from their own ages," said choreographer Savina Varini, 24. "It's a bunch of teenagers playing a bunch of teenagers ... A lot of the movements that have been happening in the wake of the Parkland shooting and the killing of George Floyd have been youth-driven."
This production of "Newsies" operated on an abbreviated rehearsal schedule. While most cycles last five to six weeks, this one only took two. Every day the cast and crew showed up and worked hard.  
Earlier in the summer, Company B—the theater camp featuring grades K-8—performed "James and the Giant Peach" and their first session of "Frozen." But the main St. Thomas Playhouse company has not performed since 2019 due to the COVID-19 pandemic.
"We were scheduled to have this show last year," Mauldin said. "I was excited to do it with all my friends. Then COVID hit, and I didn't see them for months and months on end ... Now, I'm just so excited to be here with all my friends."
As recently as March, they were still uncertain whether a live show would be reality. At one point, they considered doing it virtually. Once the vaccines became available to those 12 and up, the opportunity became much more promising.
"We could have done something halfway that was not as safe and not as good for the audience or we could just wait," Varini said. "I'm really glad we did. We haven't had any COVID cases."
Despite most of the cast and crew being vaccinated, they still took COVID precautions during rehearsals. The actors had to learn how to act, sing, project and enunciate while wearing masks. Many of the group mentioned overcoming self-doubt amplified by the quarantine. The Playhouse will restrict capacity to 60%. Audience members may decide for themselves whether or not they will wear a mask. 
"What we've come to is letting people make their own choices but also try to be as responsible as we can to not overexpose people to each other when they're sitting in a room for two hours," said St. Thomas Playhouse Managing Director Brett Moellenberg. 
Amidst all the weighty themes, director Sara Gorby said at its core "Newsies" is about family. 
"It's a story about overcoming adversity and being a family and the complicated relationships that brings," Gorby said. "But also, you can't appreciate the joy, the wonder and the loveliness of relationships if you don't have hardship. You have the family that's created onstage, but you also have us being together every day for 14 days. These guys are all taking care of each other. They're eating their meals together. They really are a family. We really are a family." 
All shows begin at 7 p.m. in the Sun Valley Community School Theater. Tickets cost $25 for adults and $15 for those under 18. Tickets are available on the St. Thomas Playhouse website. If any readers are interested, they should act quickly—Wednesday's show has already sold out.